Hello there,
The usual disclaimers apply. This is a community open thread diary. It's being posted to the Street Prophets group but we've got no membership requirements in the comments. All are welcome to join in, relax, have a cookie. You don't have to react to my blithering; it's an open thread. You can decorate the comments in your own style.

Not that these Friday diaries of mine aren't more or less personal every week, but I suppose this week has me pondering the personal stuff. I've got a photo or two to share of a painting I started this week. And a few of my fuzzy-headed thoughts follow.
I've been going a little stir-crazy this week. My Favorite Female (as I call the person that has decided to put up with me for now over 20 years) is off in London for yet another conference.
One of my email addresses is now getting spam with my own address listed as the sender. It always creeps me out when spammers use my own address as the "reply to" address.
I got out and about to do a bit of grocery shopping, made a trip to the clinic to rearrange an appointment with a rehabilitation center for the lads. Crazy meth addicts-- no, just a perhaps overly cautious doctor thinks there's a touch of slouchy scoliosis in them. Tuesday I just had to paint something: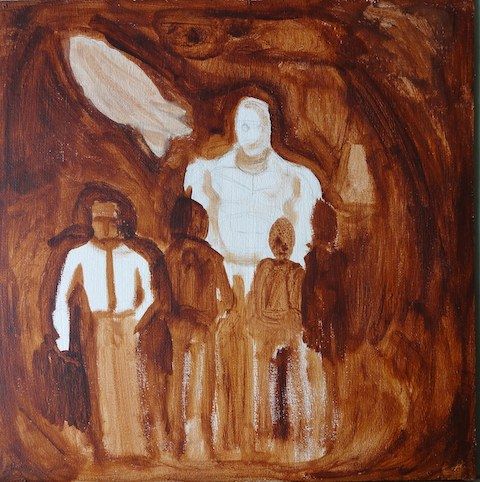 An old hunk of Masonite™ slathered with cheap white interior house paint (just as good as expensive gesso for a primer) and then ... what? What was I going to paint? I've been mulling over ideas for a comic book/graphic novel based in a fictional, steampunk scented Prague. So I scribbled a sort of dirigible and indicated some foreground figures then slopped on a burnt sienna acrylic mess. I didn't bother with sketches and preliminary studies. It was a train wreck in brown. This was no way to begin a painting but I thought I might be able to save something from it.
I had a business meeting on Wednesday which left me feeling only slightly rotten but at least I got a firm handshake and a promise of payment. I'm working with nice people but it's just ridiculous to have called me in to design their book when they were still going to be making changes to the text and illustrations over half a year later. Some of the pages I've had to redo around 12 times. That night I called my aunt-in-law, who recently broke her foot, to ask if she wanted me to come over and help her the next day. She didn't need me that day but we talked for quite a while and eventually she asked if I'd heard the news about Miloš. I had just met this cousin of hers about a month earlier when her sons threw a big party to celebrate her 70th birthday. I ended up spending much of the party talking with him and exchanged business cards and promises to step out to a pub sometime and talk shop over a few beers. Turns out he was a portrait street artist that worked regularly on Charles' Bridge (the tourist's heart of Prague). I'd heard (perhaps it was on Monday) that he had had some sort of "brain incident" (a stroke or something) and was in the hospital. But my aunt hadn't wanted to tell me about that. She wanted to inform me that he had just died. Miloš Kohout was an artist. He made beautiful portraits-- some were truly excellent.
Today I worked on the painting for a few hours and got it to this point: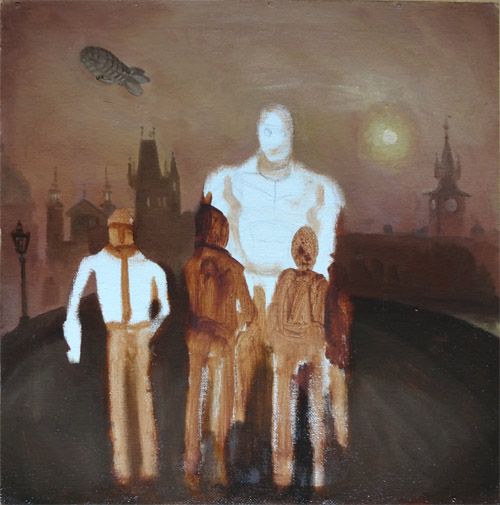 The horrid underpainting is acrylic. I'm painting over it with oils. I thought about Miloš as I worked. The background is based on photos, taken at sundown, of Malá Strana (the west bank section of downtown Prague) as seen from Charles' Bridge. Loosely based ...
I'm wondering where the painting will go from here. I suppose I'll be blocking in some foreground figures during my next session. That golem figure in the back will probably be first. I may make the other figures somewhat smaller. I still don't know who they are. Maybe one of them will look like Miloš.
I don't know if this is supposed to be one of those "cast of characters" pictures or just a strange crowd of characters. I may have to surrender and actually do a few sketches to decide what they look like before I paint them. These stiff outlines are just so awkward looking-- almost endearingly awful. No, probably just plain awful. I'll work on it.
Got a letter from one of my oldest and dearest friends (we were even roommates for a year) wishing me a happy birthday so there's quite enough mortality in my life this week. Well, my actual birthday is next week but it's always an opportunity to wallow in self-pity and wonder where all this is heading.
Well, I'm pretty sure of where the final destination is. Atheism is cold comfort. I'm mostly wondering about the road that will get me there and what bits will fall off this old wreck before it reaches that scrapyard at the end. Hopefully I've managed to brighten a few lives as I've roared past them. Perhaps in a few thousand years someone or something will dig up one of my old pots and wonder about the person who made it. The paintings and other scribbles will all be long gone. I suppose I don't bear any illusions of my own immortality. Maybe I shouldn't worry so much about my legacy. If I've been helpful more than I've been harmful then I've at least made the trip worthwhile.
With luck there are still many more miles in this old crate ...