Reposted from JekyllnHyde by JekyllnHyde
All photographs and captions in this diary are from Daisy Carlson of Cool Hive. They are being used with her explicit permission.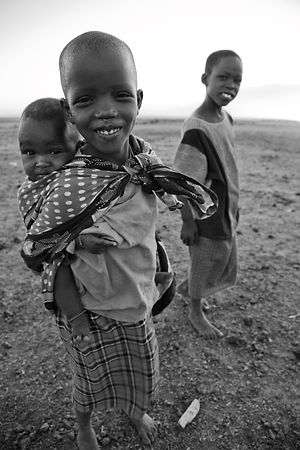 The children of East Africa are shouldering the burden of drought and climate change
For the past few weeks, most of Daily Kos has been preoccupied with news and political activism about
Occupy Wall Street
. And deservedly so. At its core, this grassroots movement is about inequality and inequity in the American economic system. It has been festering for at least the past three decades (probably longer) when Reaganomics introduced "socialism for the rich 1%, predatory capitalism for 99% of Americans." Corporate welfare policies and unethical lobbying of our elected representatives has institutionalized this trend and created huge gaps in wealth and income between the haves and have-nots.
I think we all understand and appreciate the historical significance of these protests.
That said, on any given day, hundreds of millions, perhaps billions of our fellow human beings are experiencing abject misery and poverty. It is not too much of an exaggeration to assert that even in the worst of times, most Americans are better off than the overwhelming number of people in other countries, many of whom literally have nothing. The worst famine in the Horn of Africa in decades moved many of you to donate generously when boatsie organized a fundraiser a few weeks ago.
To remind all of you, this humanitarian crisis in East Africa is far from over
In East Africa, a humanitarian disaster is fast unfolding. The worst drought in 60 years means that crops have failed and livestock have perished. Poverty, climate change, and rising grain prices are combining to endanger a population already vulnerable to malnutrition and hunger-related diseases. More than 10 million people are affected across areas of Somalia, Ethiopia, Kenya, and Uganda. Multitudes are on the move, leaving their homes and walking hundreds of miles to seek food and medicine.