... American Bald Eagles, not Philadelphia Eagles, that is. (My apologies to to Philly Eagles fans.... I have been told that coming up with a title that catches the eye is important if you want your diary to be read. ) My husband, kossack divineorder and I went to listen to live music last night here in Santa Fe, and of course, the Philly Eagles game was on as the band was warming up-- hence the title. This diary is a collaboration by Divine Order and myself.

Lake Abiquiu Annual Eagle Watch
We belong to a kayaking Meetup for Albuquerque and Santa Fe and the leaders had sent out a meetup invitation to come and help count the Bald Eagles at the Abiquiu Reservoir. We had thought about going with the group out on the water but then read that the leader had decided inflatables would slow the group down creating safety problems, and were not advised to be a part of the boat group counting. As we went to bed Friday night we waffled back and forth on whether to go even though we wouldn't be able to take part with the paddlers.....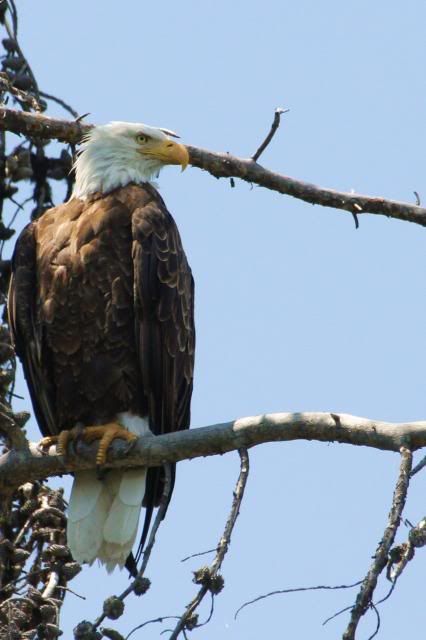 American Bald Eagle, GTNP, photo by divineorder
Divineorder had voiced concern about a dkos post about unexplained Bald Eagle deaths in the neighboring State of Utah. We woke up Saturday morning to a beautiful day, and spur of the moment decided to go after all. We are wildlife watching addicts and have great luck photographing them while kayaking on the Snake River in Grand Teton National Park, and we looked forward to the possibility of participating in the count and seeing more of these beautiful birds.
The sun was shining and we knew from past experiences of camping and kayaking there that it would be a wonderful way to spend a Saturday morning so we rushed to get dressed and on the way out the door .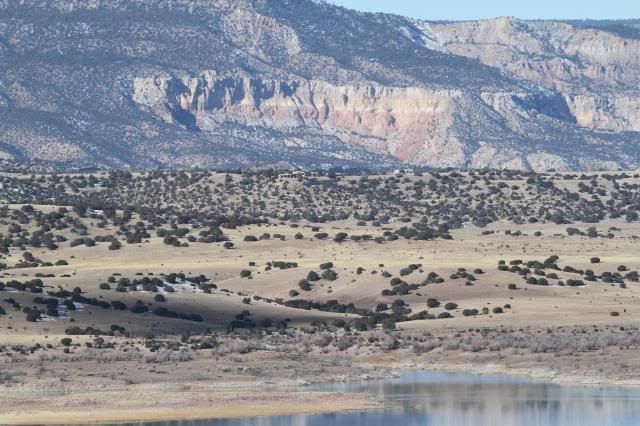 Northern New Mexico of Georgia O'keefe fame now includes the stark, colorfully beautiful US Corps of Engineers Abiquiu Reservoir. Photo by divineorder

Santa Fe to 'Georgia O'Keefe Country'
Leaving Santa Fe we headed the 57 miles to Abiquiu Lake. This is a beautiful drive as you can see mountain ranges in the distance and the beautiful red rock country that was made so famous to some by the late artist Georgia O'Keefe.

Santa Clara and Ohkay Owingeh
Its also important to note that this area is home two two Indian pueblos, Santa Clara and Ohkay Owingeh which have had inhabitants hundreds of years before O'keefe made her famous visits. Click on the links for some fascinating history of these people!
Victims of a Sudden Craving For New Mexican Food
As we were driving out to Abiquiu, we stopped on the other side of Espanola and got a get a carne adovada burrito. Divineorder loves chile colorado and I love green chile, and since the adovado is prepared with red I got mine with red and green chile (Christmas) for breakfast! Mmmmmmmm.
While we waited for them to prepare the burritos we noticed that there was a sign in the window of the restaurant about the drought conditions in the area and the fact that some areas would not be able to be irrigated. This notice was dated July and there was another hand-written sign about a "ditch" meeting coming up.
New Mexico water has laws dating back to agreements in the l700's !
U.S. Army Corps of Engineers
Constructed originally during the 'flood control' era of Corps building, the reservoir now holds water for cities and communities downstream on the Rio Grande and is a popular recreation site in summer.
From the Corps website:


Welcome to Abiquiu Lake Recreation Area

Abiquiu Lake is a U.S. Army Corps of Engineers managed lake, with recreation areas and a campground. Federal Recreation Passports are accepted. The lake is a 5,200-surface-acre reservoir and offers some of the finest fishing in northern New Mexico. The area includes a fine panoramic view of the Cerro Pedernal (Flint Mountain) from the dam. The scenery of the area includes Pinon (Pine), Juniper and Sage among colorful rock formations. Reptile fossils 200 million years old have been found in the area.

Surrounding attractions include: Abiquiu Lake Recreation Area

Ghost Ranch
Georgia O'Keefe Museum
San Pedro Wilderness
Cumbres Toltec Railroad
Chaco Canyon
Bandelier National Moument
Taos and Santa Fe, N.M.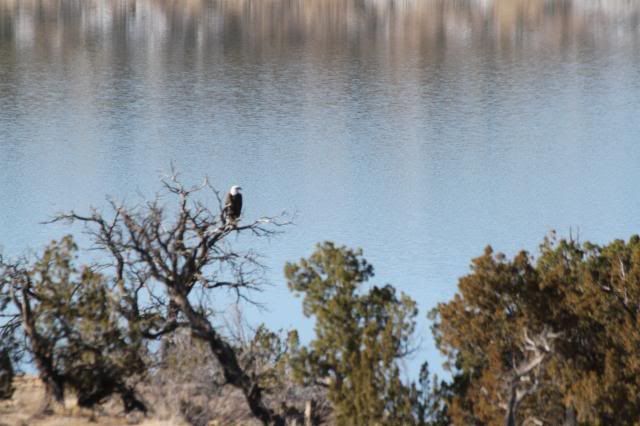 Looking for Bald Eagles
Because of our breakfast stop we arrived we arrived at the Corp of Engineers Visitor Center as the orientation was ending and were told by two of the Rangers where we could go and join one of the groups doing the observation from the shore.
Annual Eagle Watch
.... described by the Corps:
http://www.spa.usace.army.mil/...
The purpose of the watch is to collect data which will assist in national and local tracking of the bird's numbers. It is also an opportunity to encourage shared stewardship with the public to help keep track of wildlife populations and ensure that their habitat is adequate for their numbers. Volunteers are asked to dress warmly and bring binoculars, notepads, and drinking water.

National Wildlife Federation officials have asked that participants in each state count eagles along standard routes to provide data trends. The basic objectives of the survey are to index the total wintering Bald Eagle population in the lower 48 states, to determine eagle distribution during a standardized survey period, and to identify previously unrecognized areas of important winter habitat.

The annual midwinter survey represents a unique source of long-term, baseline data. Unlike nesting surveys, it provides information on both breeding and non-breeding segments of the population at a potentially limiting time of year. The count has become a national tradition since 1984, and is an annual event at Abiquiu Lake. In addition to providing information on eagle trends, distribution, and habitat, the count has helped to create public interest in the conservation of our national symbol, the Bald Eagle.
So we walked back to our cars as all the others were leaving the parking lot, kayaks on top of some cars and others not.
We had a little trouble finding the secondary drive to the overlook and were down in the campground looking for it when we observed our first American Bald Eagle perched on a dead tree on the high cliff overlooking the water! What a treat! Then we noticed there were observers above the Riana campground and where they had a panoramic view of the reservoir and in the distance .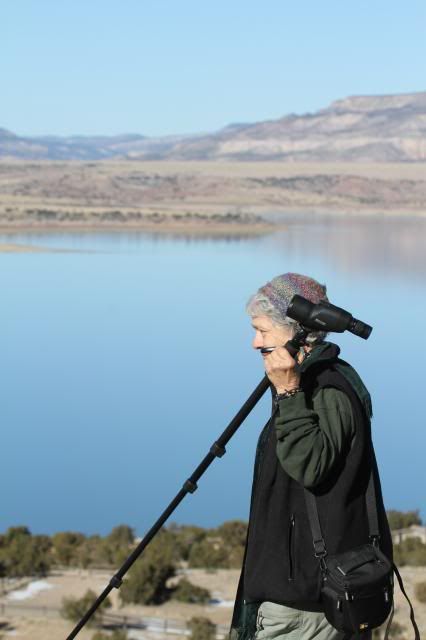 Bald Eagle Watch Volunteers on land . Photo by divineorder
Only problem was how to get too them. After hurriedly snapping a few shots of the eagle we headed back toward the entrance and luckily were greeted by one of the Rangers in a vehicle who had come down to directed us to the overlook. It was a steep unpaved drive that apparently is mostly used by hikers. From there one could have a spectacular view of Pedernal peak made so famous by Georgia O'Keefe' paintings.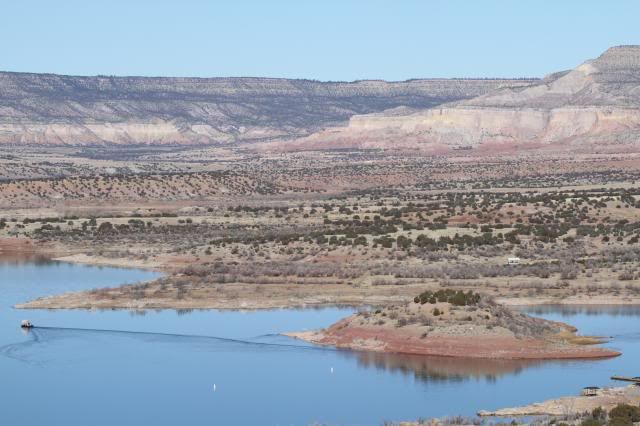 NM, Land of Enchantment.... Note Corps of Engineers work boat carrying some of the Eagle Count volunteers. Photo by divineorder
Once we got out with our scope and cameras we noticed that way down below there were two Corp of Engineer boats that were leaving the boat ramp and heading in opposite directions to observe and count the eagles from the water.
Corps of Engineers Ranger points out sectors on map where boat counters were verifying our spottings. Photo by divineorder
Sector Map
We were spotting Bald Eagles from up on the overlook with long reach spotting scopes and binoculars. Rangers would communicate back and forth with the observation boats as the eagles were spotted. They had the lake divided into sectors and we land observers would identify which sector we had seen them in and then they would be identified as mature or immature.
We had only just arrived and reported the eagle we had seen below when more Bald Eagles were sighted !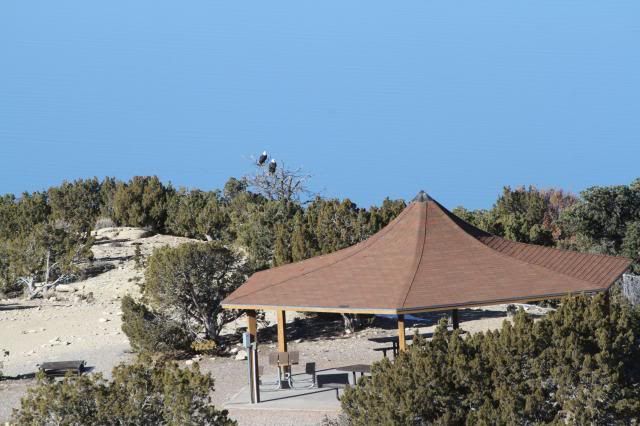 Two Migratory Bald Eagles enjoy the silence of the closed Riana Campground. Photo by divineorder
We left about lunch time and noticed that wind was picking up. We wondered what the kayakers would experience and hoped all would be okay.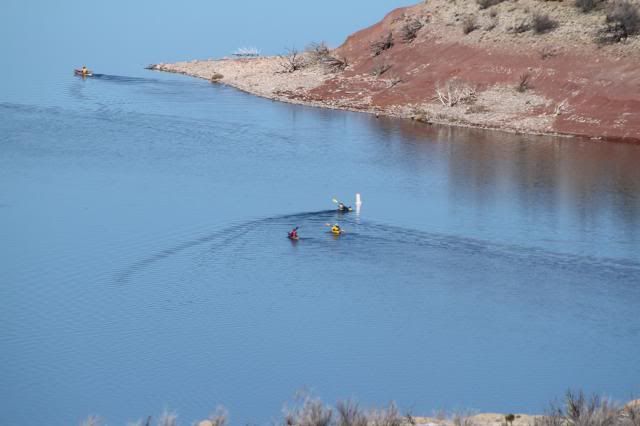 Drama for the Kayakers
This morning divineorder told me that comments on the Meetup site told of how high winds had come up and that the returning kayakers faced three to four foot waves!!!
We had enjoyable time joining the watchers at Riana Campground overlook. Got a couple of nice photos of the Meetup Kayakers later departure on slick waters. At the time was a bit envious :) . However, reading today, and having survived a similar day paddling our Sea Eagle on the Colorado River below Glen Canyon Dam to Lee's Ferry when we had estimated 50 mph gusts know our boat would have been fine.
Still, once the wind picked up was not as envious as when the group paddled out. We left the overlook after contributing two confirmed sightings to our group which had total of 8 by then. The wind was just starting to pick up as we left so missed the groups' dramatic return. We are so very glad all are safe!
The leader of the Meetup has always emphasized safety and this day was a great example of why!
A Beautiful Day For Bald Eagles But......
Glad to have taken part in an activity that is helping gather data about the American Bald Eagle and wonder what their future is as a result of climate change.
As we were driving back to Santa Fe we were rewarded with two bald eagles putting on quite an aerial display above the Chama river as we drove past.