It is snaking throughout downtown and it is moving! They are going to have a lot people there.
Continue Reading
Do you ever wonder about this Republican Meme from recent debates (last night included)?

ROMNEY: When the president took office, the price of gasoline here in Nassau County was about a buck eighty-six a gallon. Now it's four bucks a gallon.
(snip)
PRESIDENT OBAMA: He said when I took office, the price of gasoline was 1.80 (dollars), 1.86 (dollars). Why is that? Because the economy was on the verge of collapse; because we were about to go through the worst recession since the Great Depression as a consequence of some of the same policies that Governor Romney is now promoting. So it's conceivable that Governor Romney could bring down gas prices, because with his policies we might be back in that same mess.
Continue Reading
Former Wisconsin State Senator John Lehman has now been restored to current Wisconsin State Senator! He won the final recall race of the night over Republican Van Wanggaard! The Wisconsin State Senate is now officially 17-15-1 with a Democratic Majority. Lehman won by about 1500 votes with one precinct to go at 1:30am: 34,834 to Wanggaard's 34,038. It was a come from behind victory as Lehman was down 63-37% in early reporting. And still may meet the threshold for automatic recount.
Continue Reading
We're back to 8.5x11" today.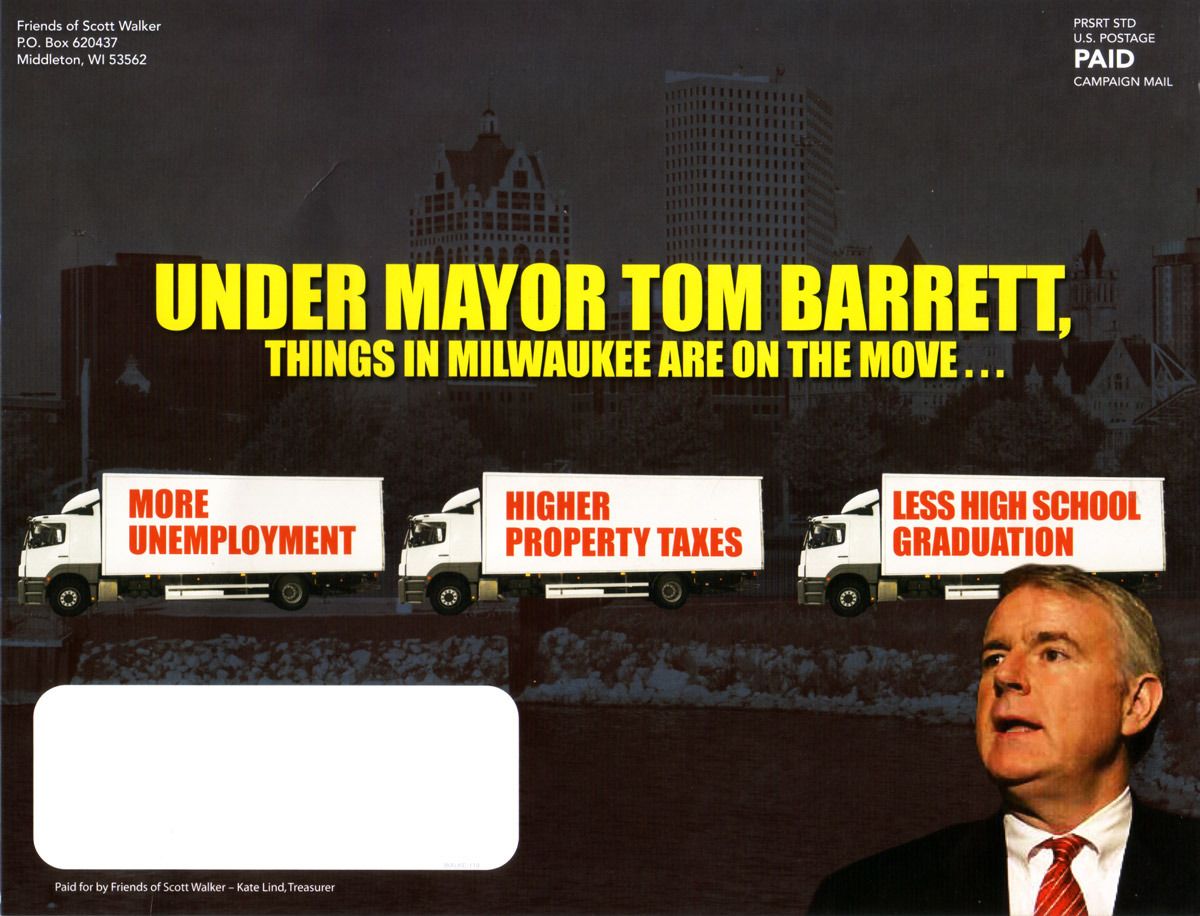 Click to enlarge in new tab
This time, we have moving trucks. The exciting thing about these moving trucks is that they are the same trucks that will bring Scott Walker back home to Milwaukee. Or at least some of his stuff since he still lives in Milwaukee this whole time and commutes the days he's at the Capitol (which isn't much) by State Patrol car (with the sirens blaring at 100mph, I'm sure.)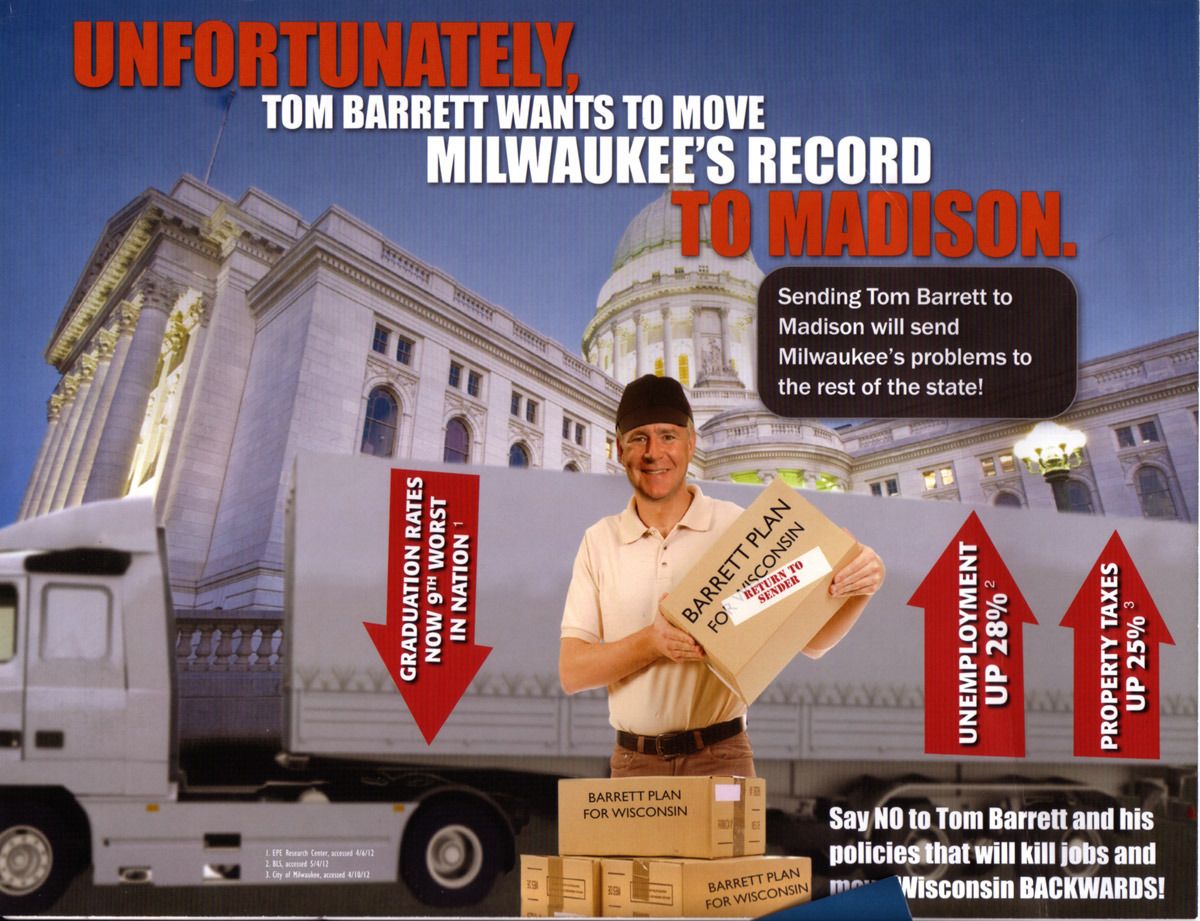 Click to enlarge in new tab
Our small print today is:


EPE Research Center, accessed 4/16/12
BLS, accessed 5/4/12
City of Milwaukee, accessed 4/10/12
Just want to point out that these citings are like me saying:
Mayor Tom Barrett's phone number, 414-555-1212
"2012 City of Milwaukee Phonebook, accessed 5/21/12" They are purposefully leaving out what page it is on. In this case, web site. Property taxes are up 25% compared to when?
Once again Walker is projecting saying, "Sending Tom Barrett to Madison will send Milwaukee's problems to the rest of the state!" Sorry, Walks, that was you that already did that. Nice try.
At least in this one, Tom Barrett has a nice smiling headshot grafted on some other body with a hat added. I think they forgot to put something on the hat. Please remember that "... Tom Barrett and his policies will kill jobs and move Wisconsin BACKWARDS!" :)
Discuss
Bill "The Human Homer Simpson" Wisth has ended his week-long standoff with Chuck's Place, a Thienville, Wisconsin family restaurant that cut off his meal early last Friday after having ingested only 12 pieces of fish. Despite having a protest sign that was little more than a piece of cardboard affixed to a stick, Wisth, 6'6", 350lbs., says he is still shocked by his Internet stardom and is also banned from ever coming to Chuck's again.


Below is the original report for the two of you who haven't seen it yet.
Additionally, no results turned up for "Bill Wisth" in an online petition database for Scott Walker's recall.
Discuss
More mail from Governor Scott Walker today. This one is 8x12".
He's got some balls to blame someone who was essentially below him for all of Milwaukee's problems (that were in fact a pre-existing condition). This should backfire at any minute once people realize this. It's like blaming the County Executive of Milwaukee for all of Wisconsin's problems. :)
This mailer should be sent out by the Barrett campaign with Walker replaced in all of the spots it says Barrett and spooky Barrett pictures replaced with normal Walker pictures.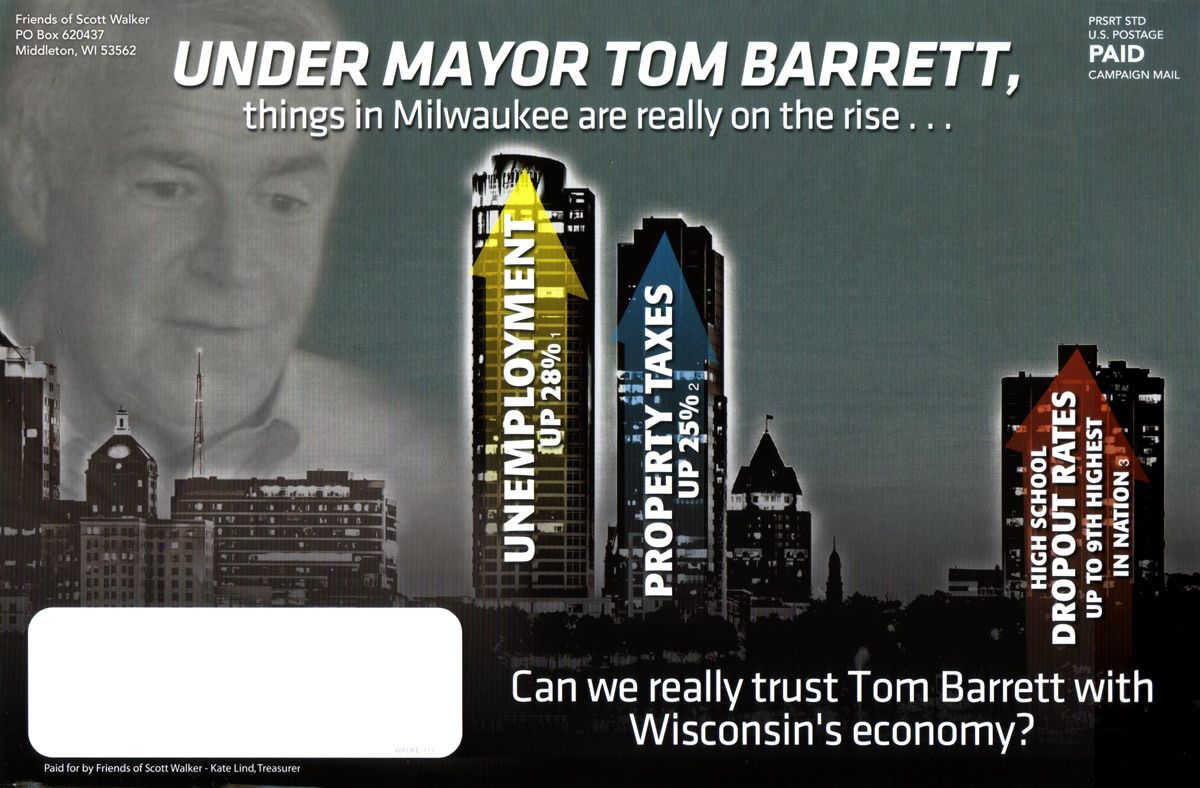 Click to enlarge in new tab
Can we really trust Tom Barrett Scott Walker with Wisconsin's economy?
We've got those same two bullet points as the last two mailers but this time with a new one about Barrett's time in Congress.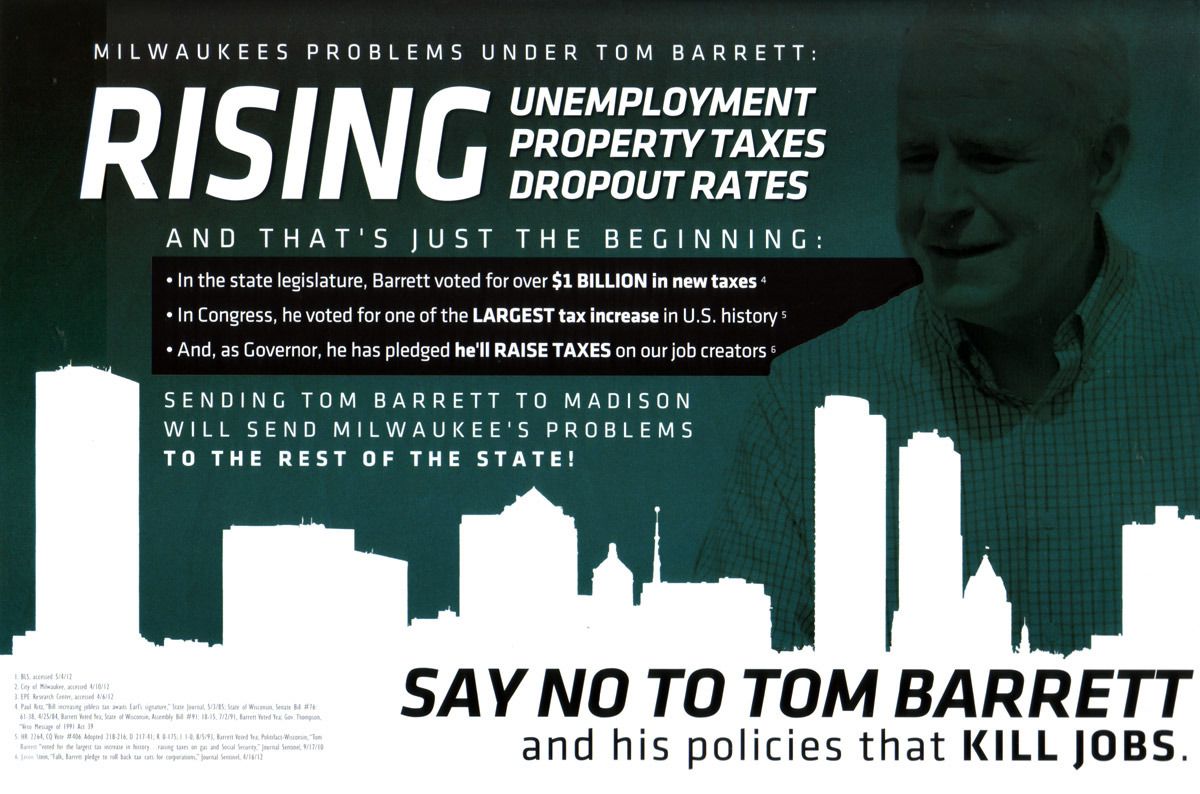 Click to enlarge in new tab
SAY NO TO TOM BARRETT SCOTT WALKER and his policies that KILL JOBS.


Note the citations 1, 2 and 3 about the three buildings with arrows on them from the first image. Kind of on the vague side with the sources? What are they even citing there?
Discuss
Relaying Part Two of the epic 3-part series being done by the Wisconsin Center For Investigative Journalism.
Explore which media outlets got access to Walker, where he traveled, and every entry in his calendars.

Through the state's open records law, the Wisconsin Center for Investigative Journalism received Gov. Scott Walker's official calendars. Center reporters then created a database of all 4,414 entries.

Share the series on Twitter using the hashtag #walkercalendars.
Screenshot of the interactive database
Remember this is only through Jan. 2012 before he made his big national push. Although if you zoom out on the map, you can see everywhere he had already been to in the country.
Also there is another graphic dealing with which media he talked to and how much time he spent with each outlet cumulatively.
Discuss
More mail today. Another 8.5x11" flat mailer. A lot of the same verbage as the last one with a concentration on men affected by job loss as opposed to road construction. At least in this one, Walker admits that higher taxes will cause more job loss.
Click to enlarge in new tab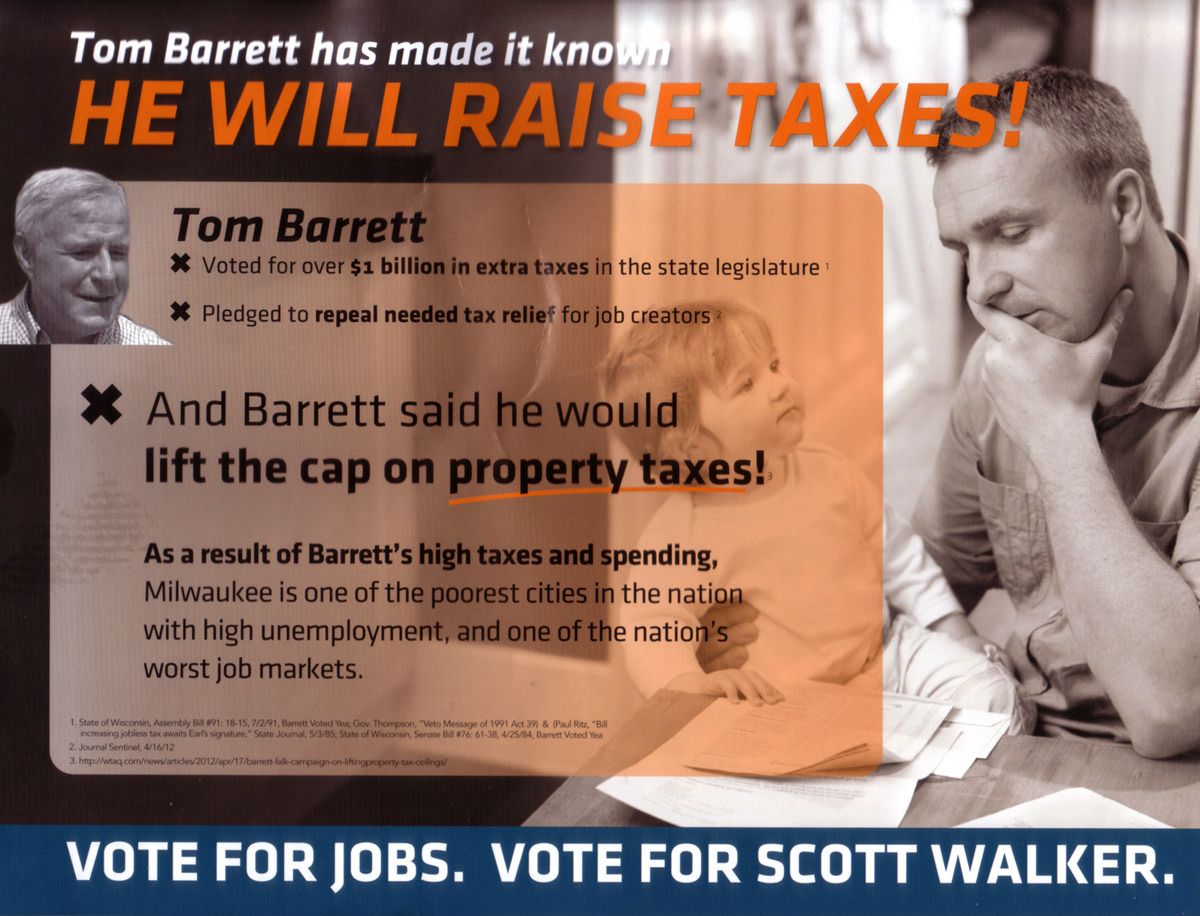 Click to enlarge in new tab
Discuss
Here is a link to the just-released Part One of an epic 3-part series a friend has alerted me to through Facebook.

Through the state's open records law, the Wisconsin Center for Investigative Journalism received Gov. Scott Walker's official calendars. Center reporters then created a database of all 4,414 entries.

Share the series on Twitter using the hashtag #walkercalendars.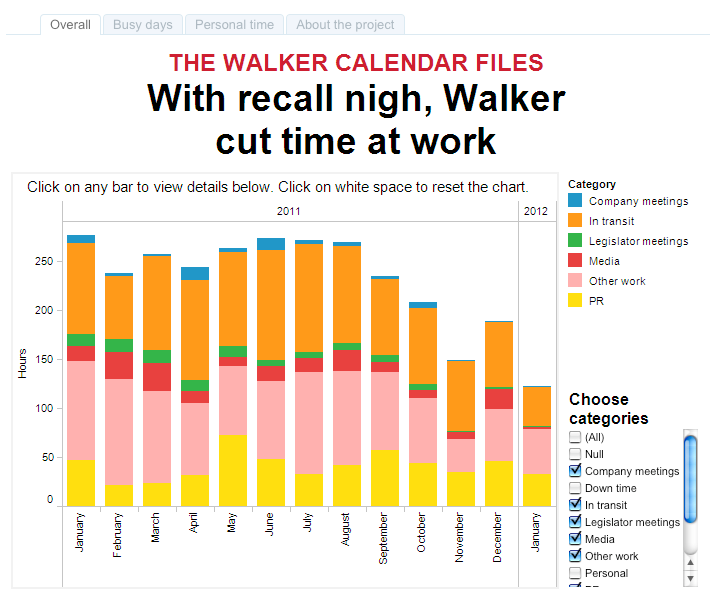 Screenshot of the interactive database
Apparently he's been kinda slacking lately.
Discuss
Just received some campaign material from our esteemed governor I wanted to share. It was addressed to a previous occupant of our house. This was a 8.5x11 postcard. Very expensive to mail nowadays. But since Walker eliminated taxes on bulk mail, it's not a problem. Recently there was graphic in the Milwaukee Journal-Sentinel showing Walker's big on the mailers. I think it said he spent like 54% of his war chest on direct mail. Mostly campaign contribution requests throughout the country I'm sure.
Walker really bashes Milwaukee in this one. Maybe he's counting on people to think he's from Waukesha?
Side note: Isn't it interesting he has his campaign office in a "double secret location" so he doesn't get caught campaigning on county [state] time again?
Let's get to the mail. I am guessing this will be a regular series.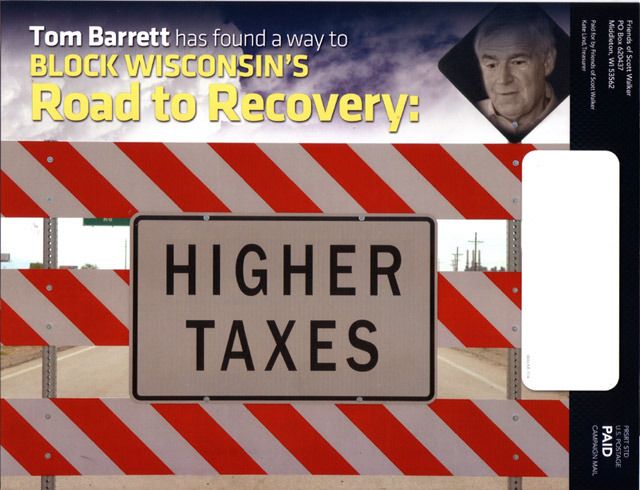 Front - Please notice where the Higher Taxes sign is (not) affixed.
Back - Please note that "Job Creation is Up!" (Doesn't say where though.) Probably should say "... in Illinois."
Also my property taxes went up so again maybe he is referring to somewhere else.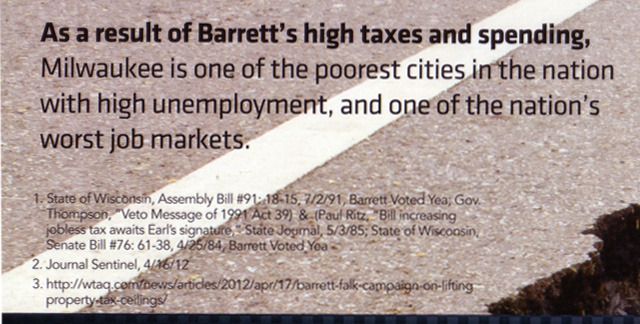 Back zoomed in - The top lines are true but I don't know if Barrett's "high" taxes and spending had anything to do with it. Scott Walker drove Milwaukee into the ground from 2002-10 as Milwaukee County Executive.
It says above that "While in office, Barrett voted for $1 billion in tax increase and new taxes for Wisconsin." However these votes were in 1984 and 1991 so they would have a cumulative effect. I have no idea what they are about.
Discuss
Wisconsin's embattled Republican Governor (and former IBM warranty salesman) Scott Walker is being primaried this Tuesday, May 8th by self-described Lincoln-La Follette Republican Arthur Kohl-Riggs.
In this special recall election, anyone can vote in either party's primary. If more people vote for Arthur Kohl-Riggs, Scott Walker will be out of the election he's spent the last year crisscrossing the country to build up a $13 million war chest in preparation for the June 5 General Election!!!
Here is a graphic showing some areas where the two compare and contrast:


Art's awesome commercial that will be running sometime in Madison and Milwaukee the next three days:
Dailykos' kideni's initiial report on Art
here.
Discuss
You can add a private note to this diary when hotlisting it:
Are you sure you want to remove this diary from your hotlist?
Are you sure you want to remove your recommendation? You can only recommend a diary once, so you will not be able to re-recommend it afterwards.