Every language has idioms--expressions that means something other than the literal meanings of their individual words. As a rule, idioms make no sense to those learning the language because the meaning is established by convention and can't be got at by mere translation. For example, French has ménager le chèvre et le chou (to please both the goat and the cabbage), meaning to try to please both sides. In Dutch, je weet nooit hoe een koe een haas vangt - you never know how the cow will catch the hare -- meaning, basically, never say never.
Today's theme is idomatic English expressions involving pooties and woozles (hat tip to RLMiller for the suggestion). First, I'll present the ones where the meaning is expressed or implicit in the caption. Then I'll give you a series for which to guess the idiom. The answer will appear in the hover, and if you can't view hovers, just sing out and we'll try to help. Example: The answer to the picture at the right would be "the cat's pajamas."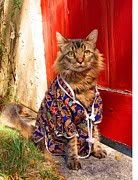 Ready?
Owr Grownd Roolz
The PWB diaries are a place to relax, share pictures and stories about our animal friends, LOL, and build community. If you like that, come on in and join us; if you don't like it, now's the time to click over to another diary.