I turned in final grades on Tuesday and conducted a "how-to-teach" workshop for other graduate students on Thursday. It's been an exhausting week, but teaching is on my mind.
Academics are under fire. David Horowitz's Follow the Network would be a lot easier to write off as the ramblings of an insane conspiracy theorist if he weren't also tied to the highly problematic Academic Bill of Rights movement. The controversy surrounding Ward Churchill-his comments as well as his becoming a proxy for all "leftist academics" in wingnut discourse-added another layer. We are being attacked as irresponsible ideologues out to corrupt America's youth in order to enact some anti-Christian agenda that will bring society crashing down as we watch, cackling like Snidely Whiplash. Like Snidely, we're going to be thwarted by David Horowitz's Dudley Doright, as he and his legions come to rescue the Nell Fenwick that is America's youth.
This is Minnesota Senator Michelle Bachman (R-Stillwater), one of my favorite wingnuts.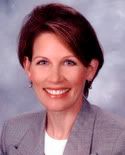 Senator Bachman has been looking for any possible way to get a marriage equality ban passed, but has been thwarted by Majority Leader Dean Johnson (DFL-Willmar). She has also introduced the Free Speech for Faculty and Students Bill of Rights, alongside the American Heritage Education in Minnesota Public Schools Act. She's a "good Christian culture warrior."
As Bachman's second two bills and events in Kansas and other places demonstrate, it's not just academics that are under attack but anyone who produces or disseminates knowledge that doesn't fit within a very narrow and particular worldview. Not all of these disparate antimodern groups have the same goals, but their common agenda, aligned as it is with that of those in power, make them a force more powerful, and dangerous, than their proportion of the population.
I teach sociology at two universities, Boston College and Tufts. I teach in controversial areas: inequality, race, gender, and sexuality. We inevitably deal with contemporary controversies. Since all of these topics concern power relationships, we talk about politics.
My own political philosophies are on what would generally be considered the left. My students know this. They also know that I'm not trying to convert them. I've asked them about exactly this. I think it becomes evident in the following example. A few years ago, when I was teaching at Minnesota State University, Mankato, one of those whacked-out preachers came to campus; the kind that tells all the women that they're going to hell because they're wearing belly shirts and are getting a fancy edumacation instead of being at home making babies. My students came to class pissed off. "He makes no sense!" "He's irrational!" "He keeps talking in circles!" Taking their responses as my cue, I dove into a conversation about knowledge systems having an internal rationality that is both consistent and contradictory; about how the elevated values in that system will help determine the resulolution of those contradictions, as will contextual issues; and about the ways that every knowledge system will have some basic ideas (those nasty ontological assumptions) upon which they rest, and that reference to these may sometimes seem circular. In other words, I used what they were discussing to dive into a discussion of the sociology of knowledge. I then transitioned into our scheduled topic for the day.
Dammit! I forgot the image I was supposed to uphold. I didn't take the opportunity to reinforce their hostility to everything conservative. I didn't work to indoctrinate them with a Christian-hating agenda. I failed my mission as a leftist academic and registered Democrat.
I succeeded in my mission as a teacher, though. Another example: last year, when I was teaching Social Movements, we used the LGBT Movement as a class case study (they all did their own individual case studies). Because the ConCon debate over banning marriage equality in Massachusetts was occurring simultaneously, I took them to one of the protests, all armed with observation sheets to use to sensitize them to framing issues, protestor/authority interactions, and the organization of the protests. They were forbidden from taking part in any protest during our scheduled class time; what they did when it wasn't class time was none of my business. At the end of the semester, I flat-out asked them about my use of that movement, which I not only study but also participate in. To a person, their response was that my use served pedagogical purposes and I never "preached to them." Indeed, I was the only person in the class willing to argue against marriage equality when we discussed it.
That's one of the things that pisses me off so much about these attacks from the right. I'm a queer activist, a liberal, and a registered Democrat. All of these supposedly make me a suspect teacher. Bullshit. None of these labels tells a person anything about my pedagogy or my classroom behavior. My job is to provide students a sociological perspective, and to help them develop analytical skills. The Right's assumptions that I use my position to enforce a political philosophy just might involve a little bit of projection. Their contribution to discourse over the past few years has shown that political position is all that matters. That evolution is seriously under attack as a "political" perspective, not a scientific one, is but one example of this.
The partisan political framing of academic knowledge production is highly problematic, especially for many of us in the social sciences and humanities. Some of the foundational principles of sociology make us particularly good targets. For instance, our emphasis on inequalities flowing from social causes based in power relationships isn't exactly amenable to a perspective that proposes atomistic individuals who "make it" or fail to based on sheer willpower and effort. Our emphasis that the meaning of any action is contextual and not inherent doesn't sit well with moral absolutists. The call of one of our discipline's founders, Max Weber, to maintain a "respect for inconvenient facts" is one the wingnuts willingly ignore. I wouldn't say that sociology is "liberal" so much as I would say that the ontological assumptions upon which sociology rest have political implications. If you want to study asocial actors making rational choices, study economics or law at the University of Chicago.
I teach sociology. We discuss the ways this a sociological analysis might be translated into policy. We analyze liberal and conservative perspectives from a sociological perspective. How dare a bunch of yutzes with absolutely no understanding of the topic matter I'm teaching try to tell me what to teach and how to teach it?! That's what this "Academic Bill of Rights" amounts to. It says that legislators and students know what I teach better than I do. It places their discretion over experts in any given field. Should professors in Environmental Science teach quack science saying global warming is a myth simply to satisfy the need for political balance? Should biologists start teaching non-science as biology to provide political balance for evolution? (OK, we already know their answer to that.) How should we sociologists fudge our data so they appear "balanced" in order to make our conservative students feel like they aren't suffering ideological oppression?
Last weekend, Bill Moyers robustly responded to right wing attacks on his work. Some of his comments also describe well the situation we academics are facing:
This is the point of my story. Ideologues don't want you to go beyond the typical labels of left and right because people may start believing you. They embrace a worldview that cannot be proven wrong because they will admit no evidence to the contrary. They want your reporting to validate their belief system and when it doesn't, God forbid.... Our reporting - our reporting was giving the radical right fits because it wasn't the party line. It wasn't that we were getting it wrong, either. Only three times in three years did we err factually, and in each case we corrected those errors as soon as we confirmed their inaccuracy. I believe our broadcast was the best researched on public broadcasting.

And the problem was that we were telling stories that partisans in power didn't want told, and we were getting it right, not rightwing.
Teaching (and reporting) that contradicts the party line is not to be tolerated. That is what lies at the heart of these attacks. While an "Academic Bill of Rights" might sound nice, and while we might like the idea of "presenting both sides" of an argument (are there really only two?) what we forget is that the sides may themselves not be germane to the topic matter of the class, at least not as adherents might want. Academic disciplines aren't reducible to political parties.
By my desk, I hang a tile my mother bought for me. It has the picture next to this on it in the traditional blue and white of Dutch Delft (my family's origins are in the Netherlands). I keep it there as a constant reminder of who I am. Teaching isn't just what I do, it's who I am. I take it very seriously. I resent, very deeply, arguments implying I don't, and that's exactly what these wingnuts are doing. The assholes are questioning my integrity as a teacher.
I'm going to keep mixing it up in the classroom. I'm going to keep introducing controversial materials and topics. If someone wants to challenge what I do, feel free. But be prepared for one hell of a fight.