Despite the recent growth in gasoline prices, which has triggered
intervention by the government
for refineries to forego minor maintenance in the coming weeks and to relax regulatory standard, and despite and the pretty gloomy assessments from the Department of Energy, which
now forecasts
oil prices above 70$ this winter and above 60$ next year, I think that the oil/gasoline situation is not the real danger for the US economy.
The real danger comes from two other places:
natural gas

the loss of the port facilities around NO
Oil and gasoline
On the oil front, prices have subsided in recent days, as the release of volumes from the SPR and the slow return to production of Gulf of Mexico facilities continued (yesterday, 860,000 b/d, or 57% of GoM production, was still down).
On the refining side, about 1 mb/d of capacity will be down for a long time, and some additional capacity will require a few more days to get back in line (see the detail for each refinery from the Dept. of Energy - 5 page pdf) but the help from European countries, that have provided gasoline from their own strategic reserves (2mb/d for 30 days) has allowed the crisis of the last few days to subside. The White House has also taken advantage of the situation to relax safety and environmental rules:
Bush calls for US refiners to boost fuel output

The White House has told US refiners to postpone all scheduled maintenance in a drive to maximise petrol and diesel production as the administration raised its oil price forecasts on Wednesday in the wake of Hurricane Katrina.

A senior executive from a big refinery in Houston said: "The message from the government is, `Run the refinery as high as you can and avoid all the non-priority maintenance in the next four or six weeks'."

Washington has also told refiners to stop producing ultra-clean diesel to increase petrol output.
A Louisiana refiner said: "The White House said, `Forget about [ultra] low-sulphur diesel. We need gasoline and diesel. We need you working 100 per cent'."

New regulations on producing ultra-clean diesel were due in January 2006 but are now likely to be postponed, refiners said.

(...)

But postponing maintenance, during which a refinery runs at reduced capacity, can be a costly and dangerous gamble. Some of the industry's worst accidents have been blamed on such delays.

Jamal Qureshi, market analyst at consultancy PFC Energy, said: "It does expose the potential for safety problems. But you don't have a choice."

Still the decision can be understood, as the missing capacity will ensure that the situation remains tense in a worldwide context of high capacity utilisation. HiD, our most knowledgeable kossack on the topic, is pretty upbeat as we come out of the driving season, so I will defer to him on this.
the Department of Energy has nevertheless increased its forecasts for future oil and gasoline prices:

US raises winter oil forecast to near $70

The US government yesterday raised its crude oil price forecasts for this winter to near $70 a barrel, and above $60 a barrel for 2006, and said US energy expenditures for 2005 would reach their highest level in 18 years.

The US Energy Department said that the jump in oil, natural gas, petrol and heating oil prices would increase this year's national energy expenditures to 8.3 per cent of gross domestic product, up from a 6.2 per cent in 2002. "Dramatic increases in domestic energy costs, assisted by everything from tight world oil markets, to blistering summer heat, to the ravages of Hurricane Katrina, have made for an exasperating summer for many consumers and have set the stage for a potentially expensive winter heating season," the department said in its monthly markets report.

Note that this figure of 8.3% of GDP was last seen during the 1979 oil shock, so we ARE entering oil shock territory, and this increased spending on oil, gasoline and heating oil will put a drag on UC consumers' purchasing power.
Natural gas and power
A good chunk of this increase comes form the natural gas side. This is usually either mixed together with oil, or ignored altogether. As I wrote in my earlier economic summary, this is important because natural gas prices effectively determine electricity prices, with a lag. Coal fired and nuclear plants are cheaper, but they are online pretty much all the time and the price for electricity is determined by the price for additional capacity, which comes today almost exclusively from gas-fired plants.
Natural gas prices jumped by more than 25% from an already high level, and have not gone down back to their pre-Katrina levels: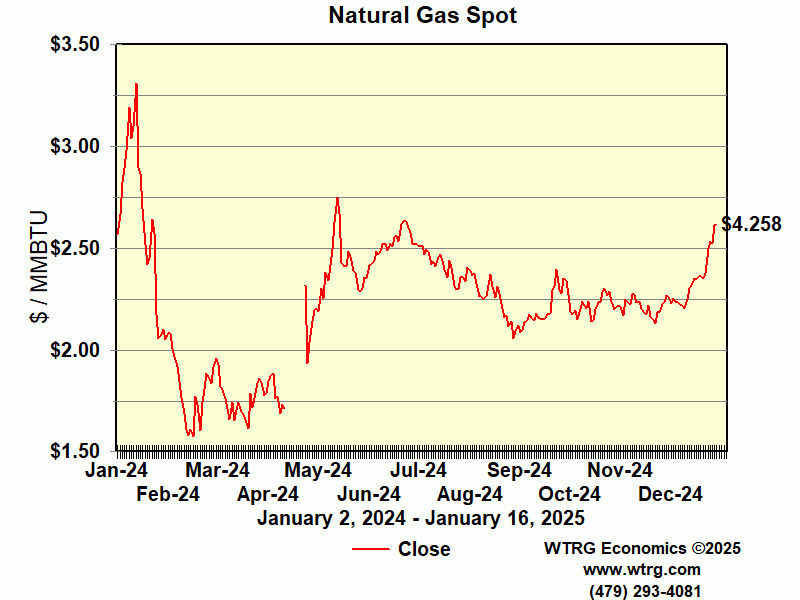 A lot of gas-fired plants have been built in the past 15 years, and the general expectation was for gas-prices in the 2-4 $/mbtu range (that made prices similar to that of coal-fired plants). Now that gas costs 3-4 times more, power prices are set to increase by 50-100%. It won't happen overnight, as there are long term supply contracts in place and regulated tariffs, but it will trickle through in the coming months (unless regulators block retial prices, in which case utilites will be squeezed between higher wholesale prices and lower retail prices, triggering a new Californaia-like crisis).

Gas prices put focus on US strategy

Natural gas prices yesterday kept close to the record levels reached after Hurricane Katrina, sparking worries of higher heating bills this winter for consumers and increased costs for the chemical and power generation sectors.

(...)

The role of natural gas in the US energy balance has increased in recent years. Last year, gas represented about 25 per cent of primary US energy consumption - the same amount as coal - compared with about 39 per cent for oil, according to the latest BP Statistical Review of World Energy. (...) Natural gas is the main feedstock for the petrochemical industry, and also affects electricity prices, because much of the US electricity supply comes from gas-fired power generation facilities.

(...)

"As if the [natural gas] market wasn't tightening already, Katrina now makes the natural gas balance look ridiculously tight," said Jay Saunders of Deutsche Bank in New York. (...) The production loss hit at just the point of the year when natural gas storage injections traditionally rise to help offset the peak demand of the coming winter season.

Analysts already saw the spot market as bullish before Katrina: injections into storage were already 12 per cent below the average for the last three years.

Gas prices were already very high before Katrina struck, and the loss of both production capacity from the Gulf of Mexico (4 billion cubic feet per day, 40% of GoM production or roughly 10% of US consumption) AND the apparent long term loss of processing capacity in Louisiana (5 bcf/d - see the same source above) ensure that the market will be even tighter. And no help can come form abroad, as the only way to carry natural gas across oceans is in the frm of LNG, and the US only has 4 import terminals, already used at full capacity. Canadian imports already provide more than 20% of US demand and cannot grow enough either.
So expect what are VERY HIGH gas prices to remain, and to slowly feed through pwoer prices and industrial prices. This will hurt consumers, and it will hurt industrial producers unless they can pass these price increases through. So expect lower profits or inflation, or both. Retail electricity prices could also rapidly become a hot political issue as utilities grapple with vastly more expensive wholesale prices and have to decide to pass these on to consumers or lose money.
Port
But the biggest worry by far comes from the literal disappearance overnight of the Port of South Louisiana, the largest commercial port in the USA and the 5th largest in the world. The LOOP, the offshore oil terminal seems to be coming back to normal, and the river facilities of the Port of New Orleans (on the Mississippi river) seems to be starting some operations again (6 page pdf), but the overall transport node seems GONE.
A very important stratfor article was already diaries a few days ago, but is worth mentioning again:

The ports of South Louisiana and New Orleans, which run north and south of the city, are as important today as at any point during the history of the republic. On its own merit, the Port of South Louisiana is the largest port in the United States by tonnage and the fifth-largest in the world. It exports more than 52 million tons a year, of which more than half are agricultural products -- corn, soybeans and so on. A larger proportion of U.S. agriculture flows out of the port. Almost as much cargo, nearly 57 million tons, comes in through the port -- including not only crude oil, but chemicals and fertilizers, coal, concrete and so on.

A simple way to think about the New Orleans port complex is that it is where the bulk commodities of agriculture go out to the world and the bulk commodities of industrialism come in. The commodity chain of the global food industry starts here, as does that of American industrialism. If these facilities are gone, more than the price of goods shifts: The very physical structure of the global economy would have to be reshaped. Consider the impact to the U.S. auto industry if steel doesn't come up the river, or the effect on global food supplies if U.S. corn and soybeans don't get to the markets.

The problem is that there are no good shipping alternatives. River transport is cheap, and most of the commodities we are discussing have low value-to-weight ratios. The U.S. transport system was built on the assumption that these commodities would travel to and from New Orleans by barge, where they would be loaded on ships or offloaded. Apart from port capacity elsewhere in the United States, there aren't enough trucks or rail cars to handle the long-distance hauling of these enormous quantities -- assuming for the moment that the economics could be managed, which they can't be.

Go read the rest, and go see this Los Angeles Times article from yesterday which begins to illustrate the same point. Companies are currently scramblingto organise alternatives, and use the stocks they have, but soon, major economic disruption could become visible.
The power and transport stories may not be as visible as the oil and gasoline situation, but they are just as dangerous for the economy and potentially a lot more disruptive on the long run.