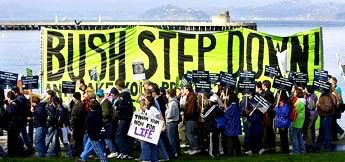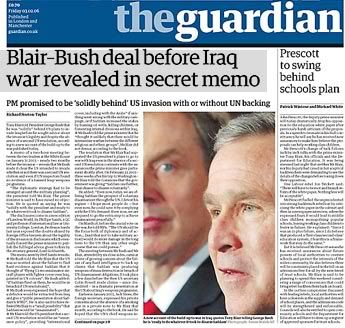 "



Below the Fold:

This week's line up really sucks (hey, what ya expect on super sunday). But we put together a killer party. So drop in and grab a cold one!

In the Comment Section:

"Fightin' Dem" Paul Hackett, with two kick ass videos

Super Sunday Funnies!!

In Memoriam: Coretta Scott King

Governor Dean takes no prisoners, as Rabid, MSM Poodle nips at his heels.

Sultry and Silly interviews: this week's guest, Kate Beckinsale

Special Report on ABC's Bob Woodruff

Special Report on Jill Carroll (all our hearts go out to Jill and her family)

NASA Literally Terrorizes one of its leading Scientists

This, I-Candy, and much more inside.



This Week: Constitutional expert, Gen. Michael Hayden drops by to distort the 4th Amendment. That is, when he's not claming up. Then Gooper Robot, Ken Mehlman (all together now, "Ken Mehlman.....Eeeewwwwwww!!). Afterwards, Goopers Cookie Roberts and George Will bash Sam Donaldson.

CNN: Barbara Boxer (you go girl !) vs Suck-ass, Duncan Hunter. In the Jimmy the Greek segment, Hamid Karzai, Prince Turki Al-Faisal, and Landslide Iyad Allawi drop in and reveal their Super Bowl picks. Afterwards, a confused Wolf interviews Seattle's Mayor Greg Nickels and Pittsburg's Mayor Bob O'Connor on Hamas, PNAC, and record oil profits.

Air America's Politically Direct: They're off, but we found some smoking hot, best of segments: Governor Dean and future U.S. President, Barack Obama. [patients, it takes a minute for their links to ignite]

60 Minutes: They're taking the week off also, but we cooked up some on-line "best of:" President Bill Clinton and Derek Jeter.

Once you get to those web pages, you'll find the video links in your lower, right hand column.

Meet the Press: Butt-Man, John Boehner lights up some smokes as he hands out the weekly pad ("quid pro quo" ca$h, that is)!

The Wiregate Hearings begin this week, which compels committee Chairman, "Single-Bullet Theory" Spector, to drop by and explain why he's no Sam Ervin. Afterwards, Ron Brownstein and John Harwood play a game of "Truth or Dare" - DARE! I Dare you to mention the new Downing Street Memo!

Face the Nation: Pat Leahy clobbers the morally duplicitous, Jeff Sessions. Time Mag's Karen Tumulty and Gooper propagandist, Baghdad Brooks fill out the panel.

The Bottom of the Barrel: Hayden and Boehner visit the choir and reprise their song and dance. Boy, Jesus Christ (D-Nazareth) would have his hands full with those sinners.