The professional science writer has a daunting task. His or her audience will consist of all ranges in education, from elementary school kids just getting their first taste of the wonder of the natural world, to retired professors. It's not an easy job, and maybe that's why so few succeed in making a living at it. Sadly, now it's even harder, thanks to a cavalier attitude towards science fostered by certain elements in the political establishment:
Why is it that politicians who say they want to strengthen science teaching standards can sound so post-modern about science? --Carl Zimmer
If you read Discover magazine in the 90s or science articles in the Times in the lst few months, then odds are you've enjoyed the work of best selling author Carl Zimmer. Carl is a creationist alright; only in that he creates understanding. He's also universally recognized as one of the most gifted and prolific science authors in the world with a writing style that breaks down complex topics into digestible, bite sized chunks that even the beginner wonder junkie can consume with delight. So I was excited, from the perspective of both a writer and a science buff, that I had a chance to virtually sit down with Carl this week, ask him about his writing, science, and the technology behind it all. Image Warning

DarkSyde (DS):
Carl how did you get interested in writing about science originally?
Carl Zimmer (CZ): I stumbled into it. In college I was an English major, and I was doing a lot of writing on my own, almost all fiction. But I took writing classes from Vicki Hearne and Peter Matthiessen, both of whom have done a lot of great non-fiction work, and they helped me appreciate the possibilities of non-fiction. I spent the first couple years out of college doing various jobs, such as working as a carpenter, and I continued to write stories. Then I moved to New York and couldn't figure out how to go on being a carpenter there. I decided to look around for jobs at magazines, and I wound up at Discover because they had an opening for a copy editor.
I proved to be a mediocre copy editor (as the typos in my blog make clear), but fortunately, I was able to make a lateral move. I worked as a fact-checker and wrote short items for the front of the magazine. I was surprised by how much I enjoyed the work.
At home I was getting less and less inspiration from my fiction, but at work I was getting to learn about all sorts of remarkable things, from the collisions of black holes to the biochemistry of glowing beetles. Only when I was actually writing about science did it occur to me that it might be a good match. I had always been interested in science. In college I had drawn weird looks in my physics class from the engineering majors and pre-med students when I said I was taking the course simply because I was interested in it. But I never put two and two together. They had to be put together for me. Fact-checking taught me a huge amount about writing and science. I'd get to see how science writers distilled lots of complicated information into a few thousand words. I'd also see how easy it was to make mistakes in the process. I got to call up world-class experts and get them to explain their research to me. I learned that you can't get embarrassed about asking questions that sound incredibly stupid. I stayed at Discover till 1999, ending up as a senior editor. By then I had published my first book, At the Water's Edge, and was midway through the next, Parasite Rex. I wanted more time to work on books, and it seemed like the right time to start writing for other magazines too. I've been on my own since then.
DS: In the foreword to the Yearly Kos Science e-book The Kosmos Kronicles you talked about how the new media and technology. How has that changed your work habits and where do you see it taking writers like yourself in the future?
CZ: I live in a small town in Connecticut, two hours from New York and Boston. My wife and I have two little girls. So I spend most of my day in my office in our house, reading and writing at my computer. A decade ago it would have been very difficult for me to make a living as a freelance science writer under these conditions. But thanks to Adobe Acrobat and Google, I can get my hands on most of the scientific papers I need, communicate with scientists around the world, and stay connected with my editors. I still remember calling my editor for Parasite Rex in 1999 and saying, "I'm done with the book. I know this sounds crazy, but what if I just send you my manuscript by email?" And then I watched as a couple year's work flashed out of my computer and over the phone wires. I had a sense that things were going to change a lot, and they have.
In 2000 I set up my web site, where I started posting articles and information on my books. I was invited to write about the history of evolutionary biology for a web site at the University of California. And then in 2003 I started a blog. What I like most about blogging is that it's self-publishing run amok. There are a lot of subjects that I am fascinated with to the point of obsession, and I know that it would take a lot of work to convince an editor to commission a story on them. So I can just write about them myself. I can also write about them in little essays. It's a style I enjoy, but for which there isn't much call in regular magazines and newspapers. Of course, that's not the most common style of blogging. I couldn't fire off a dozen posts a day. But there are no blog police telling you to stick to the house style. You just write it, and within a few seconds somebody in Siberia or Brazil is reading it. When I started blogging, I didn't think the medium would change the business of science writing.
I suppose I still have a deep-seated skepticism from the 1990s, back when people would make all sorts of claims about the coming information revolution. I still remember promises that e-books were just about to make regular books a thing of the past. But now I'm not quite so skeptical. Blogging and related media are growing in a healthy way, rather than soaring and crashing. Most bloggers may not be able to make a living at it, but some can get a little genuine ad revenue. On controversial issues in science, such as global warming, stem cells, and creationism, blogs can be much more nimble than conventional outlets responding quickly to changing events and getting to the heart of the matter. A lot of people apparently like that, I'm happy to see. I just hope that the spirit of experimentation continues. I just participated in the New York Times's first podcasts, talking about a story I wrote on the evolution of leeches. I find that entirely bizarre-but in a good way, a bizarreness I hope endures. Still, I won't stop writing books. Pixels on a screen can't replace hard covers and good paper stock.
DS: In Soul Made Flesh, you follow the discovery of the human brain as the seat of consciousness. There was considerable tension between religious and secular centers of power and the burgeoning science of neurology. Can you briefly summarize a portion of that?
CZ: Neurology as a science was born in the mid-1600s, and it summoned all the conflict between tradition and science at the time. It's very hard to put yourself in that era, because we live in such a brain-centered age. Before the birth of neurology you had people saying that the brain was no more capable of thought than a cake of suet or a bowl of curds. To say that the mind was matter in motion, as Thomas Hobbes did, was a scandalous thing, because it threw into doubt centuries of received wisdom about the nature of the soul. Bishops would rail again the "mechanical philosophy," worrying that it reduced people to machines. Hobbes was a political philosopher, however, so he couldn't back up what he had to say with much science. But at the time a group of English physicians and natural philosophers were exploring the brain and realizing that it really was much more than a bowl of curds.
But I should point out that this episode was not some simple split between science and religion. The central figure in Soul Made Flesh is Thomas Willis, who wrote the first book on the brain and coined the term neurology. He was a fiercely devout Anglican who hosted a secret church during the Commonwealth, when the Book of Common Prayer was banned. He saw his science as serving the Church, and was at great pains to make people understand that his work would not lead to atheism. He believed that by curing brains he would give people the opportunity to find salvation. Thomas Willis would not have even called himself a scientist. The word would not come into existence for almost 200 years. He would call himself a natural philosopher, seeing his mission to find evidence of God's work in nature.
DS: Do you see any modern day analogues?
CZ: The analogies are rough, but they are there. History runs in a cycle when it comes to how people view themselves and the world. A certain kind of understanding works well enough until new observations and ideas throw it into doubt. It takes a long time for people to find a new system into which these new things can fit comfortably. The brain offers a good example of this shifting consensus. Thomas Willis worried that people would take him for an atheist for suggesting that learning, memory, dreams, and the rest of our psychological life was produced by chemical corpuscles in the brain. By the 1700s this had become conventional wisdom. Now we're in a second neurological revolution, with brain imaging allowing scientists to dissect thought, with a growing understanding of the underlying chemistry, and an enormous industry in trying to alter that chemistry.
I don't think we've figured out how to live with this new kind of understanding of the brain on a day to day basis. There's also a fair amount of resistance to the idea that this precious brain ours is the product of billions of years of evolution. Now we can see the genes that build our brains, and we can see that the same genes built the front end of the nerve cord on amphioxus, the closest invertebrate relative to vertebrates. But the idea that natural selection and other forces could turn one into the other can be a staggering notion.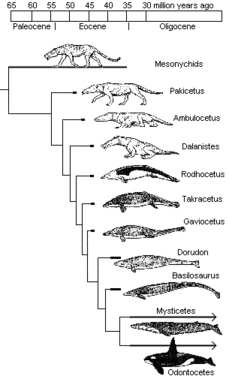 Top: The whale transitional 'ambulocetus' which means 'walking whale', done for Carl Zimmer's book At the Water's Edge. Right, a rough series of whale evolution with ambulocetus placed in chronological order. lllustrations courtesy of paleowildlife artist Carl Buell. Nevertheless, researchers now have reason to suspect there's a slight flaw in this diagram; can you spot it?
DS: Speaking of evolution, one of the favored lines of misinformation creationists once used to sell their wares was the absence of transitional whale fossils. But in At The Water's Edge, a truly classic evolutionary science book if ever there was one, you reviewed several exciting finds that demolished the creationist canard, correct?
CZ: One reason I love my job is that I can watch scientific history in the making. For well over a century years, scientists knew relatively little about the evolution of whales. Darwin recognized evidence that whales were mammals, and that they had evolved from ancestors on land. But there were no amphibious whales around that represented the intermediate stages from land to sea. Whales and dolphins are committed to the sea, with streamlined swimming bodies that leave them helpless on land. Some predictions logically follow: transitional species once existed, and if paleontologists ever managed to find their fossils, the fossils would show more signs of an ancestry on land. While I was at Discover, paleontologists in Pakistan and Egypt started finding spectacular fossils of 45 million year old whales with legs. That was one of the inspiration for writing At the Water's Edge, to show how some of these open questions are now being answered, and to show how major transitions in evolution have happened. Creationists used to make a great deal of the absence of these fossils, and now they try to claim that all these ancient walking whales somehow have nothing to do with whales today. But these fossils were exactly the sorts of thing you'd expect to find if evolution actually happened. And with several dozen intermediate species now known, this is turning into one of the best-documented transitions of all.


Eusthenoptern, an early 'lobe-finned' fish. Again taken from Carl Zimmer's book At The Water's Edge by paleo-wildlife artist Carl Buell. It lived about 380 million years ago and those fins exhibit fossil homologies to our own limbs. Although they're not easy to make out, the forerunners of the familiar arm and leg bones are there.
DS: And how about the amazing transitional fish covered in the same book, fish with legs and primitive lungs literally!
CZ: It was a remarkable coincidence that while some scientists were finding walking whales, others were finding fish with fingers. These creatures lived 360 million years ago and still had fish tails and gills and lots of other fish anatomy. But they also had limbs and other pieces of anatomy that let us walk around on land today.
The strange thing was, those early creatures couldn't walk around on land. The adaptations must have first emerged for some other function in the water maybe holding onto underwater vegetation or clambering around submerged logs or even doing push-ups to reach the air and breathe. Lungs don't fossilize, but a number of living fishes have them. And if you look at the evolutionary tree of fishes, the simplest explanation for their lungs is that lungs evolved very early in their history long before tetrapods started using them to breathe on land. As more and more of these transitional fossils bridging sea to land come to light, they show how big changes in evolution happen bit by bit. The tetrapod body plan did not pop up overnight. It emerged over millions of years, and many parts of it first evolved for adaptations that had nothing to do with what we use them for.

From about 360 million years ago, this fossil fish, called Acanthostega, may look like a land dweller, but the creature was probably as helpless on land as a catfish. The limbs and digits likely acted more like specialized paddles which provied the creature with extra-maneuverability in shallow, swift moving streams.
DS: Another topic you're written extensively about is parasites culminating in Parasite Rex. How does the study of these rather distasteful creatures shed light on evolution and on human evolution specifically?
CZ: For starters, it shows that parasites are the great success story of evolution. There's an estimated four species of parasites for every free-living organism. And they're not just passive creatures, but staggeringly well-adapted to making the most of a host. (See my new post on parasitoid wasps that perform brain surgery on their cockroach hosts if you doubt me!)
Parasites are also one of the most important engines driving the evolution of their hosts. If you acquire a mutation that helps you resist the wasp that's killing all your cockroach pals, you may well win the legacy game. If you look at the human genome, it's profoundly shaped by the evolution of defenses against parasites.
At the same time, though, the parasites have invaded the genome itself. Virus-like stretches of DNA replicate themselves in our genome, despite the fact that they don't make proteins that do us any good. Almost half the human genome is made of these genomic parasites. Parasites can also tell us a lot about our history because they've spread with us. We acquired tapeworms when our hominid ancestors were scavenging for carcasses on the African savanna. Malaria first became a scourge with the rise of agriculture, turning farmers into excellent targets for malaria-carrying mosquitoes. The bacteria that causes ulcers spread with humans when they first emerged from Africa and went with them all the way to the New World. Some scientists have even argued that we picked up lice from Homo erectus when our species first arrived in Asia. Parasites just go to show that nothing in nature cannot fascinate.
DS: Looking forward, are you hopeful or pessimistic about the future of Science and science education in the US?
CZ: The well-being of American science depends not just on lots of scientists doing good work, but on the rest of us having a good basic understanding of science. I'm not saying we all have to be top-notch electrical engineers, atmospheric scientists, epidemiologists, and organic chemists all rolled into one. But we need to speak a basic lingua franca of science in order to understand new developments in science, to decide where government funds for scientific research ought to go, and sort out the good and bad effects scientific research can produce.
It's hard to get a sense of how well we, as a country, speak that lingua franca. Jon Miller at Northwestern, wrote an interesting review in 2004 (pdf). He defines scientific literacy as the ability to read and understand the Science Times section of the New York Times--a definition that's flattering but arbitrary. By that measure, scientific literacy has actually doubled in the United States over the past twenty years, putting it on par with countries like Britain and France and actually above Japan. But the good news pretty much stops there. Miller finds that only seventeen percent of Americans qualify as scientifically literate.
Part of the problem is that the lingua franca gets harder to learn as the years pass because more things are discovered and more of those things get incorporated into our lives. But that explanation only goes so far. Miller writes that half of American adults say that the Sun rotates around the Earth, and 14 percent think that the Earth rotates around the sun once each day. Those figures are not typos. About 40 percent of American adults can offer a minimally correct explanation of DNA. According to 55 percent of Americans, antibiotics kill viruses (they don't).
At the very best, then, our grip on the lingua franca is incredibly fragile. It must be nurtured. President Bush's call for 70,000 new high school science teachers would be a good step in the right direction, although the simultaneous slashing of student loans may make it harder for the students of those teachers to go on to become science majors in college.
It doesn't help our fragile grasp on this lingua franca for President Bush to support intelligent design in science classes "so people can understand what the debate is about," as he puts it. Every major scientific organization deplore the idea. Nor does it help that a 24-year-old Bush campaign worker, one George Deutsch, wound up lecturing NASA scientists about how they had to refer to the Big Bang as a theory, because it is, he wrote, "not proven fact; it is opinion," adding, "It is not NASA's place, nor should it be to make a declaration such as this about the existence of the universe that discounts intelligent design by a creator."
Mr. Deutsch has since resigned. Apparently his offense was his lying about dropping out of Texas A&M--not his misrepresentation of what scientific theories are. (Hint: not opinion.) If Mr. Deutsch knew about this difference, his actions were cynically corrosive. If he didn't know, then he was ignorant and shouldn't have been overseeing the flow of information from NASA--let alone dispensing wisdom to astrophysicists.
It used to be easy to take for granted that the United States would always produce great scientific work. Certainly this country still has a lot to be proud of. When I write about important new scientific work, most of the time I'm describing work carried out by American scientists. That's not chauvinism, but recognition of the facts on the ground. The United States still fosters a vibrant scientific culture that attracts people from other countries to do research and to learn. But this kind of culture needs care and feeding, or it withers.

Carl Zimmer is the author of several popular science books and writes frequently for the New York Times, as well as for magazines including The New York Times Magazine, National Geographic, Science, Newsweek, and Popular Science. Carl's books include Soul Made Flesh, Parasite Rex and Evolution: The Triumph of An Idea. To see more of his writing, visit his personal blog, The Loom.