Crossposted from MY LEFT WING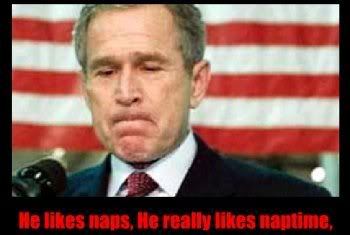 Look, I've been reading all day and briefly considered posting an in-depth piece on the United Arab Emirates, their schizophrenic stances on terrorism, and the make-up of the Committee on Foreign Investment in the Unites States ("CFIUS"). In the end, though, it simply wasn't worth my time or yours.
Oh, who am I kidding.
Here's what I know: The Bush Regime just approved the sale of a company that GUARDS THE EAST COAST PORTS of the UNITED STATES...
to the United Arab Emirates.
I'll leave the handwringing about possible terrorist infiltration of those ports to those better equipped to wring hands. It seems clear to me that this deal is just another Bush Regime Fuck Up. NOBODY likes this deal.
Nobody, that is, except the CFIUS. 12 members sit on that committee, chaired by the Treasury Secretary (John Snow); they do their work in secret until the deals are done.




The Peninsular and Oriental Steam Navigation Company, which is usually known as P&O, is a British shipping and logistics company which dates from the early 19th century. It is listed on the London Stock Exchange and is a constituent of the FTSE 100 Index. Its head office is in London. In February 2006 shareholders agreed to a £3.9 billion sale to Dubai Ports World.
U.S. DEPARTMENT OF TREASURY

OFFICE OF THE ASSISTANT SECRETARY INTERNATIONAL AFFAIRS

OFFICE OF INTERNATIONAL INVESTMENT

EXON-FLORIO PROVISION

Introduction
The United States has traditionally welcomed Foreign Direct Investment (FDI) and provided foreign investors fair, equitable and nondiscriminatory treatment with few limited exceptions designed to protect national security. The Exon-Florio provision is implemented within the context of this open investment policy. The intent of Exon-Florio is not to discourage FDI generally, but to provide a mechanism to review and, if the President finds necessary, to restrict FDI that threatens the national security.

The Exon-Florio provision is implemented by the Committee on Foreign Investment in the United States ("CFIUS"), an inter-agency committee chaired by the Secretary of Treasury. CFIUS seeks to serve U.S. investment policy through thorough reviews that protect national security while maintaining the credibility of our open investment policy and preserving the confidence of foreign investors here and of U.S. investors abroad that they will not be subject to retaliatory discrimination.

The Statute. Section 5021 of the Omnibus Trade and Competitiveness Act of 1988 amended Section 721 of the Defense Production Act of 1950 to provide authority to the President to suspend or prohibit any foreign acquisition, merger or takeover of a U.S. corporation that is determined to threaten the national security of the United States. The President can exercise this authority under section 721 (also known as the "Exon-Florio provision") to block a foreign acquisition of a U.S. corporation only if he finds:

(1) there is credible evidence that the foreign entity exercising control might take action that threatens national security, and

(2) the provisions of law, other than the International Emergency Economic Powers Act do not provide adequate and appropriate authority to protect the national security.

To assist in making this determination, Exon-Florio provides for the President or his designee to receive written notice of an acquisition, merger or takeover of a U.S. corporation by a foreign entity. Once CFIUS has received a complete notification, it begins a thorough review of the notified transaction. In some cases, it is necessary to undertake an extended review or "investigation." An investigation, if necessary, must begin no later than 30 days after receipt of a notice. Any investigation is required to end within 45 days.

Information provided by companies contemplating a transaction subject to Exon-Florio is held confidential and is not made public, except in the case of an administrative or judicial action or proceeding. Nothing in section 721 shall be construed to prevent disclosure to either House of Congress or to any duly authorized committee or subcommittee of the Congress.

Factors To Be Considered
The Exon-Florio provision lists the following factors that the President or his designee may consider in determining the effects of a foreign acquisition on national security. These factors are:

(1) domestic production needed for projected national defense requirements;

(2) the capability and capacity of domestic industries to meet national defense requirements, including the availability of human resources, products, technology, materials, and other supplies and services;
Let me just stop here for a moment...
There is NO domestic company capable of fulfilling the requirements of this port guarding business?
Not even... HALLIBURTON? Wow.


(3) the control of domestic industries and commercial activity by foreign citizens as it affects the capability and capacity of the U.S. to meet the requirements of national security;

(4) the potential effects of the transaction on the sales of military goods, equipment, or technology to a country that supports terrorism or proliferates missile technology or chemical and biological weapons; and

(5) the potential effects of the transaction on U.S. technological leadership in areas affecting U.S. national security.

Amendments. Section 837(a) of the National Defense Authorization Act for Fiscal Year 1993, called the "Byrd Amendment," amended Section 721 of the Defense Production Act (the "Exon-Florio provision"). It requires an investigation in cases where:

the acquirer is controlled by or acting on behalf of a foreign government; and

the acquisition "could result in control of a person engaged in interstate commerce in the U.S. that could affect the national security of the U.S."

Legislative Cite. Section 721 of Pub. L. 100-418, 102 Stat. 1107, made permanent law by section 8 of Pub. L. 102-99, 105 Stat. 487 (50 U.S.C. App. 2170) and amended by section 837 of the National Defense Authorization Act for Fiscal Year 1993, Pub. L. 102-484, 106 Stat. 2315, 2463.

CFIUS

Executive Order The Committee on Foreign Investment in the United States ("CFIUS") was originally established by Executive Order 11858 in 1975 mainly to monitor and evaluate the impact of foreign investment in the United States. In 1988, the President, pursuant to Executive Order 12661, delegated to CFIUS his responsibilities under Section 721. Specifically, E.O. 12661 designated CFIUS to receive notices of foreign acquisitions of U.S. companies, to determine whether a particular acquisition has national security issues sufficient to warrant an investigation and to undertake an investigation, if necessary, under the Exon-Florio provision. This order also provides for CFIUS to submit a report and recommendation to the President at the conclusion of an investigation.


Stopping again. President George W. Bush PERSONALLY received the report and recommendation of the CFIUS investigation of the Dubai Ports World deal... and signed off on it. Let's just be sure we're ABSOLUTELY clear, here.
Now, I don't believe for a minute that fuckwit signed off on it in any meaningful sense of the phrase. I think that fuckwit signs whatever they tell him to sign.
Nevertheless... Buck, meet Here.


In 1993, in response to a sense of Congress resolution, CFIUS membership was expanded by Executive Order 12860 to include the Director of the Office of Science and Technology Policy, the Assistant to the President for National Security Affairs and the Assistant to the President for Economic Policy. In February 2003, the Department of Homeland Security was added to CFIUS. This brought the membership of CFIUS to twelve under the chairmanship of the Secretary of Treasury. The other members are the Secretaries of State, Defense, and Commerce, the Attorney General, the Director of the Office of Management and Budget, the U.S. Trade Representative, and the Chairman of the Council of Economic Advisers.


The 12 people who signed off on this deal:
Treasury Secretary John Snow (Chairman)

Secretary of Defense Donald Rumsfeld

Secretary of State Condoleezza Rice

Secretary of Homeland Security Michael Chertoff

Secretary of Commerce Carlos Gutierrez

Attorney General Alberto Gonzalez

D.O.M.B. Director Joshua Bolten

U.S. Trade Representative (to the WTO) Robert Portman

Chairman of Council of Economic Advisors Edward P. Lazear

Director, Office of Science & Technology PolicyJohn H. Marburger, III

Assistant to the President for National Security Affairs Stephen Hadley

Assistant to the President for Economic Policy Allan Hubbard


Regulations
The Exon-Florio provision requested that the President issue implementing regulations. These regulations were issued in 1991. They set up a voluntary system of notification with the possibility of CFIUS member-agency notice for non-notified transactions. The President retains full authority to protect the national security with respect to any acquisition covered by this statute, regardless of whether the parties file a notification.

The Exon-Florio regulations do not define national security. The preamble to the regulations provides guidance that products, services and technologies important to U.S. defense requirements would be significant to national security. Even though notification is voluntary, CFIUS would consider notification of these transactions appropriate.

Code of Federal Regulations Citation. Office of International Investment, Department of Treasury -- Regulations pertaining to mergers, acquisitions, and takeovers by foreign persons, 31 CFR Part 800.

Procedures
Treasury, acting at the staff level through the Director of the Office of International Investment in the Office of the Assistant Secretary of International Affairs, acts as the secretariat for CFIUS. It receives and circulates notices to CFIUS agencies and coordinates reviews. Reviews are conducted on a case-by-case basis.

The Exon-Florio statute established a 30-day review following receipt of a notification. For those transactions for which an extended 45-day review (or "investigation") is completed, a report must be provided to the President, who must by law announce the final decision within 15 days. In total, the process can not exceed 90 days. The statute requires the President to inform Congress of his determination of whether or not to take action under section 721.

The parties to an acquisition subject to section 721 may submit a voluntary notice to CFIUS of the proposed or completed acquisition by sending 13 copies of the information requested in part 800.402 of the Exon-Florio regulations to:

Ms. Gay Hartwell Sills

Staff Chair

Committee on Foreign Investment in the United States ("CFIUS")

Office of International Investment

Department of Treasury

1500 Pennsylvania Avenue, N.W., Room 4201 NY

Washington, DC 20220

Phone: (202) 622-9066

Also: (202) 622-1860

E-Mail: gay.sills@do.treas.gov


From AP, via CBS Radi:


Bush Admin Defends UAE Firm's Control Over U.S. Ports

WASHINGTON (AP) -- The Bush administration on Thursday rebuffed criticism about potential security risks of a $6.8 billion sale that gives a company in the United Arab Emirates control over significant operations at six major American ports.

Lawmakers asked the White House to reconsider its earlier approval of the deal.

The sale to state-owned Dubai Ports World was "rigorously reviewed'' by [CFIUS].

...

The committee's 12 members agreed unanimously the sale did not present any problems, the department said.

"We wanted to look at this one quite closely because it relates to ports,'' Stewart Baker, an assistant secretary in the Homeland Security Department, told The Associated Press. "It is important to focus on this partner as opposed to just what part of the world they come from. We came to the conclusion that the transaction should not be halted.''

The unusual defense of the secretive committee, which reviews hundreds of such deals each year, came in response to criticism about the purchase of London-based Peninsular and Oriental Steam Navigation Co.

The world's fourth-largest ports company runs commercial operations at shipping terminals in New York, New Jersey, Baltimore, New Orleans, Miami and Philadelphia.

Four senators and three House members asked the administration Thursday to reconsider its approval. The lawmakers contended the UAE is not consistent in its support of U.S. terrorism-fighting efforts.

"The potential threat to our country is not imagined, it is real," Rep. Mark Foley, R-Fla., said in a House speech.

The Homeland Security Department said it was legally impossible under the committee's rules to reconsider its approval without evidence DP World gave false information or withheld vital details from U.S. officials. The 30-day window for the committee to voice objections has ended.

...

U.S. lawmakers said the UAE was an important transfer point for shipments of smuggled nuclear components sent to Iran, North Korea and Libya by a Pakistani scientist, Abdul Qadeer Khan. They also said the UAE was one of only three countries to recognize the now-toppled Taliban as Afghanistan's legitimate government.

The State Department describes the UAE as a vital partner in the fight against terrorism. Dubai's own ports have participated since last year in U.S. efforts to detect illegal shipments of nuclear materials.

Rep. Vito Fossella, R-N.Y., urged congressional hearings on the deal.

"At a time when America is leading the world in the war on terrorism and spending billions of dollars to secure our homeland, we cannot cede control of strategic assets to foreign nations with spotty records on terrorism,'' Fossella said.

Critics also have cited the UAE's history as an operational and financial base for the hijackers who carried out the attacks of Sept. 11, 2001.

...

Separately, the Port Authority of New York and New Jersey said Thursday it will conduct its own review of the deal and urged the government to defend its decision.

...

The lawmakers pressing the White House to reconsider included Sens. Schumer (D), Tom Coburn, R-Okla., Frank Lautenberg, D-N.J., and Chris Dodd, D-Conn., and Reps. Foley, Fossella and Chris Shays, R-Conn.


This aggression will not STAND, man.
I'll be very, VERY surprised if this deal goes through. This might, in fact, be the final straw for any Republican with an ounce of SENSE. It's a LOSER.
What I'm NOT surprised by, frankly, is that it happened. This IS the Bush Regime we're talking about, folks. The FUCK UP Administration. The Gang That Couldn't Shoot Straight... whoops.
I want to leave you with a barely pertinent speech of Howard Beale's from Paddy Chayevsky's ALWAYS pertinent Network:


In this country, when one company wants to take over another company, they simply buy up a controlling share of the stock. But first, they have to file notice with the government. That's how CCA took over the company that owns this network. But now somebody is buying up CCA. Somebody called the Western World Funding Corporation. They filed their notice this morning.

Well, just who in the hell is the Western World Funding Corporation? It is a consortium of banks and insurance companies who are not buying CCA for themselves but as agents for somebody else. And who is this somebody else? They won't tell you. They won't tell you, they won't tell the Senate, they won't tell the SEC, the FTC, they won't tell the Justice Department, they won't tell anybody. They say it's none of our business. The hell it ain't!

I will tell you who they're buying CCA for. They're buying it for the Saudi-Arabian Investment Corporation. They're buying it for the Arabs...We all know that the Arabs control sixteen billion dollars in this country. They own a chunk of Fifth Avenue, twenty downtown pieces of Boston, a part of the port of New Orleans, an industrial park in Salt Lake City. They own big hunks of the Atlanta Hilton, the Arizona Land and Cattle Company, the Security National Bank in California, the Bank of the Commonwealth in Detroit. They control ARAMCO, so that puts them into Exxon, Texaco, and Mobil Oil. They're all over - New Jersey, Louisville, St. Louis Missouri.

And that's only what we know about! There's a hell of a lot more we don't know about because all of the those Arab petro-dollars are washed through Switzerland and Canada and the biggest banks in this country.

For example, what we don't know about is this CCA deal and all the other CCA deals. Right now, the Arabs have screwed us out of enough American dollars to come right back and with our own money, buy General Motors, IBM, ITT, AT and T, Dupont, US Steel, and twenty other American companies. Hell, they already own half of England.

So listen to me. Listen to me, god-dammit! The Arabs are simply buying us. There's only one thing that can stop them. You! You! So, I want you to get up now. I want you to get up out of your chairs.

I want you to get up right now and go to the phone. I want you to get up from your chairs, go to the phone, get in your cars, drive into the Western Union offices in town.

I want you to send a telegram to the White House. By midnight tonight, I want a million telegrams in the White House. I want them wading knee-deep in telegrams at the White House.

I want you to get up right now and write a telegram to President Ford saying: 'I'm as mad as hell and I'm not going to take this anymore! I don't want my banks selling my country to the Arabs! I want the CCA deal stopped now! I want the CCA deal stopped now.!'


Postscript
In case it isn't CRYSTAL clear, my remarks on this subject have nothing to do with the soundness of the decision or lack thereof, in concrete terms. POLITICALLY... this is a fuck up. And, as I noted in my first comment, I'm just wondering how the "Opposition Party" will fuck THIS up.