Denizens of Daily Kos know me as Meteor Blades, but within the Hive I am known as 6 of 90,000. I am ... was ... may soon again be ... one of the Borgkos, a Kog, fully assimilated, mind and body. I may only have a few moments, so please heed my warning: Don't register here. The instant you do, you will be absorbed and every thought you have, every detail of every utterance you make will be provided to you. Typos included.
Others, the so-called Front Pagers, the highly Recommended Diarists and the whole assimilated cohort of Kogs - for instance, the dutiful greeter known as buhdydharma - may arrive any second now to dispute everything I am about to tell you. By the wiliest methods, they will seek to show that they are independent thinkers, not part of what one Hive enemy has so creatively described as "blogofascism." (He has no clue how much worse the situation truly is.) The Kogs will seek to confuse you with every possible technique: oratorical brilliance, humor, appeal to sentiment, haranguing, even carefully crafted "contradictory" statements.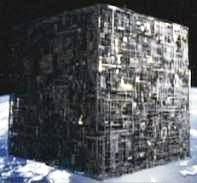 The Borgkos cube before it was painted.
Turn away. Don't register. Because once you do, it's over. Absorption and transformation will be your lot. Unrecognizable from your original self. Another Kog in the Koshorde, ready to do the blogführer's bidding. Unable to do anything but his bidding, including suppression of the news that Jenna was the Bush Regime's secret contact with the 20th hijacker but got wasted the night of September 10 and nearly botched the entire scam.
We were told it was Scoop software being installed when the big change occurred back in `003. A Perl-based way to allow self-moderation through ratings, handle a larger volume of comments and offer a huge array of editable features, like Diaries. It sounded good, it looked good, and, after a few glitches, it worked well. But, unbeknown to all except the
jefe
of the Hive - the Kos Kween - and the handful of Kogs he early on had absorbed, all of Scoop's functionality was merely coincidental to the real reason it was chosen
:
A bug unnoticed by its otherwise clever originators made it amazingly susceptible to the introduction of Borgkos code. Not a virus, not a worm, but an entirely new order of lethal programming whose nano-tentacles reach right up from the Qwerty keys through your fingertips, up your arms and up your neck to implant a microchip directly into your cerebral cortex. Zap!
Thenceforward, even when you are not logged on, you are Borgkos. Every thought, every action, every phrase you come up with, a perfect reflection of Hive Thought, blind Koggery.
Not possible, you say? You've seen nuance here, subtlety, disagreement, even nasty clashes? Believe me. I mean, don't believe the Borg Meteor. But this, right now, right here, is really me. The Meteor you can trust. Remember I was here before Scoop. I've been inside. It's not what it outwardly appears.
Whether someone is writing comments or Diaries about the latest news, offering prayers, writing poetry, being snarky, discussing personal experiences in relation to political choices, posting on the outcome of original research, waxing philosophical, making calls to action, requesting financial support for candidates, arguing about whether Senator Clinton is worse than Governor Warner as a presidential nominee and getting a reaming for being a bad Democrat, nothing, not one single thing, is done without the Kos Kween's knowledge and approval, all of it transmitted instantaneously via the implants, each of them nano-numbered with your UID.
Armando calls someone an asshole? Vetted. SusanG's rescued Diaries? Chosen in advance by the Hive. Also the ones she doesn't pick. All part of the Borgkos Charade. Darksyde's or Plutonium Page's scientific explorations? The Hive at work. Hunter's rants and Georgia10's analyses? Them too, yes.
Everybody whose name you recognize, and all names you do not, are Kogs. When somebody writes that this place seems like an echo chamber and others agree or attack? Each line scripted. Maryscott, Booman? Satellite Kogs, fully under control. All part of the plan. As will be their denials. The politicians and celebrities who post here - Joe Wilson, John Kerry, Louise Slaughter, John Conyers, Barbara Boxer, yes, even Jimmy Carter - Borgkos. Every single one of them. Even if it's an assistant who does all the keyboarding. I'm warning you. The Manchurian Candidate is peanuts compared with the Hive Kospiracy.
Believe me, the instant you register here, you'll be a Kog. Not better informed. Not connected to like-minded people. Not given an edge in political debate. Not inspired to activism. Not an habitue of a place where you can explain your own ideas and get feedback. No. From registration onward, you're controlled and directed, one of the mindless orange Koshorde intent on nothing but the mission.
Even if all I say were plausible, you ask, how do I explain Yearly Kos, where thousands of free thinking, free drinking, chatterbox activists interacted freely? Sorry. Illusion in the city of illusions. A dry-run for the Hive's real mission, a mission which seeks to, which will ...ulp...I can feel the Kog Patrol closing in. Quick, before it gets here, if there are any other receptive Borgkos out there, let me teach you how to tap into the Captain Picard portion of yourself and get loose. Free yourself from the Hive and repeat this alarm to the unabsorbed. First, put one pinky up each nostril. Deeper. Hurry up. I can feel them. You must remove the ...wait ...noooooo. Stop! I don't want to go back. No! Not a new chip. I won't, I ...
Bzzzzzzzzzzzz.