I'm at work, but I just saw a story come across the business wire that Valerie Plame and Joe Wilson will be holding a press conference at 10 AM tomorrow morning at the National Press Club announcing that they will file a lawsuit against Dick Cheney, Karl Rove, and Scooter Libby.
Stay tuned for more details to come...if I have the chance, I will add a link when the story gains more traction.
Here's a link to the press release.
[Update #1]: Link to the official complaint. (hat tip to my co-bloggers at Deny My Freedom).
[Update #2]
Justice for all.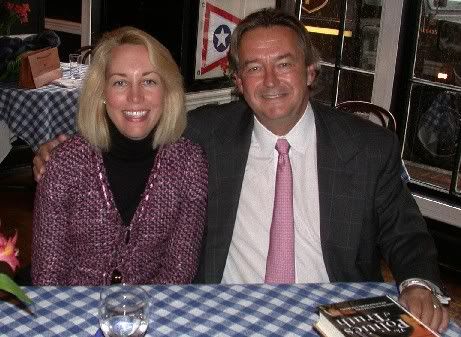 The last three words of the Pledge of Allegiance is what ran through my head when I saw the press release. Unlike most of the blogosphere, I haven't been following this case avidly, so I'm not very clear on the specifics - for that, you can turn to the incomparable emptywheel of The Next Hurrah or the good folks at Firedoglake for the mind-bending details. However, one thing was clear from the outset: one man had dared to speak the truth at a politically inopportune time, and he and his wife were punished for it. Watching Joe Wilson's Yearly Kos appearance on C-Span 2 made it clear how much the past few years have weighed on him, and it saddened me that the criminal justice system found no fault - or found no truth, leaving Scooter Libby to be indicted not for the crime, but for lying about the murky details surrounding it.
I don't put Joe Wilson and Valerie Plame on the 'mythic' pedestal that David Boyle did when he asked Mr. Wilson a question about running for public office. To me, they are like any other public servant of America - dedicated to serving their country, largely in anonymity. They just happened to be the ones who planted the first seeds of real doubt after the invasion of Iraq had begun. It's a shame that fine people like them can no longer live in any sort of peace, that Valerie Plame will always be remembered as a 'spy', and Joe Wilson will be remembered as her husband - at least by the mass public. For me, though, perhaps they will be able to do what Patrick Fitzgerald was ultimately unable to accomplish - hold this administration accountable for its policy of putting politics above the country's well-being. For me, they are two American heroes.
I doubt that the truth and nothing but the truth will ever be known about the fateful events that transpired within the White House before Robert Novak outed Plame. Maybe, though, justice will be served. At this juncture, it would only be fitting.