You may fool all the people some of the time, you can even fool some of the people all of the time, but you cannot fool all of the people all the time.
-- Abraham Lincoln, 1858

There's a sucker born every minute.
-- not Abraham Lincoln






(Also avaiable at My Left Wing)
How does this sound for a campaign promise:


In an attempt to offer substantial remedies for California's healthcare problems, gubernatorial candidate Phil Angelides today will propose installing new medical clinics in as many as 500 elementary schools, his aides said.

Angelides campaign officials said the candidate has embraced the idea of adding hundreds of new school clinics but would likely not make a formal proposal and flesh out details of the plan until next year, if he is elected.

Ho-hum. Pretty tame stuff, right? Candidate X says he's going to change A, B and C, but is light on the details - and besides, there's not much he can do until after he's elected anyway, right? Typical challenger's election-year puffery.
Okay, so much for the hypothetical scenario. Let's try this real-life example, from last week's newspaper, of a sitting governor who's actually running for re-election:

Criticized for failing to offer substantial remedies for California's healthcare problems, Gov. Arnold Schwarzenegger today will propose installing new medical clinics in as many as 500 elementary schools, his aides said. [snip]

Administration officials said Schwarzenegger has embraced the idea of adding hundreds of new school clinics but would likely not make a formal proposal and flesh out details of the plan until next year, if he is reelected. [emphasis added]

This coming from the ostensible leader of the most powerful state in the Union - the 6th largest economy on the planet - who could, if he chose, "make a formal proposal and flesh out details of the plan" right now if he were actually serious about doing something about it.
But he's not.
He's just trying to win an election.
Tell me this guy won't say anything - anything at all - to get elected.
Here's another example: Schwarzenegger hosted a "healthcare summit" at UCLA last week.

Schwarzenegger himself has offered few detailed proposals on healthcare during his nearly three years in elective politics. The governor said Monday he was open to all ideas and ready to begin a thorough examination of healthcare with an eye toward announcing a comprehensive proposal next year if he is reelected.

*coughbullshitcough*
How stupid does he think we are, anyway?
Evidently, pretty stupid. Schwarzenegger has been blatantly pandering to almost every interest group you can think of, trying frantically to convince them that he is "one of them," that they can trust him to take care of their interests if they could only see it in their hearts to keep him in Sacramento.
Just two days ago, he announced the appointment of the former Congressman who oversaw the Clinton impeachment trial to a seat on the Superior Court in Orange County, thus sending the right wing into paroxysms of ecstasy.

Soon after the governor's news release announcing [James E.] Rogan's appointment went out Monday, conservative commentator and blogger Jon Fleischman issued an e-mail alert to his readers. He called Rogan a "superstar on the Republican side of the aisle."

Hmmm, okay, a little red meat for the wingers, n'est-ce pas? But here's what set off the Pandering Alert:

Schwarzenegger's office made the rare move of announcing Rogan's intended appointment although the position won't be open for two months. Rogan is replacing retiring Judge Susanne Shaw, who leaves Sept. 30.

Gee, now I wonder why he would do that? Hmmm . . .

Rogan's appointment comes amid criticism from conservatives who objected last week to Schwarzenegger saying that there was too much prejudice and hatred in the debate over immigration. And some Republicans have said with disdain that nearly 45% of Schwarzenegger's appointments to the bench have been Democrats or independents.

He also, for good measure, on Monday signed an essentially meaningless "environmental accord" with British Prime Minister Tony Blair - one that is so toothless that industry groups were positively gushing:
[The Western States Petroleum Association's] chief operating officer, Catherine Reheis-Boyd, [said] Monday's agreement "recognizes the importance of using market-based mechanisms to address the challenging issues of climate change. It acknowledges the very real risks to our economic future if we don't move with care and deliberation."

In a statement, Allan Zaremberg, president of the California Chamber of Commerce, applauded Schwarzenegger and Blair for their actions, including proposals to examine the true costs of greenhouse gas regulatory programs, adding, "Knowing what climate change policies will do to California's economy should be a prerequisite of any statutory change.... Unfortunately, some state policymakers continue to encourage the imposition of an arbitrary, California-only mandatory emissions cap program."

Hey, it was a great photo-op, though!
So much for "Arnold the Environmentalist." Oh! Did I mention he's opposed to Proposition 87, which would use revenues generated from oil drilling in California to fund alternative-energy research and development - this in spite of the fact that more than 60% of Californians support the measure?
He's also trying now to weaken the provisions of a bill that would toughen standards for greenhouse gas emissions in the state. Gee, I wonder why?

The governor announced a proposal last summer to reduce gases like carbon dioxide that cause global warming, and he has already begun to make the idea a centerpiece of his re-election campaign.

But many business groups, including key Schwarzenegger allies like the California Chamber of Commerce, are adamantly opposed to strict caps and are lobbying against the bill. Schwarzenegger risks upsetting industry if he signs the bill, but many political observers believe his global warming rhetoric will look hollow if he doesn't enact the law.

Rock, meet hard place.
Tough call, eh, Arnie?
I'm sure his decision would have been made a lot easier if he and his administration hadn't accepted more than $2 million in various contributions from oil interests since 2002.
But, wait! You're saying - wasn't Ahnuld the candidate who promised us during the recall campaign in 2003 that he wouldn't accept money from - <cue ominous organ music> - SPECIAL INTERESTS??? <cue sound of woman's blood-curdling shriek>
From a commentary by Jeffrey Nunberg in the New York Times shortly before the 2003 recall election (emphasis added):

Arnold Schwarzenegger began his campaign to lead California by pledging to become "the people's governor," vowing that he would accept no money from the "special interests who have a stranglehold on Sacramento." When it turned out that he had accepted contributions from developers and other wealthy individuals, he explained that those weren't special interests but merely "powerful interests who control things."

What he had meant, he said, was that he would refuse contributions only from public employee unions or other groups he might have to negotiate with as governor. He apologized for the confusion by saying, "I was not articulate enough to explain that."

"Public employee unions or other groups he might have to negotiate with" as governor - in other words, YOUR special interests, not MINE. Because, Lord knows, he won't be negotiating with developers, insurance companies, energy interests, or Big Pharma - noooo - remember, "handing out favors to" is not the same as "negotiating with." In case you missed Ahnuld's halo, here he is on CNN last year, reminding you of his unimpeachable integrity:

I cannot be bought. I have plenty of money myself. No one can give me $100,000 and think that I'm going to go and change my policy or my thinking.

- but don't let that stop you; you can still give him $100,000. Actually, you can only give him $22,300, the legal limit in California. But if you have enough family members or employees with deep pocketses, you can ratchet that right up. Take a look at Ahnuld's top donors so far for this election cycle. You'll notice that he has, indeed, received plenty of money from special interests of all kinds - real estate development, energy, pharmaceuticals, insurance, finance, health care, entertainment, high-tech - from both within California and out-of-state. Contrast that with Angelides's list, which reveals many more unions, and far fewer big-business interests.
Schwarzenegger is hoping California voters have short memories when it comes to his lies about special-interest money. But those lies aren't all he's trying to get away from. Ahnuld has been a veritable Running Man when it comes to a slew of issues he'd rather voters forget: running from racism, running from sexual harassment, running from residue of his father's Nazi past, running from his involvement with Enron and the California energy crisis in 2001 -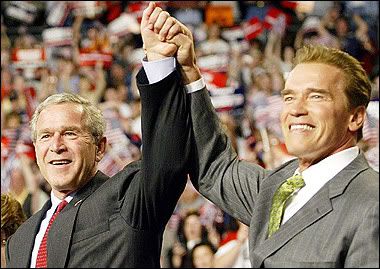 and running from George W. Bush.
Schwarzenegger made a big deal about appearing at the 2004 Republican National Convention to endorse the incumbent President. But last month, when Ahnuld went to the White House to attend - along with George W. Bush - a dinner in honor of the Special Olympics and its founder, Schwarzenegger's mother-in-law, Eunice Kennedy Shriver? Mmm, not so much:

Usually a governor will brag about going to the White House, especially if the president is in the governor's own party. But with a president as unpopular as Bush is in California, it's no wonder the governor is mum about the visit.

The governor's official schedule, put out daily by his office, listed "no planned public events" for Monday. [snip]

CBS 5 : "Will you ask President Bush to campaign with you?"

Schwarzenegger: "I don't need anyone to campaign with me. I think this is all between me and the people of California."

Tuesday, at an event near Sacramento, the governor was asked about why his office was silent on his White House visit.

"When I decide when I'm going, which many times is the last minute -- I'm a very improvisational person -- so I think that my office gets caught many times off-guard, also," he said.

Ahnuld told a slightly different story to the Scripps newspapers:

Though the governor's office noted he was out of state, it did not say where.

"This was more a personal trip because my mother-in-law, who is 85 years old, you know she celebrated her birthday, and at the same time the White house celebrated all this great work she has done since 1968 when she started Special Olympics," Schwarzenegger said.

As Doctor Evil would say,
Riiiiight.
Even when Ahnuld magically responded within a day to President Bush's veto of federal funding for stem-cell research by proposing a $150 million loan to California's stem-cell research program, state Dems called bullshit on Schwarzenegger's, uhh, bold and principled stand:

In 2004, 59% of voters passed Proposition 71 to authorize $3 billion in bonds to fund stem cell research. But litigation has paralyzed the bond process. A Superior Court judge issued a strongly worded ruling in May in favor of the state, calling the bonds valid. However, the plaintiffs - taxpayer and religious groups - have vowed an appeal. If Proposition 71 is deemed unconstitutional, the state loan would not be repaid.

Schwarzenegger spokeswoman Margita Thompson said that, although the governor could have taken such action earlier, the court ruling persuaded him that the state would ultimately prevail. With the Bush veto, he "felt it was critical to take action to ensure that stem cell research continues," she said. Schwarzenegger has been a longtime supporter of stem cell research and endorsed Proposition 71, his staff said.

The Republican governor's move could also help him win over moderate voters by drawing a sharp distinction with the president, who is unpopular in California. The action drew derision from the governor's opponent in the November election, Democrat Phil Angelides, who called it a "smokescreen to cloud the memory of California voters that it was Arnold Schwarzenegger who campaigned for President Bush in Ohio and helped put him back into office.

"For the past year, while I was fighting for immediate funding for the California Institute of Regenerative Medicine, the governor failed to lift a finger to stand up to the anti-research activists," Angelides said in a statement.

California Democratic Party spokesman Roger Salazar said in a statement that Schwarzenegger "sat silent as his supporters took Proposition 71 to court."

Oooh, so it could be trouble for Ahnuld in November if California voters have Total Recall - he'd rather they fall for his not-so-True Lies.


Tomorrow in Part 2: The Triangulator has real problems: prisons, unions, and - gulp- immigration.