Issue number 1, wherein I introduce myself and a topic that, while it might not elect Democrats in the Fall, might help the at-home lives of those who WILL work for and elect Democrats in the Fall. Thus, obliquely, germane to the interests of the Kossak Kommunity.
I'm now over 60, and I've been building things all my life. I am a licensed General Contractor. I grew up in a house that was being rebuilt around us, and I learned a simple lesson. People can do things. Most people, especially those who think of themselves as total idiots in this regard, in my experience, are surprised to find out how much they can do, once they are shown how. It ain't rocket science. I watched as my step-father converted our coal burning furnace to a oil burning furnace, using a Sears, Roebuck kit, over fifty years ago.
I'll be here this morning until 11AM MDT and I'll try to answer questions, if I can type fast enough to keep up.
Follow me over the fold, and we'll begin...

Lesson 1- Changing a light bulb.
You will need four friends and a chair. Place chair beneath lightbulb. Stand on chair and grasp bulb securely. Direct four friends to lift up chair and walk in a circle until bulb is free from fixture. Reverse this procedure to install new bulb. If this is unclear, email me, and I'll send you a detailed diagram.
<cue laugh track>
I'll try to keep things simple. Today's topic will be electricity in your home, specifically the GFCI safety device.
The first thing anybody needs to know about electricity in their home is that what we all take for granted is an amazing high energy event, every time we use it. Take ten seconds and imagine your life without electricity. .............
OK, got that? Armies of technicians work day and night to make that happen, irregardless of the economics involved, which is a whole other topic I'll be glad to engage with you on in another location. Respect and cherish those people who harness the magic of the electricity genie.
Here is the other side. Take only a second or two and imagine that energy in that wall receptacle (what you "plug into") moving through you, rather than a wire. .......
Got that one? It can kill you, or your kid. Respect it.
OK. In that realm, we all have those funny plugs, what are called "GFCI receptacles", somewhere in the pad: the bathroom, the kitchen, or outside, or all three. There also exist "GFCI circuit breakers" which do the same thing but do it from the circuit breaker box rather than at the receptacle itself.
GFCI means Ground Fault Circuit Interrupter and what it does is constantly monitor it's circuit and, if it detects a problem in the ground, interrupts the circuit, stopping the energy flow and maybe saving your life. This is the one about the radio or the hair dryer falling into the bathtub and zapping you. The GFCI shuts off the power before it can harm you.
"Ground", BTW, is where loose, escaped-from-it's-wires, electricity is trying to go; the Earth itself. In fact, the English refer to it as "earth" rather than "ground". In modern house wiring, the ground wire is an extra wire, a "conductor", either bare copper or sheathed in green (the universal ground symbol), connected literally to the earth, parallel to current bearing wires throughout the house, and is the escape hatch for electricity to find ground without going through you on it's way. The GFCI is an added high-tech safety improvement on top of the grounding system. They didn't have them when I was kid.
I don't know how a GFCI works; it's techno-wizardry that I, and you, don't have to understand, to have work for us.
There is one obscure but crucial piece of info I want you all to know about GFCI receptacles or breakers: they need to be exercised to remain effective.
http://www.contentisking.com/...
One of approx 257,000 hits Google yields to "GFCI maintenance" query. Actually says "exercise" in reference to circuit breakers, which should be exercised yearly at least, as opposed to monthly, for the more sensitive GFCIs.
Read the fine print on or in the box. It will tell you to trip it once a month. "Trip" means to exercise it's function by pressing the little button that says "test" until the device goes "click". That has shut off the power to the device. The other little button says "reset" (sometimes it's red) , and pressing it until it clicks will restore the power.
Basically, you want to test this little sucker all the time, to keep it alert and crisp, ready to do it's thing if called upon. Left to itself, it will pout from the neglect, lose it's self respect and...no wait, that's the psych lecture notes...ahem, the device needs to be exercised so as to not build up corrosion internally and affect the extreme sensitivity of the device to subtle shifts in current.
If you have a GFCI circuit breaker protecting the required receptacles, it will be in the circuit breaker box from which all the electricity in your house is distributed. In this box on the wall, inside or outside of your house, is the "main breaker", the off switch for the entire house. Below it are circuit breakers, or, in really old houses, fuses, that protect individual circuits that carry electricity throughout your house. One of these breakers may be a GFCI breaker, and it has a "test" button on it as well. Push it and then reset it. It is reset by moving the little handle all the way off and then clicking it all the way "on" again.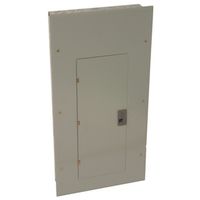 And behind the door...

These circuit breakers control individual circuits, which are wires in a system to carry the current to individual appliances on the circuit, the receptacles (Plug ins) and built in lighting. Some circuits are "dedicated", like for your washing machine or your fridge or possibly even your computer, and serve one appliance only. Other circuits distribute the current to the plugs in one area, for whatever you plug in, or the lights in one area. All this stuff was originally installed by a licensed tech and was inspected by a gov't building inspector when your house was built, according to the codes in effect at that time.
(I can see that I am going to have to address electrical systems as a whole, and what you need to know about them, in another session.)
It is also worth noting that one breaker, or one GFCI receptacle, properly wired, can protect many receptacles in different locations. A GFCI is required by code in bathrooms and in kitchens near water sources, as well as for all exterior receptacles. You can check which recepts are GFCI protected by tripping ("test") the breaker or recept. Any recept in the house that no longer has power when the device is tripped is being protected by the device. If you are a renter, I suspect that the landlord is required to provide these devices by law to meet standards of habitability, at least in the civilized parts of the US.
Whatever. I want you all to come away from this thread aware of the GFCIs in your life and dedicated to exercising GFCIs whenever you encounter them. Test your friends' GFCI. Test the one in the restroom at work, and the restaurant where you have dinner. Do your own at least once a month, if not more often. Once a week would not be excessive. Click "test" and then "reset".
If you don't have GFCIs in your home, you probably should, although my family managed to survive the last half of the past century without them. I can walk you through installing one for yourself if you need one. They cost around ten bucks, and can be safely installed by a sane and sober human without danger if directions are followed. There is a tendency in the process of regulating safety to make things totally idiot proof, that ignorance of things like electricity shouldn't just kill you because you fucked up a little bit. I explain it to my workers as, in the example of building a deck, or balcony, that it has to be strong enough to endure all the drunken teenagers that can cram onto it jumping up and down to see how strong it is, or just jumping up and down (in unison) for the hell of it. Drunkproof, I call it. Thus, GFCI recepts or breakers.
BIG DISCLAIMER!!!
I'll get into trouble if I try to show you how to do things that are the realm of licensed techs. Because I know my own limitations, and enough about electricity, I do this work for myself on my own house, at my own risk. If I fuck up and harm myself, I have nobody else to blame but myself. I accept that as the price of my freedom to work on or repair my own property. I won't tell you to do this kind of thing for yourself, but some people do, just like some people fix their own cars.
I hope this is useful. It's only a start, if enough Kossaks stroke me for doing it. I thrive on praise (unique, aren't I?), so make me feel useful and treat me with respect and I'll be your slave, cyberneticly speaking. If anyone has a specific immediate house-type concern to address, bring it on and I'll do what I can with it. Let me know where you want this to go. I'm starting from a point of assuming that everyone here doesn't know any of this stuff. I do know that there are many handy Kossaks and a lot of this stuff is already known to them.
If I get something wrong here, jump on my ass.

UPDATE 10 AM I'm taking a quick break for breakfast but I'll BRB ad continue responding in 20 min or so.