Are we going to see a
"parallel government" declared today in Mexico
?
Or an organized, mobilized grassroots "civil resistance" to Mexico's rabid supply sider government policies ("neoliberal" in Latin American discussions)?
What, then?
Hundreds of thousands, perhaps over a million, liberal-left activists are today heading toward Mexico City's downtown plaza (the Zócalo) to the National Democracy Convention to declare something.
Energies are up after Andrés Manuel López Obrador and his co-ralliers pressured outgoing President Fox to give the Independence Day speech (the "Grito") not in the Zócalo but in the alternate location of the small albeit historical town of Dolores Hidalgo.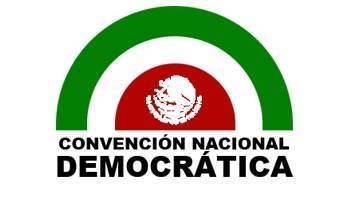 More from this Reuters report, excerpted from Tiscali:
Mexican left must decide on tactics
16/09/2006 13:38
By Alistair Bell

MEXICO CITY (Reuters) - Mexican leftists decrying election fraud will decide on Saturday whether to make their fight with President-elect Felipe Calderon a radical struggle on the streets or to adopt a less confrontational stance.

Supporters of leftist Andres Manuel Lopez Obrador will hold an open-air convention in the capital's sprawling Zocalo square to hammer out strategy after losing the July 2 vote by a marginal 234,000 votes.

Organizers predict 1 million people will turn out at the event, which could name Lopez Obrador the leader of a civil resistance campaign or the head of an alternative government....

...Lopez Obrador aide Manuel Camacho Solis said leftists were leaning away from street protests and towards challenging Calderon more like a traditional political opposition.

"We are getting to the point where there should be a space for politics and a space for protest. It's not just protesting against Calderon anymore," he said.

The convention is likely to approve plans to draw up a new constitution, he said...

..."It is going to be very rough for Calderon. Wherever he goes, we'll be there to remind him he became president through fraud," said nurse Lidia Alvarado, 51, in the Zocalo.
Here's the same basic story, from the scarier point of view of the Houston Chronicle's headline writers. Cue the spooky danger music. And cue sound effect of babies crying, to represent the view that these are all little silly followers of Lopez Obrador who is a useless laughingstock WHY WON'T THEY JUST GO AWAY?
Lopez Obrador ends siege
Leftist leader pledges he'll still try to derail the new government
By MARION LLOYD
Chronicle Foreign Service

MEXICO CITY - Leftist leader Andres Manuel Lopez Obrador called an end Friday to the crippling, weeks-long siege of downtown Mexico City, but vowed to continue trying to derail the incoming government.

...Most of the delegates attending today's convention are members of Lopez Obrador's Democratic Revolution Party, or PRD. They may declare the protest leader president of a separatist government that will challenge Calderon administration.

Some analysts question whether such a government, without a budget or an army, will do much to push Lopez Obrador's causes, which he says include helping the poor.

"If he can't collect taxes to do anything for them or use the police or the army to do anything for them, they've got saints that are probably more effective than he will be," said John Womack, a Harvard historian who is an expert on Mexico's leftist movements. "It will become a joke before long."

Ha ha ha ha ha. Funny stupid Mexican lefty liberal ninnies. Don't they know that if they would just shut up and be patient that in 60, or maybe 80 years many of their problems might be addressed by the standard political processes? Gosh, why are they so impatient???!!!
He said Lopez Obrador would be better served working within the system to influence social policy. His party made historic gains in the July 2 congressional elections, becoming the No. 2 force in Congress.

PRD officials are upbeat about the shadow government and say it wouldn't be the first time Mexico had two rival governments.

From 1864 to 1867, President Benito Juarez was forced to run his government in hiding while he fought a war against the French-imposed rule of Emperor Maximilian I. And during the 1910-1917 Mexican Revolution, power struggles resulted in at least two rival presidencies.

But those were different times, historians say.

"I don't think it has anything to do with Juarez or the others," said Womack, who noted that in the past, the country was at war.

"The PRD increasingly sees Lopez Obrador as an embarrassment," said George Grayson, a political scientist and the author of a critical biography of the leftist leader. "He's too much of a maverick, and it's verging on comedy what he's doing now."
Ha ha ha ha ha. Stupid funny crazy Mexican leftists. They should simply learn to politely lose like many other liberal political parties, because the WORST thing in the world is to disturb a nation's political stability, it's far, far worse to have angry, weird protests and odd leaders than it is to concentrate a poor nation's resources increasingly in the hands of a billionaire few.
MexiKos is a news collective. Add articles, views, commentaries, reports on Mexico issues below.