With all due respect to
the man
who proclaimed that "all politics is local," the Tipster got it wrong.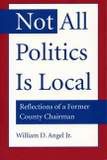 For more than a generation, American's have accepted Speaker O'Neill's folksy wisdom as a guiding principle. After all, it's local office impact that matters most, right?
Not quite. Because by jumping on the "all politics is local" bandwagon, progressives unwittingly buy into core Republican values: greed and selfishness. And in doing so, a game that is rigged from the outset to pit good people against one another. Thus corporate whores like Robin Hayes, Charles Taylor, Sue Myrick, and Virginia Foxx spend their careers slopping at the trough of government spending to bring home the bacon.
'Looka what I'm doing fo' my distric',' they say, slamming public spending on one hand while selling their votes to fund some highway contractor so they can brag about how hard they're working for their constituents.

But there's a problem. "All politics is local" tells voters, for example, that the choice between the Lyin' Robin Hayes and Honest Larry Kissell only affects voters in the 8th district. It says that what's good for that district is unrelated to what's good for America and for the rest of the world. Republicans win when we think that way.
I know it's hard to worry about the big picture when you don't have a job or insurance. I understand the importance of taking care of family and community first. And I also know that Republican policies make life more difficult in almost every way for regular people. Only the richest - the friends of Taylor Hayes Foxx, LLC - really benefit
"All politics is local" ignores the fundamental connections that bind us each to one another. It ignores the fact that what happens in one Congressional district can ricochet around the world, affecting what happens in Iraq and Afghanistan and China and North Korea and more.
Even though a Democrat said it, "all politics is local" is a death sentence for the common good.



To all North Carolinians with Republican Congressmen

On November 7th, you have the opportunity to change the course of history. Using the most powerful tool in the world, your vote, you can restore America's integrity and honor.

North Carolina Republicans in Congress have betrayed American values. They have sold us out to moneyed interests, driving up stock prices and driving down wages. They have pushed through health policies that protect drug companies instead of senior citizens. They have created massive deficits. They have condoned the practice of torture. They aren't taking care of your district because they aren't taking care of America. And if they stay in power any longer, bad will turn to worse. You can already see it coming.

The only way to change the course is for at least one house of Congress to be controlled by Democrats.

Your individual vote on November 7 could be the one that changes the world. So when you go to the polls, please cast your ballot for the Democratic candidate.

We are your neighbors here in North Carolina, and we thank you very much.

Why couldn't we get a million registered Democrats in North Carolina to join in signing this petition?
It will take a lot of word-spreading to make something big happen. So if you're willing to help, please:
1. Link the petition or this entry to your personal blog
2. Email the link to the petition to your personal lists of friends and family
3. Post the link in comments on open threads in other blogs like those listed here.
Thanks for all you do.
~~~~~~~~~~~~~~~~~~~~~~~~~~~~~~~~
I believe Democrats running together against Republicans makes especially good sense this year. Our focus at BlueNC is on North Carolina, but there's no reason this couldn't happen all across the country.