Latest email from Judy Feder's (D VA-10) campaign:
Congressman Frank Wolf is Removing References to President Bush from his Website; Almost All References to the President Removed

Sterling, VA -- In a desperate act of political opportunism, and in an apparent attempt to distance himself from the president's unpopular Iraq Policy, Congressman Frank Wolf has removed references to President Bush from his website.

Congressman Wolf's website used to display a prominent banner and included language that stated "Congressman Frank Wolf fully supports President Bush and the war against terrorism," the website now reads simply "Congressman Frank Wolf fully supports the war against terrorism" and the banner has mysteriously disappeared.
Until recently, Frank Wolf has been hiding behind loyalty to Bush and looking for political protection behind commissions that will not report until after the midterm elections. As recently as two days ago, Frank Wolf's website prominently displayed his support for the president. Now, we cannot be sure where Frank Wolf stands given that he is scrubbing language from his website. He appears to be gearing up for a Wolf Waffle.

"It's pretty amazing that a 26 year incumbent and his veteran campaign staff would get caught doing something so silly," said Scott Arceneaux. "If he wants to flip-flop on Iraq, why not just come right on out and say it to the voters? Why the hush-hush removal of references to President Bush from the website? Seems to me that the Wolf campaign is trying to duck the issue and run from the Congressman's true record. The public deserves better than that, they deserve to know Frank Wolf's positions."
Compare this screenshot taken just days ago:

With Wolf's current site: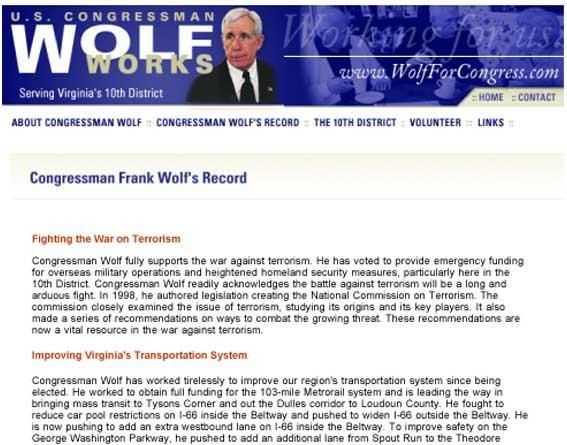 Hmm... Something is missing...
An excellent take on this can be found here comparing Wolf's action to 1984 (making Bush an 'unperson'). I recommend you take a look.
Help Judy Feder out here.
Thanks to lowkell and teacherken for identifying resources for this diary.