In
this diary
it was brought up that SNAFUs are occuring in the Colorado absentee ballots, a reminding me of a theory I had posited some time ago on what states beyond FL & OH were ripe for rigging.
I thought swing states with GOP governors would be likely targets; Colorado, Minnesota and Nevada fit those criteria. So let us find out about the various Secretaries of State beyond the fold, shall we?
* all S.O.S. names link to the S.O.S. website, not their bios
COLORADO: Our 1st state to have monkey business, has the loveable Gigi Dennis* running the elections.
How loveable?

The two major-party candidates for Colorado secretary of state are critical of the current officeholder, Republican Gigi Dennis, for changing election rules in the middle of the campaign.

Democrat Ken Gordon and Republican Mike Coffman said it was unfair for Dennis to decide in August that "membership organizations" must get permission from individual members annually before their dues can be used in political campaigns.

Previously, the dues were automatically deducted and the groups, such as unions, then transferred money to small-donor committees to push for certain candidates.

Dennis said she has done nothing wrong. The real problem, she said, is Amendment 27, a voter-approved campaign finance initiative that critics say is fraught with loopholes. the courts.
link

Not just the candidates think so highly of her, either.
Claiming unsecure electronic voting machines are a threat to the integrity of the November elections, 13 Colorado voters are asking a judge to bar their use on grounds that the state failed to do the tests required by law.

"These unreliable and insecure Direct Recording Electronic computerized systems have disrupted elections across the country and have created a crisis in voter confidence," said Paul Hultin, a lawyer for the voters in a case that goes to trial Wednesday in Denver District Court.

The lawyers are asking the judge to bar use of the machines in nine counties. The lawyers claim the machines made by Diebold Election Systems, Sequoia Voting Systems, Electronic Systems and Software and Hart InterCivic were not properly certified by Secretary of State Gigi Dennis.

Dennis is required by state law to appoint experts to test, evaluate and certify electronic voting machines, and to file a report.

In a deposition released last week, the state employee who conducted at least some of the tests said he had no formal training in computer science. The lawsuit claims Dennis failed to file the required report on the tests.link
Those machines? Diebold Election Systems, Sequoia Voting Systems, ES&S and Hart InterCivic
She's such a rock ribbed republican she tried to throw a GOP primary candidate off the ballot to smooth the way for Don Beauprez.
She's the darling of the state party so crazy that John Birchers seem reasonable, and cute as a button to boot.
MINNESOTA: Our little ball of sunshine in the land of 10,000 lakes is Mary Kiffmeyer, a pistol packing Grandma who likes to lend out voting machines to her pals @ party headquarters: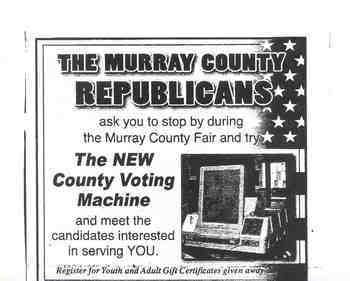 Her other interests include scrapbooking, walks along the river and writing threatening letters to those who make her job harder:
Last week, when Secretary of State Mary Kiffmeyer fired off a letter of warning that City Pages' voter registration drive at the State Fair "may be in violation of federal law," she highlighted two defining characteristics of her six-year tenure as the state's top election official: open partisanship and a proclivity for overreaching.

In her one-page August 30 letter, Kiffmeyer cited a section of the federal elections code that prohibits "paying or accepting payment for voting or registering to vote." Because City Pages offered fairgoers a chance to sign up for a vacation sweepstakes along with providing them the opportunity to register to vote, Kiffmeyer argued, the paper's actions could be construed as "payment" and, therefore, against the law. link
Her weapon of choice? The ES&S Automark with the always unreliable Diebold Accuvote as her backup.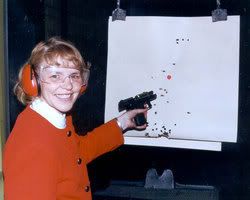 I hope the voting machines are more accurate than she is on the gun range, and she needs to work on her grouping there.
Nevada: Maybe the most honest of the bunch(just because I haven't googled enough) is Current SOS and NV-02 candidate Dean Heller.
It appears that it'll be hard to mess this one up unless through voter suppression, as NV(like MN) requires electronic ballots with paper reciept, their machines supplied by Sequoia