I wanted to provide a brief update from the field and our race against Dennis Hastert in Illinois' 14th District.
This has been an exciting week of sign wars, media interviews, grassroots campaigning.
A sign war is raging in Geneva, IL.
Denny took out a $51,000 ad buy for cable television.
We have started winning over fiscal conservative business owners who want fair trade agreements and national healthcare.
Early voting has started in Illinois and all next week we will be doing turn-out calls to Identified voters; asking them to get to the polls early. We need your help and if you want to take 25, 50 or 100 calls, please write an e-mail to info@john06.com.
Read below the fold for an exciting campaign update.

Polling:
Our last official poll had this race as Hastert (52%) and Laesch (42%). We bought 325 cable TV spots for roughly $9,000. We know that Hastert took a poll last weekend and we heard some inside information that the race had closed to a 49% - 45% race. We have been unable to confirm these numbers, but I do know that other indicators would suggest that we have closed the gap significantly.
Sign wars:
Throughout the district we have noticed an overall trend of more Laesch signs going up and more Hastert signs going down. Last week a worker at a factory in Geneva, IL gave our office a call to report someone putting Laesch signs in the dumpster. The local GOP are not taking it very well. A cell phone photo of the signs and license plate were sent to the office. A call to the police produced a name, number and voting record. The perpetrator is a Geneva City Councilmen by the name of Mark Wissing. His voting record and a quick google search showed that he is an active member of the Republican Party who has actually stated in City Council meetings that the Republican Party would handle government business. There is a shocker!

Hastert starts with the negative campaigning:
My younger brother, Sgt. Pete Laesch, pointed out that Dennis Hastert has started trying to paint John Laesch as "inexperienced." You can read Pete's blog for a ranteriffic experience!
The media buy:
We learned that H4C had fits with Comcast cable and tried to get our Foley advertisements pulled because of FEC violations. Comcast let them know that our ads were in full compliance - my thanks to Annette for being a great media buyer.
Foleygate update:
Let's see... Hastert still didn't see, hear, or know anything that may have been going on in his house. Hmmmm... DeLay, Ney and Foley... "I see nothing" Hastert is covering it all up or he is Playing House instead of being Speaker of the House.
I don't follow Foleygate anymore unless I hear something interesting like... John Beohner throwing Denny under the bus again.
Boehner said he told the ethics panel privately what he had earlier said in public -- that he first learned about contact between Foley and a former page several months ago, and believes he informed House Speaker Dennis Hastert, an Illinois Republican.
Tough Grassroot campaign gearing up to win:
Yesterday morning I was out at the West Chicago Train Station talking to voters at 6:00 a.m. Between Brian Dullum (in the photo) and myself we talked to about 100 people. Only two people rejected the literature and most were enthusiastic to learn that I was running against Dennis Hastert.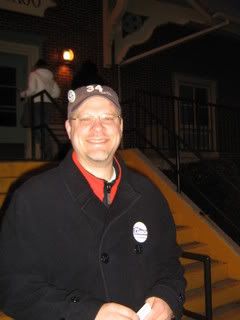 Touring Fox Valley Molding:
After working the train station I joined several business leaders for a tour of Fox Valley Molding in Plano, IL. I met with Steve Arbizzani of Research Automation in Aurora, Chris Ganschow of the Tooling and Manufacturing Association in Park Ridge, and Don Hagg, the owner of Fox Valley Molding. Hagg's business has been struggling for the past 10 years because he has not moved his business to Mexico or China. He plays by the rules, pays his taxes, pays his workers a fair wage and enforces immigration laws by hiring legal workers. Don's business is struggling because he plays fairly.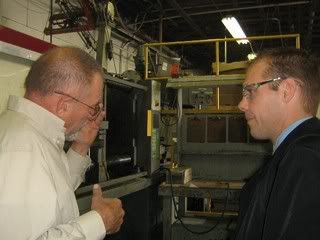 Here is a recent quote from the former Republican:

I sincerely hope and pray you are victorious as you and others like you are the only hope the middle class has and especially our children and grandchildren as their American dream will not be available to them as it was for us. I know as my father made $7.00/ hr working in the assembly department at Barber Greene when he retired in 1976 but he always said and instilled in me that honesty was what mattered. So "work hard" these remaining weeks John as the Republicans always do coming down the stretch, as usually makes the difference.
Fundraising update:
I know that we have raised $200,000 and the numbers are climbing every day. I want to raise at least $30,000 more to match Hastert's ad buy and I would welcome any support for this historic campaign.
What is next:
Early voting has started in Illinois and all next week we will be doing turn-out calls to Identified voters; asking them to get to the polls early. We need your help and if you want to take 25, 50 or 100 calls, please write an e-mail to info@john06.com.
This concludes my diary and I again want to thank the Blogosphere for your help in defeating the Speaker of the House.
Sincerely,
John Laesch