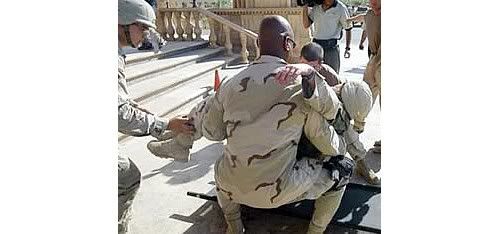 YESTERDAY, THE DIARY FOUR CAME HOME told the personal stories of four soldiers killed together on a scorching October day. But in focusing on the personal, it ignored the tactical questions. Why were the four out alone on a weapons sweep? How badly were they outnumbered? Where was their backup?


Not so long ago the reported deaths seemed mostly to be roadside bombs, hidden and unavoidable. Or the result of 'skirmishes' where reports of American wounded or dead also included insurgent casualties. But look for such reports today and you look in vain.


True, tactics have changed: troops are increasingly being slain by highly trained snipers. And where once the term "I.E.D." referred to bombs, they now show up in reports where troops are "attacked by" I.E.D.'s. (read: rocket-propelled grenades).


But beside the switch in tactics, indications are that the ever-escalating troop deaths are the result of a totally new dynamic: it's an open secret in Iraq that the United States has given the green light to insurgents to hunt down and kill U.S. soldiers, marines, and airmen.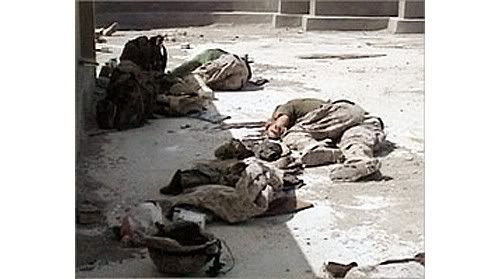 BUSH'S PLAN TO CUT AND RUN


Beginning in early September planned leaks told of James Baker's efforts towards an early 'exit strategy'. Those planned leaks built in momentum until they became such common knowledge that Baker's report will have been read, discussed and practically implemented before it is even published.


But in the last week there have been a very disturbing new series of planned leaks, directly related to the Baker plan, that have received remarkably little attention: Bush is openly offering amnesty to those who kill our troops.


From today's London Times:


AMERICAN forces are negotiating an amnesty with Sunni insurgents in Iraq to try to defuse the nascent civil war and pave the way for disarmament of Shia militias, The Times has learnt.



The tactic marks a dramatic reversal of policy by the US military, which blocked attempts to pardon insurgents with American blood on their hands after handing over sovereignty to a secular Iraqi Government in June 2004.



The U-turn comes amid the bloodiest fighting for two years and growing domestic opposition to the war as Americans prepare to vote in crucial midterm elections.



Even as President Bush convened emergency talks with his generals and national security advisers to review strategy in Iraq, commanders on the ground were negotiating a peace deal. Observers expect leaders of the Sunni insurgency to join a peace conference early next month.



"There's been a change in the position of the Americans," Jabr Hadeeb Jabr, an independent Shia politician and member of the Council for Reconciliation government agency, said. "Before, they refused to give any amnesty to the people killing Americans because there was some dispute about the risk of rewarding their killers."



Another Iraqi MP, Izzat Shabander, a member of the secular Iraqiya bloc, said: "This amnesty is coming because the American military are always pressuring the Iraqi Government to give a general amnesty to all fighters, even those who killed Iraqis."



The proposed amnesty, which one Sunni politician said had been negotiated between the US and insurgents without involving the Government, came as a senior State Department official admitted that US policy in Iraq had been at times "stupid" and "arrogant"...



Mr Jabr said it was possible that two of the main insurgent groups -- the Islamic Army and the 1920s Revolutionary Brigades -- could participate at a national reconciliation conference next month.
And from a little-noticed article published last Wednesday:


State Department: Expanded amnesty should include insurgents who kill soldiers



WASHINGTON (AFP) - The United States reiterated its opposition to an amnesty in Iraq only for insurgents who had killed US soldiers, as Baghdad studies a national reconciliation program.



Tom Casey, a US State Department spokesman, told reporters that Iraqi Prime Minister Nuri al-Maliki has said that "some form of amnesty is potentially part of this national reconciliation process."



"We've been supportive of prime minister Maliki's efforts to build on national reconciliation," Casey said.



"We've also made clear, and you've heard us say this before, that as that process moves forward there shouldn't be any distinction made between those people who are responsible for attacks on US or coalition forces and those who've made attacks on Iraqis," he said.
So amnesty for those who kill our troops is now an open secret in Iraq, and the casualty toll for just this month steadily climbs to the century mark.



BUT IT GETS WORSE...


In Iraq the levers of power lie in a government that is at once both separate from, and yet part of, the insurgency itself. Officially, it is non-sectarian and an ally of the United States. But internally, it is rife straight through with those who act as pipelines to the various groups and militias seeking to expel the United States from their country.


So now in addition to the questions posed earlier about the four slain soldiers -- why were they alone, and where was their backup -- a new one must be asked: who knew the four would be there, and vulnerable to attack?


And if there are those from within the government who actively coordinate attacks on vulnerable troops, will they get amnesty too?


Sure looks like it.



AND AS LONG AS THEY'RE SITTING DUCKS, WHY NOT TIE ONE HAND BEHIND THEIR BACKS...


Insurgency continues to challenge U.S. troops in Anbar province



CAMP HABBANIYAH, Iraq - It was 9 a.m. and the start of another day of U.S. Lt. Col. Todd Desgrosseilliers' hands-on approach to counterinsurgency.



Most go well, at least by the perilous standards for Marines operating in Anbar province, the heart of Iraq's Sunni Muslim insurgency. Wednesday, however, would not.



By the end of the day, one Marine would lie badly injured from a sniper's bullet and another would be startled from a close call that struck the goggles perched atop his helmet.



Attention has been focused in recent weeks on U.S. patrols in Baghdad... but fighting hasn't slowed in Anbar, where most U.S. casualties in the war have come, and commanders here have acknowledged they don't have enough troops to beat the insurgents with sheer force.



So Desgrosseilliers, the lean, soft-spoken commander of the 3rd Battalion, 2nd Marine Regiment, from Camp Lejeune, N.C., is hoping to persuade the enemy to quit.



"I want them to stop fighting," he said. "We fight their strategy, we don't fight them."



That makes it crucial to avoid hurting or killing innocent civilians, and the men in Desgrosseilliers' battalion are counseled constantly not to return fire unless they're certain of their target, no matter how bad the incoming fire.



"It takes a lot of individual courage on the part of these Marines," Desgrosseilliers said. "But if we do that, if we show the locals that we are willing to put ourselves at risk for their security, they will respect us"...



Desgrosseilliers' personal detachment of 15 Marines, known as the battalion jump team, began its day Wednesday with a briefing from its fast-talking platoon commander, Lt. Jon Mueller, 29, of Denver. Then the Marines strapped body armor over their fire-resistant jumpsuits, pulled on their Kevlar helmets and flame-resistant gloves and climbed into their armored Humvees.



The mission was typical: Drive west from Camp Habbaniyah toward Ramadi, checking in with several of the 15 small outposts where Marines are scattered along a stretch of road between Fallujah and Ramadi.



At the first stop, in the town of Khaladiya, the Iraqi captain in charge took Desgrosseilliers behind the outpost and showed him bullet holes in the walls and impact craters in several bulletproof windows...



Next stop: a bridge where the Marine outpost is attacked nearly every day...



On the way to the third stop, a burly Marine who was traveling with the jump team but wasn't a member of it reminded a reporter to keep moving when outside the Humvee. The patrol was in an area where a sniper had been active, he said.



Two minutes later, when the patrol stopped so Desgrosseilliers could check in with a team of Marines with tanks, the burly Marine stepped out of his Humvee and walked about 15 yards toward the tanks. The flat snap of a shot rang out from about 150 yards away in the direction of a mosque, houses and shops.



The bullet hit just under the left side of the Marine's jaw and passed through his mouth, knocking out some teeth and exiting through his right cheek. He fell to the pavement and a pool of blood began spreading around his head.



The shooting continued.



Cpl. Mario Huerta, 22, of Dallas, was standing outside his Humvee when he heard the first shot and looked back. A bullet whirred just above him, then another smacked into the goggles on his Kevlar helmet, rocking his head and denting the goggles but not hurting him.



"Son of a bitch," said the turret gunner in Desgrosseilliers' truck, ducking and peering through the bulletproof glass.



Desgrosseilliers turned when he heard the initial shot, saw that the burly Marine was down and sprinted nearly 100 yards, ignoring the bullets zipping past his head...



He rolled the wounded man onto his back, then heard shots zipping past his head.



Joined by Navy corpsman George Grant, 25, of Brooklyn, Desgrosseilliers ordered the Humvees drawn into a circle to block the shots. Then he and Grant ran a breathing tube up the wounded man's nose so he wouldn't drown in his own blood.



The closest field hospital was about 4 miles back...



Later a doctor came out and told Navy corpsman George Grant it looked as if the Marine would live, that he'd been stabilized and would be flown to a larger hospital...



Earlier in the war, maybe, or under a different commander, the Marines might have returned heavy fire in the general direction of the sniper to make him stop.



This time, they hadn't fired, not even once. No one could see exactly where the shots were coming from, and a stream of bullets into the town could have hit innocent civilians and seriously damaged Desgrosseilliers' plan to calm the area.



Back in camp, he said he was proud of his men for being so disciplined.
Meanwhile as negotiations with insurgents drag on and the reports are purposely leaked, the open season on soldiers goes on, a secret no more.



UPDATE at 9:22 p.m. PDT: The Associated Press is now reporting:


Hoping to find a political solution, the Bush administration has asked the al-Maliki's government to issue an unconditional amnesty to Sunni Muslim insurgents, prominent Kurdish lawmaker Mahmoud Othman told The Associated Press. He is a confidant of Jalal Talabani, the country's president.

He and Hassan al-Seneid, a member of parliament close to al-Maliki, also told AP that U.S. officials were engaged in ongoing talks with members of the insurgency, including members of Saddam Hussein's outlawed Baath Party, to seek an end to the fighting that has plagued American forces in Baghdad, surrounding areas and sprawling Anbar province to the west.

Members of al-Qaida in Iraq are not included in either the talks or the U.S. amnesty proposal, which would require Iraqi government approval and is by no means certain since it is controlled by Shiites.
* * * * * * * * * *
This diary by Spread the Word: Iraq-Nam, a daily blog on Iraq.