Welcome to tonight's
Keeler-palooza!
On Tap tonight:
This Guy: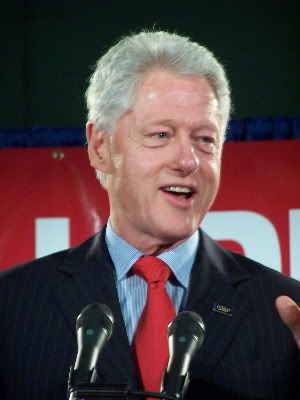 This future Congresswoman: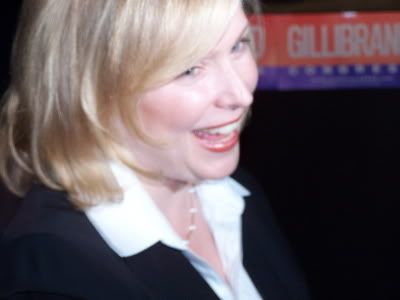 And lot's of stuff about this guy: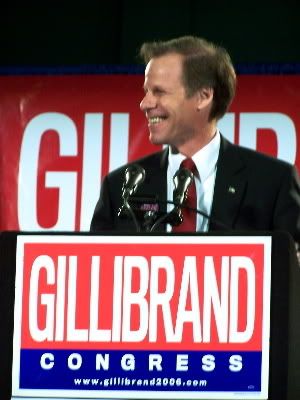 And Extra Special Sooper Bonus Action! (Brian Sings! Brian Plays Gee-tar!)
Join us on the flip...
First up, we were very, very honored to appear at a rally in Albany for
Kirsten Gillibrand
featuring the BIG DOG HIMSELF. Kirsten's future district, NY-20 overlaps Brian's and we are big, big fans of hers. Her campaign asked us a couple of days if Brian would be a part of the rally and we, um, ya know, said
yes
. Kirsten is going to be an outstanding rep. Seriously, kids. She's the real deal.
Here's Kirsten with the 42nd President of the United States...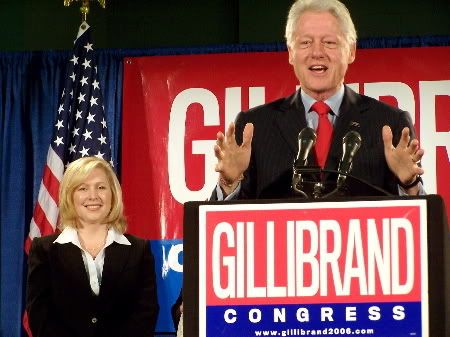 They brought out the big guns for Kirsten today. Check out Rahm working the crowd: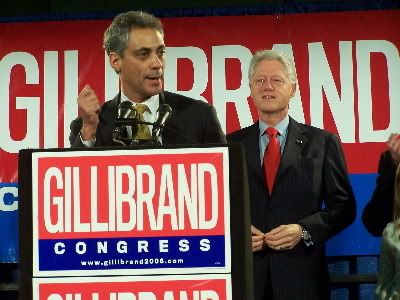 It was a great event and very well attended. I'd say there were at least 500 people there in a freezing aircraft hangar at the airport. The crowd was definitely fired up. These people were motivated, enthusiastic and bursting with energy and they are the folks that are going to put Kirsten over the top.
Brian got the chance to address the crowd and, well, he KICKED ASS! Here's the video of his remarks. (-ed note: when watching this video, keep in mind that your not so humble diarist was literally shooting video with his right hand and stills with the left whilst being jostled by a couple pro still photogs from the local papers. a little shaky at first, but then I worked out a system to keep both viewfinders in front of me at the same time.)
Brian speaks: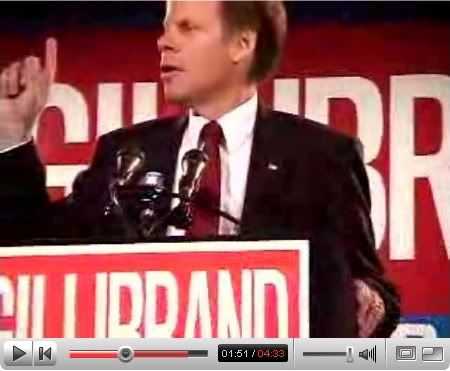 Not bad, eh?
We also attended a "Bring the Troops Home Rally" in Poughkeepsie the other day with Kirsten and John Hall, who is going to kick Sue Kelly's ass. Hall's HQ is right around the corner from ours and they are running a great campaign. There's really magical stuff happening up here and John's campaign manager, Amy, kicks ass. It was cold and windy down on the Hudson river waterfront, but Labor turned out a great crowd.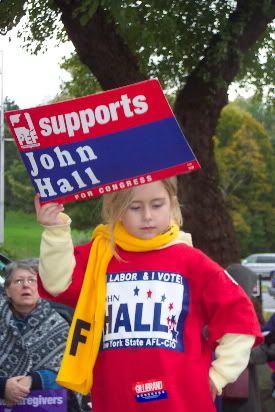 Here's Brian and Big John: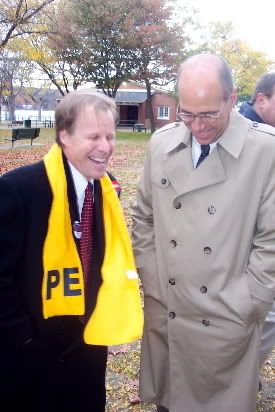 Kirsten: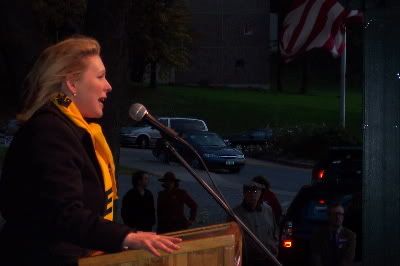 and Brian got lots of good free media. Here he is with WAMC: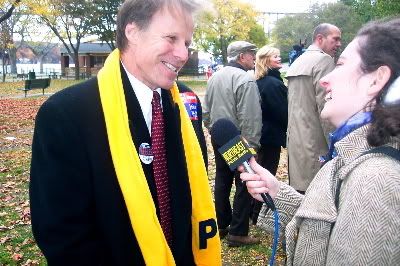 And here's what you really want to see. Brian Sings!
Last saturday we had an outstanding event with Bruce Molsky, simply the finest fiddler I've ever heard, Mr Audrey and fellow Kosack BCM. It was a really magical evening and included a duet with Bruce and Brian. It's a great song, too. Check it out:
We're making history up here, kids. Come join us if ya can.