Nevada's gubernatorial race has been interesting to say the least. What started off as a consensus shoo-in for Republican Jim Gibbons has turned into anything but: the latest polls have the race within the margin of error. Dina Titus, Senate Minority Leader in the Nevada legislature, has turned the general election into a repeat of the Democratic primary in which she was written off until the very end. From
Pollster.com
, Rasmussen now has the race at 46% - 48%, Gibbons; Mason-Dixon 40% - 44% Gibbons; Zogby Interactive 48% - 47%, Titus. What caused the sudden tightening? I'm sure you've heard of at least one or two reasons. Turns out, there are
plenty
of reasons.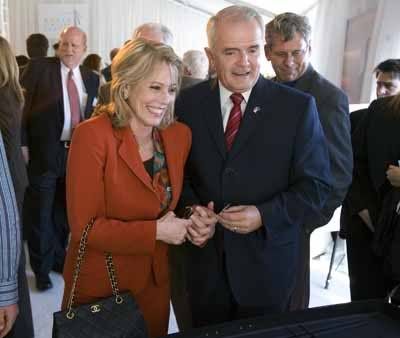 They look so happy.
But "Gibbons" is quickly becoming synonymous with "scandal", if only for the sheer number of allegations making news. Formerly a do-nothing Congressman, we're learning that he's indeed been up to something. From Nevada Today (via Wall Street Journal Online - subscription required):
The Wall Street Journal reported that Gibbons "used his clout" to win "millions of dollars in classified federal software contracts from the Air Force, U.S. Special Operations Command and the Central Intelligence Agency" for a longtime friend of Gibbons who has bundled nearly $100,000 in contributions to Gibbons' campaign. In a separate statement sent to local media Wednesday morning, the Gibbons campaign characterized the WSJ piece as "sensationalism," and cast his legislative actions in terms of national security.

Gibbons earmarked federal spending for eTreppid, a Reno software company owned by Warren Trepp. Such earmarking, the WSJ story said, reflects "a growing part of the budget (that) is shielded from scrutiny. This is the `black budget,' mostly for defense and intelligence, which is disclosed only in the vaguest terms."
In addition to relishing those helpful campaign contributions, Gibbons and his wife were living it up in the Caribbean aboard a luxury cruise-liner with his friends Trepp, Patrick Swayze, and that guy from Seinfeld. Gibbons camp says they reimbursed Trepp $3,100 - out of the $10,000 $13,000 estimated cost of the trip. But, they failed to report it.
Again via Nevada Today:
Federal ethics rules require a public disclosure by members of Congress when they receive gifts or make reimbursements," the WSJ notes, also reporting that "Mr. Gibbons says he believed the cruise was an exception because he and Mr. Trepp are longtime friends.
You'd think that was enough. I mean, really, why would any crook go any further? If you've got one nice, juicy scandal, just stick to it, right? But still other scandals haunt Gibbons six days until election night. Remember the sexual assault allegation of Friday the 13th? Another 911 call has just been released, this one from the victim's sister.
But wait, there's more. The surveillance tapes that supposedly exonerate Gibbons (the mysteriously-absent-for-first-two-weeks-of-scandal-tapes) were ordered released to the public yesterday by a Las Vegas judge. They weren't released today; Las Vegas Metro says it hasn't finished reviewing the twenty-five or so tapes. Gibbons' attorney fought for the release of the tapes. They're now running ads that say the tapes prove Gibbons' innocence - even though they've never seen them. Many aren't expecting any tapes to be released before the election, but we'll see. Las Vegas Metro hasn't said whether anyone is or isn't on the tapes.
So.. That's all. Have a great day.
Err, wait. One more thing. I forgot. These things keep piling up.
Gibbons' has been campaigning against Titus on immigration since day one. Yet, he's failed to mention that he and his wife employed an illegal immigrant as a housekeeper from 1988 to 1993. From the Reno Gazette-Journal:
A lawyer for a former Peruvian housekeeper and nanny of Jim and Dawn Gibbons said Monday that the couple hired her client knowing she was an undocumented worker.

Vicenta Montoya, immigration lawyer for Martha Patricia Sandoval, said Sandoval was happy working for the Gibbons family at $800 a month, but the couple fired her in 1993 because her employment, possibly illegal under federal law, could hurt Gibbons in his 1994 gubernatorial campaign.
That comes out to about four dollars an hour, by the way. Anyway, these numbers and things all run together. Again, from the RGJ:
To counter Dawn Gibbons' assertion that Sandoval was never a full-time employee, Montoya produced a 1988 Alien Employment Certification signed by Dawn Gibbons that showed Sandoval was employed for 40 hours a week, plus overtime, as a housekeeper, baby-sitter and cook.
Whew. Okay, I think that's really all of them. Six days left ... Titus is not getting distracted, lying mostly dormant while Gibbons implodes. But I'm sure she'd enjoy your support in making her election a reality. Contribute if you want; more importantly, vote and tell your friends and your friends' friends. Then call strangers you don't know..
It's down to the wire.
UPDATE for those who happen across this: The surveillance tapes have been released. Kind of. Apparently no one can figure out how to play them.
The reason the public still has not viewed the tapes is technical. A specialized surveillance machine is needed to watch the video. KLAS-TV
and
TPM
points out that the company which owns the parking garage has close ties with Gibbons:
The garage is owned by Crescent Real Estate Equities, a real estate firm that just happens to be closely connected to top state Republicans, and Gibbons in particular. The company is represented by Jones Vargas, a local firm that counts Republican National committeeman Joe Brown as one of its leading partners. The firm actually held a fundraiser for Gibbons on October 12th, the night before the alleged sexual assault, the Sun reports.