[Front paged at
My Left Wing
]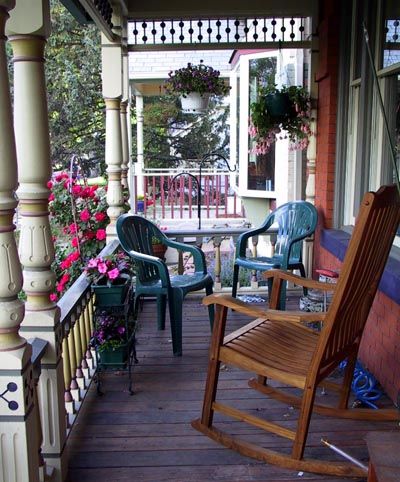 Good morning, and may you weather the waiting! Welcome to Saturday Morning Garden Blogging.
I really, really, really dislike times like these: the midterm elections almost here; the trimwork in the new dining area almost done, a new sweater almost finished, and almost having the will to overcome the obstacles to accomplishing the chores which will enable me to finish the garden projects that are almost done. I find myself daydreaming back to late May, when the weather was warm, and the porch was ready for sitting.
And oh, the obstacles. First the weather -- it's almost nice -- not too cold, with highs in the upper-50s and low 60s (after a frigid Halloween) -- but with breezes and cloud cover, it's really not all that inviting outside. Gotta get out there, though, at least long enough to get those 100 lily bulbs into the ground.
And then I have to get the house a little more organized, because -- we're having a party here next Saturday, and ya'll are invited! You just have to get to Denver!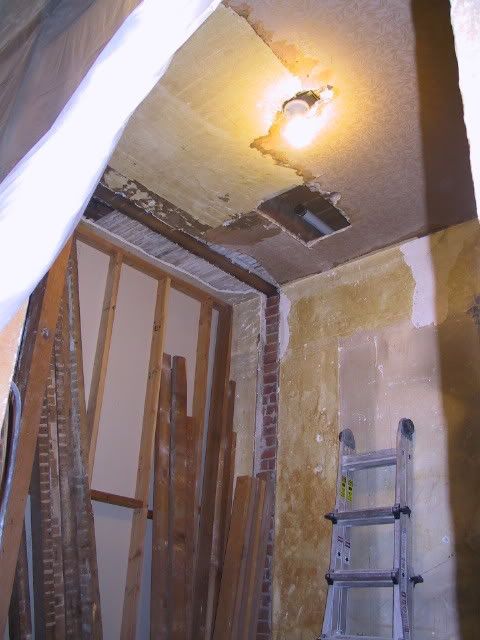 So today I absolutely have to find the small-sized bulb auger I bought last spring in anticipation of fall bulb planting. Come to think of it, I don't know where my giant-sized bulb auger is, either. And it's really hard to find anything because Mr. Frankenoid has been shoving his crap on top of my crap -- or blocking my entry to various detritus collection spots with his own piles detritus (once again I was prevented from getting to the cold storage area because he'd set shit-too-heavy-for-me-to-move in front of the door... aaarrrrrgggghhhh!)
There are other things I'd like to accomplish as far as yard clean up goes, 'cause, you know, I'll be really embarrassed when ya'll show up and see the Garden Blogging Garden looking like a frat house after a long weekend.
But at least the new dining area no longer looks like this. It's now painted, and the Mister has the stain and the first coat of polyurethane on all the woodwork. This weekend it gets a light sanding and the final coat of poly and then... and then... we can actually, really, finally use that space as a dining area when you all show up next week. And you are showing up, right?
What: pot-luck. I'll be cooking a big mess of beef bourguignon; you all will bring the sides, salads, desserts, etc.

Where: Casa de Frankenoid, Baker Neighborhood near Alameda and Broadway in Denver. E-mail me at frankenoid at conen dot net for directions and to let me know what you can bring.

When: Saturday, November 11, 3:00-ish with the major food intake to begin at 5:00

As well as BlogtopiaTM (Skippy coined that word!), I've invited friends who have assisted the Frankenoids in the ongoing project, some of whom even helped dig the foundation (now that's friendship).

If you have kids -- great! Children are most welcome; at current count we'll have 3 pre-schoolers (2 girls, 1 boy), plus a mixed bag of upper-elementary and middle-school aged kids and, perhaps, a couple of high-school aged kids

So let's stuff the house full of people, and slop food all over that nice, new floor!
So that's what's happening here. What's happening in your gardens?