I am interested in building the netroots movement in Florida in a long term effort to retake the Florida legislature and governor for the Democrats, in other words, I would like to Turn Florida Blue. One way to do this is establish a collaborative collective of Daily Kos subcribers living in Florida who agree with this mission. A major purpose of the collective would be to publish a collaborative diary within the Daily Kos portal, sort of an on-line Florida politics magazine.
Once a group was formed we would also promote this aim by assisting each other in improving our research and writing skills, sharing ideas, participating together in political actions and activities, reaching out and establishing connections to other local progressive groups, and supporting one another through social interaction and meaningful relationships.
In other words, we would practice what we preach.
The whirlwind development of the Congressional Committees Project and it's early success at attracting attention is an inspiration to the Daily Kos community. Clearly, the more connected we become, the more effective we are.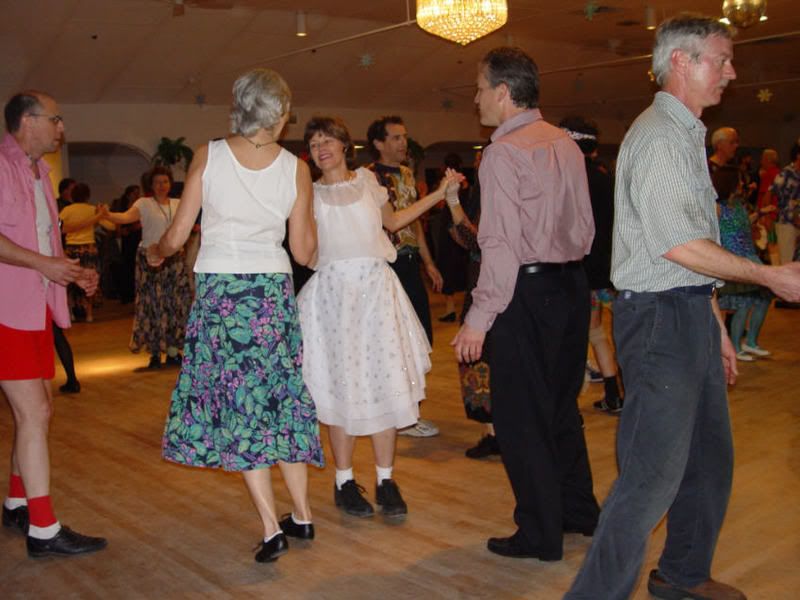 I only joined Daily Kos after the 2006 elections restored my faith in the American electorate, so I'm a late bloomer with a 6 digit UID. But in the last two months I have been amazed at how much I've learned and how energized I feel when I look towards the future. My wife, who is a Buddhist Quaker, is always telling me: "It's all about relationships." I have truly come to see the wisdom of that statement here at Daily Kos.
(That's me in the red shorts -- they seemed like a good idea at the time -- contra dancing with my wife at the Snowball in Gulfport, FL.)
I have been able to witness how the connectivity provided by the Internet magnifies our individual efforts and leverages our power in promoting progressive politics. And as others have shown, the time is ripe to plunge in with new projects.
Turning Florida Blue will be the name of a collaborative diary to be published by a collective of Florida Kossacks. The main purpose of the diary you are reading now is to introduce the idea and get Florida residents to contact me via email at floridakossacks (at) yahoo (dot) com, or in the comments section, if they are interested in helping out.
A sock puppet account under the name Florida Kossacks has been established that will only be used for the publishing of the collaborative magazine. Sharing the password for this account will allow a number of different trusted individuals to be able to act as editor for the magazine by preparing, changing, posting, and updating the collaborative diary. This allows for continuity during vacations, illness, or waning interest and keeps one person from being overwhelmed by the task.
It will also allow all of the collaborative diaries to be found at one place rather than having to rummage through all of the home pages for the different editors. Having a unique home for the series eliminates the need for yet another specialty addition to the tag chaos. The sock puppet account would never be used to make a comment or even set up a tip jar, since that would be inappropriate.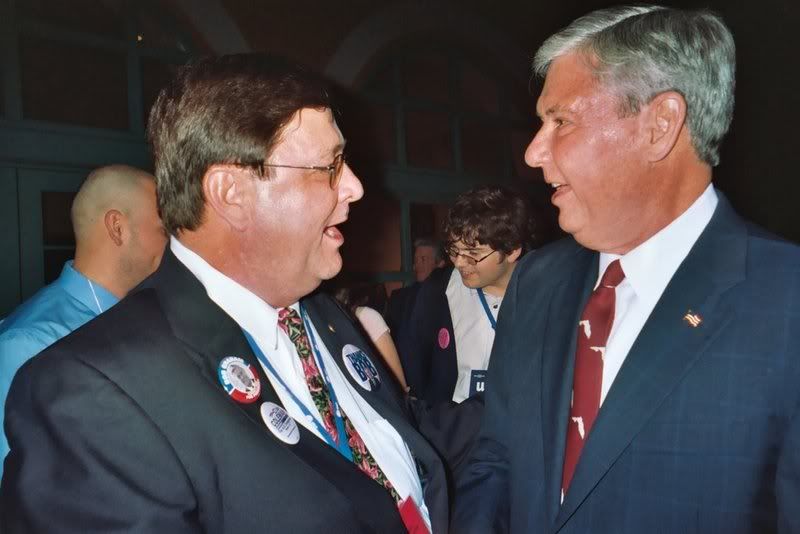 If you've ever logged on to an on-line magazine like The New Yorker, The Nation, or even Rolling Stone, you know that the home screen consists of links to the articles and a brief description of each with a few photos or drawings thrown in.
If you're familiar with Daily Kos then you know that this is the format of compilation diaries like SusanG's Diary Rescue or others listed in the Ongoing Diary Series of the FAQ. Nice individual examples of this genre are Meteor Blades' original Eco-Diary Rescue and alphra behn's News From the North: Canadian Diary Roundup. GatorDem with Bob Graham
The main difference for this project is that rather than just aggregating existing content of various diarists that have a common tag, we will be collectively involved in creating new content. This will be done by suggesting projects, publishing drafts on a blogsite for comments, by working wiki style at a Google Documents site, or by hashing things out at a Google Groups site. We can also pair up or gather in small groups to mentor each other via email or in person.
Different skills of people can be utilized for editing, layout, research, fact-checking, proof reading, interviewing, etc. In that sense, we will function somewhat like a magazine staff, though without a hardened hierarchy. There will be many ways to be involved.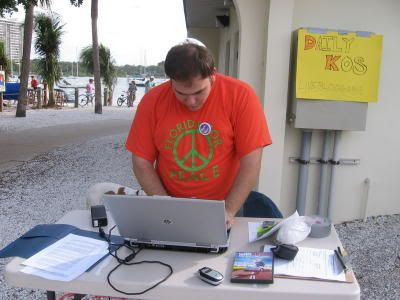 But being on-line is not the end-all of the enterprise. We also want to go out into the world like BeTheMedia's Sarasota Diaries or JR's live blogging from the FL-13 Revote Rally. We want to be both connected to each other and to our communities.
There are a lot of possibilities for articles for our on-line magazine. Here are a few I came up with: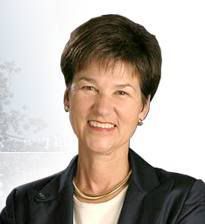 • Write a profile about Alex Sink, a Democrat who won a state wide race for Chief Financial Officer. Is she a potential candidate for governor or senator? What can we learn from the race she ran?
• Write profiles of the new congressional representatives that won seats previously held by Republicans. When the article about them is published the politician would be notified of it. The issue is not so much to build up the politician but rather to build up Daily Kos and put a seed in that politician's mind about the importance of netroots.
• Find out how connected the Florida Daily Kos community is to the Florida Democratic Party and their county groups. Are there folks there we can recruit into our effort?
• Look at what the 50-State Strategy might mean for Florida congressional races in 2008.
• Start doing the kind of precinct and district analysis of the last election to determine which seats in the state legislature are potentially vulnerable.
• Look into possible voter resolutions (like the minimum wage initiatives) that might help with GOTV efforts here in 2008.
• Keep tabs on what state agencies, the state legislature, and the new governor are doing.
• Report on environmental issues in Florida, like the Everglades, and how they affect politics.
• Energize letter and email writing to local media about local and state issues and hook up with local interest groups to expand our base.
I'm sure that others will also have suggestions. But right now we need to begin getting organized. If you're interested, please contact me or leave a comment with how to contact you. That email address again is floridakossacks (at) yahoo (dot) com.
If you're not sure you want to help but would like to be on a mailing list for Florida based actions or social events, let me know that.
It's time to jump in!
[There's more at FLA Politics]