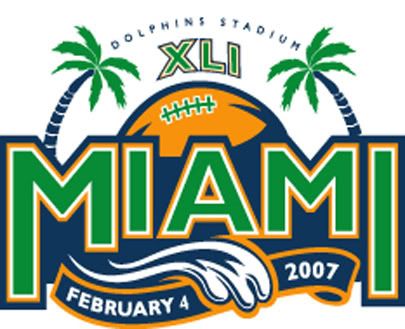 Please view this simulation, Super Bowl XLI. Perhaps, it will stimulate thoughts of election reform.
© copyright 2007 Betsy L. Angert
Last evening, or was it this morning, I took the late night flight from California to Florida. I was returning home, to the state hosting the final football match, Super Bowl 2007. The plane was packed. As we stood in line at the gate people chattered. Many were very young, barely out of their teens. Some singles straggled in. Couples collected in the boarding area. The elderly were evident. They were all energized. Party; Party; Party!!! The power of play was everywhere. I was unwittingly part of a popular event. I wish it were an election that stimulated such interest and energy; however, it was not. It was the slamming of bodies, the glory of the game, fame, and fortune that ignited the masses. Crowds were turning out in droves for Super Bowl XLI!
A man adorned with a closely coiffed do, displayed a blue horseshoe, dyed into his blonde shavings. Obviously, this man was an Indianapolis Colts fan. A woman, excited to see the players, was wearing a gorgeous fur vest. I admired it and asked, "Did you buy this delight this year?" I wondered aloud where she find such a sensational piece and how much was it? She happily replied. She got it at Saks. This flaxen haired lovely offered, she purchased three, one in white, another in black, a third, the one I saw was naturally multicolored. It was champagne, caramel, butterscotch, and blonde.
This Super Bowl junkie shared how and where she wears each one. She reflected; the white one and the one embellishing her ensemble were six hundred and fifty dollars [$650]. The black fur was almost twice the price. The ivory fleece was for formal occasions as was the ebony pelt. This fine female stated the more colorful skin was for casual wear. The Super Bowl seemed a splendid occasion for such garb. We discussed the designer. She showed me the label. Then she turned to a burly chap standing behind her. Names again became the topic of conversation. This gorgeous girl spoke of the players see longed to see at the game.
The man was polite as he corrected her pronunciation. Stats were thrown about. Ooops, there it was a fumble on the field. The woman did not have her facts straight. No matter; after all, it is the thought that counts.
The couple I first saw in the parking lot was also awaiting this flight. We had engaged earlier. As we walked briskly into the airport, we discussed the dynamics of why fifty-one percent of American women were choosing to remain or found themselves single. The two had been mulling over the recent report as they exited their vehicle. She said that much of the decision was based on finances. Women today can and do make it on their own. They want no man to walk off with their hard-earned wealth.
This forty-four year old female divorcee had seen such in her lifetime. She had and would continue to protect herself, her investments, and assets. She mentioned that she and her male admirer worked together. They shared ownerships in many business ventures. However, she concluded, she was the marrying type. The man accompanying her was and is her beau.
The two plan to wed in six and one-half years, when he and his former wife are no longer legally linked. The gentleman has a son, and until he is eighteen or out of college, there would be ties that bound him to his former mate. "They," she wanted to be certain her fiancées ex-wife could not capitalize on her earnings. For now however, this reflective female, a long-legged blonde was content. She was accompanying her lover as they traveled to the Bowl.
The couple has been together for a year and one half. I wondered as I listened to their talk and her assessment of his first wife and her former husband, would the relationship last another six and a half years? Will marriage to each other be in their future? I cannot know. I do however; feel certain Super Bowl Sunday was definitely part of the plan.
As time passed and we all waited to board, the plane there was much to watch, more to discern; the volume, the telling of stories was increasing.
The party animals were ready. Friends were meeting them at the gate, in the state of Florida, or at the stadium. Hotels are full and still filling reservations. Young and old were uniting. As Romans readying to rally 'round the Gladiators fight, people were preparing for the main event. Few were excited about political campaigns. There was no talk of Iraq. The upcoming election was not on the minds of this cast of characters. Bud Light was blooming. As I witnessed the enthusiasm surrounding me, I thought of voter turnout. I wonder why is it never as extreme.
Finally, we boarded. The bold, the brawny, the belligerent, and the besieged all took their seats on the plane. The young woman sitting next to me was barely in her twenties. She called her friends and family before we took off. Throughout the flight, she read fashion magazines. She listened to music. She did not sleep or if she did indulge, she did so as I too was getting some shuteye. She noshed on snacks and then a quality fruit salad. Her mind was clearly racing, as were her fingers as she text-messaged before we ascended and immediately after we hit the ground running.
When we landed she telephoned her Daddy, assuring him she was safe and on the ground. This radiant raven-haired youth contacted each of her friends before we exited the airplane. At 4:58 AM, she was on the move! I was sleepy.
Years ago, I twice represented the Democratic Party as part of the Election Observation panel. Grand Jury members and Party participants avidly watch the election returns come in. The hours are long. A delegate is lucky to leave the Registrars office before sunrise. Often, an envoy exits the premises early in the morning, when the sun is already high in the sky. For an occasion such as that, I am wide-awake and active, no matter what the hour. Yet, somehow, for me, the Super Bowl does not compare. It does not move me. However, it does motivate my mind.
I arrived home, thinking of the evening. I slept soundly. When I arose, I realized there must be a lesson to learn here.
I Googled "Super Bowl." Fifty-nine million, [59, 800,000] results screamed for attention. I then searched "Election 2008." A slamming, damning 11,000,000 possibilities called out to me, such a stark contrast. I wonder when people do turnout to vote are they interested in the issues, or is the battle beckoning them. Does the public ponder policies? Does the populace consider possibly changing their community for the better? Are adults assessing guidelines that could benefit them or their neighbors personally, or is the incentive to participate not necessarily practical.
I contemplate my travel experience and think. Perhaps, if elections focused on the hype, if the battle to win was widely embraced, turnout might be greater. "Get the bum out!" was the rallying cry in 20004 and people poured into the polls. Perchance pollster, pundits, and public relations persons are in error. Economy is not the topic of concern. The effects of a failing educational system do not generate interest among the masses. Energy crunches and global warming, while worthy of note, do not cause the worry they might. What brings people together is a battle. Fighting and conquest is fun!!!!
The opportunity to punish an enemy, be they a Colt or a Bear, is one that cannot be missed. To witness a war and to party hearty, that is appealing. Conceivably, citizens that seek broader voter participation must reevaluate their positions. Activists may want to look at what electrifies the electorate.
"Give peace a chance" will not get out the vote. Universal Health Care will not come between "me and my Calvin's." [Remember how excited the public was when a young Brook Shields dressed in skintight jeans. Uproar was evident throughout the nation. The media and the masses discussed this commercial endlessly. Many thought it too racy. Sex sells!!!] Minimum Wage may affect a few. However, those that work for next to nothing, may not have the time or energy to vote. "Get out the vote" may be a matter of bringing people to battle! The fight, the win, the frenzy, these seem to stimulate an apathetic society.
Thus, I say, "Go Bears." "Go Colts" "Go Greens and Blues." "Beat the Reds" to a bloody pulp? Yikes, those words hurt my pacifist heart. I have no solid solutions for what ails America. I only marvel at what brings people out.
There is no fee to cast a ballot. Taking part is free! Maybe we should charge an exorbitant price to vote. In this culture, many conclude if they do not have to pay to participate, the event has no value. If the cost is high, people might think the election is the main event. We all want to be part of where the action is.
Tickets for the Super Bowl can climb into the thousands. Some are expecting to pay close to six thousand dollars, [$5385 - $5695.] Then there is airfare, hotel costs, and transportation expenses to consider; zowie!! What more can I say; I will see you at the game or not. If you venture to the polls, I will be there.
Sources for those contemplating Super Bowl Mania . . .
Official Super Bowl XLI Site.
NFL Enterprises LLC
"Super Bowl" Search. Google
Betsy L. Angert
BeThink.org