Cross-posted at TIP.
The kickoff point which triggers government power to detain or investigate is when a person has a particular legal status, such as suspect. To counterbalance vast government powers, constitutional rights limit how and when our government exercises its powers.
| | |
| --- | --- |
| Source: Got a Grip Creations | To avoid constitutional rights, Bush is creating a parallel "preemptive justice" system that moves the kickoff point further back in time. Instead of suspects, entry-level participants are unilaterally designated by Decider's ever-expanding Frankensteinian creations of status categories, such as "detainees," "persons of interest" and "preemptive law violators." Who are these new "status criminals?" First they were suspected terrorists, then immigrants, and now they are coming after us, more and more each day. |
"Status crime" is my own terminology to describe Bush's unilateral designation of a person with a new label that is generally not codified in our legal system. The purpose and effect is to avoid existing legal rights and impose punitive collateral consequences. The punitive measures include detention, loss of rights and interference with your job.




Constitutional Rights Should Be Provided At Hearings To Adjudge Or Confirm Status Designations.
| | |
| --- | --- |
| Bush does not provide hearings to adjudicate whether a person has a status because those decisions are unilaterally determined. However, Bush now provides hearings at "Combatant Status Review Tribunals" to confirm that Guantánamo prisoners have the status of "unlawful enemy combatants" as previously designated by Bush. However, even at these "hearings," no legal rights are provided to the prisoners because it is not a "criminal trial and is not intended to determine guilt or innocence. Rather, it is an administrative process ... to confirm the statusof enemy combatants detained at Guantánamo as part of the Global War on Terrorism." However, prisoners who are confirmed as "unlawful enemy combatants" remain in prison. | Source: Terrorist "Detainee" (AP Photo) |
In 1967, the US Supreme Court held (
In re Gault
) that we must provide constitutional rights to persons in administrative hearings held to determine whether alleged misconduct warrants an adjudication of a status when the impact of that status is the imposition of punitive measures that restrain freedom. The case involved the status of juvenile delinquent, but the larger constitutional principles should extend beyond minor children. For Team Bush to claim that constitutional rights only apply to criminal trials ignores that
Gault
was not a criminal trial, but a status adjudication.




Bush Creates New Status Categories To Avoid Providing Legal Rights That Attach To Existing Status Categories.
The status of "person of interest" has no standing in the law. This status originated in the 1970s, and was used to designate Richard Jewell in the 1996 Olympics bombing case, but soared across the nation after Team Bush used this status in the anthrax case to identify Steven Hatfill.
| | |
| --- | --- |
| Source: Got a Grip Creations | The status designations are a win-win for an overreaching government. The term "person of interest" is intentionally vague and undefined to enable the government to apply it as a "catchall" status to use against persons whom the government has no legal right to investigate or detain because it does not yet have any evidence to tag the person under a legal status category, such as suspect. However, while the government refrains from defining the status, it encourages the public and media to equate "person of interest" with suspect and thus avoid the need to comply with legal requirements mandated for suspects. These rights include when a person can be detained by the government, how and when searches or surveillances may be conducted, how and when the person may be interrogated, when a person can remain silent or has the right to legal counsel. It has become so popular that TV police shows whip out the "person of interest" as "authority" when there is no other way to justify the government's conduct. |




Bush Uses Status Categories First On The "Dregs Of Society" And Then Moves Up The Ladder To Reach Us All, Step By Step.
| | |
| --- | --- |
| Bush first used the "detainee" status as a new name for terror suspects imprisoned at Guantánamo. Now that Bush has convinced the public and lawmakers to refer to terrorist suspects as "detainees," he has moved to the next step of the ladder of people that he believes may be called "detainees" without invoking public anger: The "illegal immigrant." | Source: County Jails House Immigrant "Detainees" (AP Photo) |
A new law has expanded the universe of people who may be forced to provide a DNA sample for a central database. Instead of just convicted criminals, now federal authorities may collect samples from suspects who are arrested and non-US persons who are "detained" by federal authorities. While the government claims it will assist crime prevention, DNA sweeps are not an effective means of identifying criminal suspects. But, such DNA data can be used for profiling based on genetic characteristics that "clearly opens the door to all kinds of race- or ethnic-based stops" by police.
Bush has also expanded "detainee" to include Americans. The government awarded a Halliburton subsidiary a $385 million contract to construct "detention centers" in the US. The "detainees" will be immigrants, ordinary people who need "housing" after a natural disaster or persons who qualify under unspecified new Bush programs which "require additional detention space."




Bush Uses New Status Categories To Expand The Universe Of People Subject To Government Powers.
Under Bush's shadow system, "person of interest" is a euphemism for suspect to "authorize" investigations and surveillance and "detainee" is a euphemism for arrestee or convict to "authorize" imprisonment or temporary confinement. Now Bush adds the preemptive law violator to reach people who are not even covered by the broad umbrella of "person of interest" by using an ATS (Automatic Targeting Scheme).
For the past 4 years, Bush has privately determined that persons constitute a preemptive law violator (which includes preemptive criminals and terrorists). Bush has secretly collected from over 396 million American and foreign travelers personal information, such as travel and motor vehicle records and "what kind of meal they ordered."
This data is used to generate a risk assessment score of who may be "likely to break US law" by determining the "threat posed by a person" and to ensure compliance with "all applicable US laws." Americans will have the status of preemptive violators for the rest of their lives but will not have the ability to know or challenge their scores.
Preemptive violators will suffer numerous collateral consequences, including being subjected to unwarranted searches and interviews and denied the right to travel. The punitive impact of this status extends beyond travel. Faulty risk assessments may "cost innocent people jobs in shipping or travel, government contracts, licenses or other benefits" because the ATS data "may be shared with state, local and foreign governments for use in hiring decisions and in granting licenses, security clearances, contracts or other benefits. In some cases, the data may be shared with courts, Congress and even private contractors."
While Bush likes to spin as an anti-terror program, the reality is that a 2004 General Accounting Office survey of 128 federal departments and agencies found 199 data mining operations, but only 14 related to counterterrorism.




Americans Will Face Collateral Consequence From These Status Designations For Years.
The problem is that Bush's new system will prevail until there is judicial or Congressional action, which can take years. For example, not content with just designating people as enemy combatants and terrorists, Bush started designating others as "specially designated global terrorists" pursuant to a 2001 Executive Order. In November 2006, a judge ruled that the designations were unconstitutional because Bush was using "unfettered discretion" to designate groups without any governing standards or the ability to challenge the designations.
The same may be said of these other status categories. One way that Bush prevents actions to challenge his designations is by using a label that dehumanizes the person so that the public will not care about the "thing" that Bush calls a "detainee" or other status. This is not accidental. In the case of risk assessments to predict preemptive law violators, the system was designed for cargo, not human beings.
What can we do to stop Bush's parallel universe? For starters, we can stop implicitly accepting the validity of these new creations by calling "detainees" the proper name of prisoners. Sounds simple. But, there is no need for special rules for "detainees" when we have rules and rights for prisoners. There is no need for special rules for "persons of interest" when we have rules and rights for suspects.
After all, "detainees" are not just suspected terrorists anymore. Notice any similarity between the terrorist "detainee" and the immigrant "detainees" outfitted in orange jump suits and caged in wired prisons with armed guards?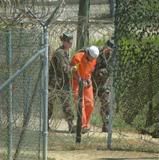 Now, please look at the protestors who are voluntarily "detained" in wired cages with police stationed both inside the "free speech zone" and overlooking the barbed-wire facility. All that's missing is the orange jumpsuits! (All 3 photos are from brumax.com).