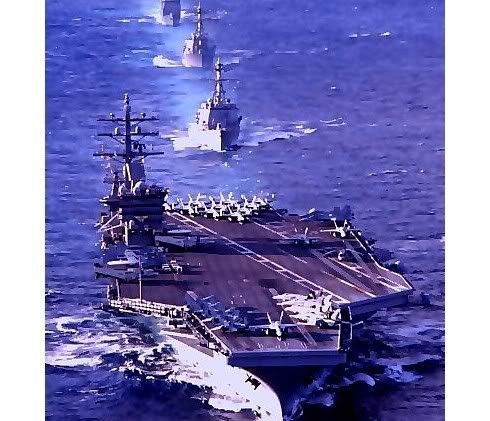 TWO REPORTS IN BRITISH MEDIA, one attributed to 'diplomatic sources' and the other to 'British military sources' warn of a coming massive attack on Iran.


The BBC led off last night with this:


US contingency plans for air strikes on Iran extend beyond nuclear sites and include most of the country's military infrastructure, the BBC has learned.



It is understood that any such attack - if ordered - would target Iranian air bases, naval bases, missile facilities and command-and-control centres.
And just published, a far more ominous report from the New Statesman:


American military operations for a major conventional war with Iran could be implemented any day. They extend far beyond targeting suspect WMD facilities and will enable President Bush to destroy Iran's military, political and economic infrastructure overnight using conventional weapons.
And according to the New Statesman's sources, the plan is the culmination of 4 years' of planning...


British military sources told the New Statesman, on condition of anonymity, that "the US military switched its whole focus to Iran" as soon as Saddam Hussein was kicked out of Baghdad. It continued this strategy, even though it had American infantry bogged down in fighting the insurgency in Iraq.



The US army, navy, air force and marines have all prepared battle plans and spent four years building bases and training for "Operation Iranian Freedom". Admiral Fallon, the new head of US Central Command, has inherited computerised plans under the name TIRANNT (Theatre Iran Near Term).
Which helps explain why the new head of operations in Iraq, Admiral Fallon, seemed so disinterested in all things Baghdad during his confirmation testimony:


The admiral picked by President Bush to oversee his new strategy for Iraq testified yesterday that he does not know much about the plan that the administration says will determine whether the U.S. wins the war.



"I have not gotten into the detail of these plans," Adm. William J. Fallon told the Senate Armed Services Committee, adding that he has been concentrating on his current job as head of the U.S. Pacific Command...



The admiral, whose expertise centers on sea power and diplomacy in dealing with China, said he will leave the Iraq battle decisions to Army Lt. Gen. David H. Petraeus, who leaves for Baghdad this week as the top U.S. commander in Iraq. The admiral appeared before the panel for confirmation hearings on his appointment to lead the U.S. Central Command.



"I do not know the details of how he plans to use" the new troops, Adm. Fallon said. "I'm sure he's going to have to consult with his generals on the ground once he gets into position and then figure it out."
It seems the Admiral has bigger fish to fry than a four-year-old war with 140,000 American troops on the ground, over which he holds command.


For instance, the arrival today of the USS Stennis in the Gulf. It joins the carrier strike group led by the USS Eisenhower. Also on the way, or already there, is the strike group led by the assault ship USS Bataan. The Bataan, by the way, is part of a new class of ships designed to accomplish amphibious landings.


Nor will these be the only ships available to the Admiral, according to the New Statesman report:


Two carriers in the region, the USS John C Stennis and the USS Dwight D Eisenhower, could quickly be joined by three more now at sea: USS Ronald Reagan, USS Harry S Truman and USS Theodore Roosevelt, as well as by USS Nimitz. Each carrier force includes hundreds of cruise missiles...



Today, marines have the USS Boxer and USS Bataan carrier forces in the Gulf and probably also the USS Kearsarge and USS Bonhomme Richard. Three others, the USS Peleliu, USS Wasp and USS Iwo Jima, are ready to join them. Earlier this year, HQ staff to manage these forces were moved from Virginia to Bahrain.
'Earlier this year'. That would mean in the last six weeks. Meaning the finger may have already been placed on the trigger. And from the BBC report:


BBC security correspondent Frank Gardner says the trigger for such an attack reportedly includes any confirmation that Iran was developing a nuclear weapon - which it denies.



Alternatively, our correspondent adds, a high-casualty attack on US forces in neighbouring Iraq could also trigger a bombing campaign if it were traced directly back to Tehran.
Or maybe even something simpler, such as abducting and killing soldiers in Karbala:


BAGHDAD, Jan. 30 — Investigators say they believe that attackers who used American-style uniforms and weapons to infiltrate a secure compound and kill five American soldiers in Karbala on Jan. 20 may have been trained and financed by Iranian agents, according to American and Iraqi officials knowledgeable about the inquiry.



The officials said the sophistication of the attack astonished investigators, who doubt that Iraqis could have carried it out on their own — one reason a connection to Iran is being closely examined.
So, is the U.S. really planning a massive attack on Iran? Well, consider the following from a February 10th report in the Guardian. But as you do, go back in your mind to 2002, and substitute the word 'Iran' with the word 'Iraq', and 'Tehran' with the word 'Baghdad':


Neo-conservatives, particularly at the Washington-based American Enterprise Institute, are urging Mr Bush to open a new front against Iran. So too is the vice-president, Dick Cheney. The state department and the Pentagon are opposed, as are Democratic congressmen and the overwhelming majority of Republicans. The sources said Mr Bush had not yet made a decision. The Bush administration insists the military build-up is not offensive but aimed at containing Iran and forcing it to make diplomatic concessions. The aim is to persuade Tehran to curb its suspect nuclear weapons programme and abandon ambitions for regional expansion.
To those who remember, it's all too familiar.


And when and if it comes, how 'massive' will the attack be? Here's a final, chilling, observation from the New Statesman:


With little military effort, the US air force can hit the last-known position of Iranian military units, political leaders and supposed sites of weapons of mass destruction. One can be sure that, if war comes, George Bush will not want to stand accused of using too little force and allowing Iran to fight back.
==========================

This diary by Spread the Word: Iraq-Nam, a daily blog on Iraq -- and increasingly, Iran.


The following links at Spread the Word: Iraq-Nam provide further background:



UK Military Sources: Massive attack on Iran could come 'any day'



USS Stennis joins Eisenhower in Gulf as 'warning' to Iran



Report: U.S. attack plans for Iran include destroying naval, air bases, most of 'military' infrastructure



Officials: Iranian patrol boats probe Iraqi waters



Iran's Elite Guard to Hold 'Asymmetrical ' War Games



Sources: US in advanced stages of planning for attack on Iran; Able, ready to strike in the Spring



Iran's Top Authority: Iran will target U.S. interests world-wide if attacked



U.S. strike group transits Suez on way to buildup in Persian Gulf



Analysis: U.S. and Iran on the precipice



'Senior Pentagon Officials': Air force preparing for aggressive tactics against Iranians in Iraq


Note: Original artwork of USS Eisenhower included in this diary by Spread the Word: Iraq-Nam. Artwork based on publicly published photo by the DOD. Therefore the photo is believed to be free of copyright. However, new artwork has been created using graphics techniques to avoid any dispute. The artwork is now separate and distinct from the original photo. Use of the new artwork is presented for informational purposes. Reproduction is prohibited.