From the GREAT STATE OF NEW HAMPSHIRE
Good Morning Irregulars!!!
As many of you know, I am a Professor. I love, love, love what I do, but some days are better than others. A couple of the things that drive me CRAZY--
Students who are absent from class, tell me they have been absent, then add "Did we do anything important?"--ummm nooo--we do anything important. I just stood up in front of the class doing nothing for 50 minutes.
Students who ask if they can be absent or leave class early for unacademic reasons--"Can I miss a 2 1/2 hour class to play intramural basketball?" "Is it ok for me to leave early so I can wash my hair?" "Is it ok to miss the final because my Dad (Mom, Uncle, Dog) made my plane reservations for Cancun(Florida, some other warm destination) for our family reunion early?" Oh by all means--and according to the Residential Life staff, you can learn anywhere--and all of college is a learning experience--so please--I beg you--go!
CHEERS AND JEERS starts in There's Moreville....(SWOOSH!)RIGHTNOW (GONG!!)
Disclaimer:This is an unofficial Cheers and Jeers and in no way has anything to do with the master, Bill in Portland Maine's brilliant series. Except of course, his chocolate lab, Molly just loves me and my dog, Zanzibar.
Tuesday, 27 February, 2007 (isn't this frickin' month over yet?)
Today's Puppy Picture The paparazzi is such a bother.....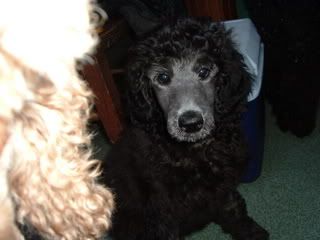 Today's Pootie PictureWho us?
Today in Rotten History
Feb 27 1859

Congressman Dan Sickles of New York shoots and kills Philip Barton Key, the son of Francis Scott Key (who wrote the Star Spangled Banner). The younger Key was having an affair with the congressman's wife. Sickles later pleads insanity and is acquitted.

Feb 27 1992

Trying to get the lid off her McDonald's coffee to add cream and sugar, 79-year-old Stella Liebeck accidentally splashes the 180-degree liquid on herself, causing third-degree burns to the thighs, genitals, and buttocks. After skin graft surgery and weeks of recuperation, Liebeck asks McDonald's to turn down the temperature of their coffee and pay $20,000 to defray her hospital bills. McDonald's tells the old lady to fuck off, as they had done for a decade of similar burn claims. Ultimately, a jury awards Liebeck $2.9 million in the resulting lawsuit, which immediately triggers a renewed call for legislative tort reform.
By the Numbers
Days til the Ides of March: 16
Days til Daylight Savings time: 12 (March 11)
for fun facts about daylight savings, click here--like states are not required to do daylight savings time.
CHEERS to Bill, our snarkmaster extraordinaries, who last year was going by the name Hercules, and to Michael--just 'cause.
CHEERS to the fill-ins who have done such a great job! A shout out to teeb, redlami and Schwede (smoochies baby!)
JEERS to the Senate being held hostage to the whims of none other than Joe "I'm going to take my football and go over to the Republicans" Lieberman--God save us.
CHEERS to Bob Woodruff who returns to ABC News today after 8 months of recovery.
JEERS (what else?) To Laura "what's a little bombing every day?" Bush who claims that Iraq is really stable right now--it's just those damned reporters making a fuss over a few itty bitty whiddle bombies that go off each day. Maybe she and the girls could go move there? Please?
Prayers for Steve Gilliard over at The News Blog He is hospitalized for a heart ailment--get well Steve!
JEERS to believing "You're so special!" A studyreports college students are more narcissistic and self-centered than their predecessors! Hey! They are all special!!!!
SMOOCHIES to all C & J irregulars--especially those we haven't seen in a while--miss you and love you.
Now Get out there and DANCE!!
The rest of our fill-ins schedule:
Feb 28-eej
March 1-Sherm
March 2- Baldwiny--this will be a LATE EDITION!!!
March 5--Andy
March 6-Virgomusic
March 7--sobermom
March 8--Marc in KS
What are you Cheering and Jeering about?