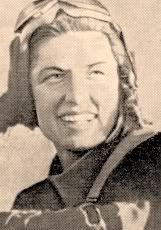 When I was 4 years old, I beat up the class bully. Apparently I wasn't normally an aggressive girl, but on that particular day I'd had enough. So I took a swing at the (very) big boy who was always trying to take away toys and candy from the rest of us. That swing worked pretty well, so I took another. And another. And continued to hit the now-crying bully until the teacher separated us. You can see why I've never bought that girls are all sugar and spice. In fact, I love reading about women who buck the prevailing trends and assumptions of their day--and who does that more than a woman who dons a uniform to serve in military combat? Dr. Raina Pennington's Wings Women and War: Soviet Airwomen in World War II Combat is one of the most complete and exciting histories of the female combat fighter pilots, night bombers, and dive bombers who served at the Eastern Front 1941-1945.
Cross-posted from Progressive Historians, where "Book of the day" is a regular feature.
Although published by an academic press (University press of Kansas), the book is far from dry. Tracing the early political efforts of celebrity pilot Marina Roskova (the Soviet "Amelia Earhart") , she looks at the politics and military necessity that drove Stalin to use womenpower at the front, before moving into a history of the training and regimental experiences of the women fighting in air war. The book includes numerous photographs, showing the eager young recruits, smiling women in their oversized flight suits (obviously designed for men) at the beginning of the war. There are also grimmer faces of seasoned combat veterans, still little more than girls. (One of my favorite pictures is from the 1990s, as the author stands with a smiling, grandmotherly woman in her 80s, wearing a chest full of combat decorations. It is not a sight one sees often in the West )

Pennington gives detailed regimental histories in her narrative, examining both all-female units and the mixed-sex units where women served in a variety of capacities during the air war. Of the all-female units, perhaps the most famous is the 146th Guards Night Bomber Aviation Regiment, who flew light bombing raids over German lines. From fragile open-cockpit P0-2 bombers, usually without parachutes, crews flew five to ten missions a night, sometimes putting in up to 15 missions in a single night. Startled by the sound of female voices overhead and dreading their deadly payloads, German troops allegedly nicknamed these women the "Night Witches," raining down death from the sky.

Individual regimental histories are given in enough detail that fascinating personalities emerge from the pages. You'll meet mechanics, navigators, armorers and gunners as well as the daring pilots like Liliia Litviak (alternate spellings: Lydia Litvyak, Lilya Litvak) . This diminutive blonde Hero of the Soviet Union painted flowers, rather than sharks or death's heads, on the sides of her aircraft: one for each kill. Petite and girlish, she was also a deadly fighter pilot. Along with her friend and colleague, Katya Budanova (pictured at top), who served in the same regiment, she was one of only a handful of female flying aces in world history. She completed 268 combat flights in less than one year of combat flying, and is credited with 12 kills. At her death in death in August 1943, she was 21 years old.
There are heroic men in this story as well, like Valentin Markov, commander of one of the all-women's units. He arrived dejected, feeling that surely commanding a unit of "girls" would be a step down for his career, and despairing that they would never be fit for military discipline. By war's end, he had reversed his opinion and was deeply proud of his effective fighting unit:
...they never whimpered and never complained and were very courageous. If I compare my experience commanding the male and female regiments, to some extent at the end of the war it was easier for me to command this female regiment. They had the strong spirit of a collective unit.(p. 103)

Whether you're a military history buff, or celebrating Women's History month, or just want to delve into a slice of Soviet history, this book makes for a fascinating read.

Image information: all images are believed to be out of copyright under under the terms of the Berne Convention. Because they are believed to have reached that status before January 1, 1996, they are in the public domain under United States copyright law and current Russian copyright law.