I'm a fan of Jack Betts, the Charlotte Observer columnist and blogger. He's all over the junior senator for North Carolina, Richard Burr, and he's already softening him up for 2010. Betts' blog post today is a doozie.
What have they done with Richard Burr?

If you ask me, I think they've kidnapped U.S. Sen. Richard Burr and put some imposter in his place. What else explains the goofy positions, if that's the right word, that the junior U.S. senator from North Carolina has taken on environmental issues in northeastern and northwestern North Carolina?
One is the Navy's proposed Outlying Landing Field. A lot of politicians avoided opposing that site close to a national wildlife refuge, but lately the state's leaders are opposing it – Republicans and Democrats alike. Recently state Commissioner of Agriculture Steve Troxler, a Republican, joined Gov. Mike Easley, a Democrat and late joiner of this campaign, in opposing the site in Washington and Beaufort counties and supporting another choice in North Carolina. Now Republican gubernatorial candidate Bill Graham of Salisbury has come out against the Navy's preferred site, and Republican U.S. Sen. Elizabeth Dole has urged the Navy to listen to residents of the area. She hasn't formally opposed it, but word is that her patience with the Navy is wearing thin because the service refuses to actively consider another site.

But Burr has resisted taking a position because, he says, that's not his job. He told the Associated Press he didn't think "it's a member of Congress' role to tell the Navy where or where not to place something."
By the way, I actually got a letter for the junior Senator today explaining exactly nothing regarding his "position" on the OLF.
"My view has consistently been that I will not dictate to the Navy where is should train pilots so long as the Navy follows the law in pursuit of land for training."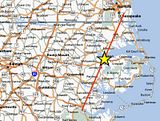 As Parmea has written extensively, it's arguable whether the Navy is following it's own regs when it comes to the OLF, but that's another question. The real puzzlement is Burr's belief that it's not the job of Congress to decide where military facilities should go. The Navy drew a damn line between Cherry Point and Virginia Beach, and then cut the line in half. Surely Brrrr doesn't believe that's a reasonable decision-making process. Because if he does, he's got more than a few screws loose.
Betts goes on to wonder out loud why Brrrr is all of a sudden hot to build Chuck Taylor's Road to Nowhere:
Last week (Burr) took another walk, this time on the six-decade-plus controversy over the "road to nowhere" that the federal government promised to build in 1943 on the north shore of Fontana Lake. The road would cost more than half a billion dollars and destroy vital habitat. The Swain County commissioners support a $52 million settlement, and so does newly-elected Rep. Heath Shuler. Shuler defeated Rep. Charles Taylor, who supported building the road even at its out-of-sight cost.

Now 17 members of Congress have signed a letter to Secretary of the Interior Dirk Kempthorne asking him to support giving unspent money from an environmental impact statement on the road – about $6 million – to Swain County as a partial payment on the proposed $52 million settlement. The letter was signed by nine members of Congress from Tennessee and eight from North Carolina, including Sen. Dole.

But Burr demurred, issuing a statement that he had always supported the 1943 plan to build the road and that while the community is still split, "I do not believe we should stop the work now underway and take a new path. I am aware that some of my colleagues suggest we now seek a financial settlement. Unfortunately we do not have assurances that the federal funding needed to fulfill the commitment made to the citizens of Swain County is achievable, nor is there agreement within the community that this is the right decision."
Dick Burr is losing it. Maybe he burned too much of his brain sucking up to Bush, or maybe he just flat-out doesn't have a clue about what it means to represent the people of North Carolina. Or maybe Betts is right. Maybe someone has kidnapped Richard Burr, and replaced him with a mindless clone of Elizabeth Dole.
Now that's a scary thought.