| | |
| --- | --- |
| | Last night I had a dream that I was a tree. That you could peel off my bark and see the fresh grain of still-alive wood beneath the crusty hardened skin that covers the growth of my time. In my dream a gory fantasy took hold; I cut off an arm and saw concentric rings on the end layer of my stub. Layers revealed from each year of life I passed through, some wider than others, some clean growth, some damaged growth. |
I woke this morning with a passing fancy to scratch my head. Would I feel leaves growing weirdly from my roots? I touched my face in that first of the morning glance at the bathroom mirror – were my skin cells roughened like the bark on a tree or were those simply the creases of a restless night that settles on a middle-aged woman?
I'm not sure why the dream has stayed with me through this day, or really, what it signifies. The idea of concentric rings of life is an idea that has resonance with me, and I marvel at how circular life is.
"You must pursue this investigation of Watergate even if it leads to the president. I'm innocent. You've got to believe I'm innocent. If you don't, take my job."
Richard M. Nixon
Thirty four years ago, there was a second term Republican administration, enmeshed in fruitless war, enthralled with crime and corruption, on the brink of destruction from Congressional hearings. I had an ill sister, dying of cancer in those late spring months; by mid-June she was dead.
Now, we have a fully corrupt second term Republican administration in the White House, involved in an illegitimate war, perched on the ledge above Congressional hearings that will likely extend out through election year 2008. Now I have an ill sister again, perhaps dying of cancer, just so. How circular life can be, concentric even.
The spring and summer of 1973 was the year of the Watergate hearings. I remember these hearings well. I've questioned my memory at times because there are thoughts and ideas of Watergate coming back with the advent of another impeachable President; images that I'm not so clear on. It wasn't until this weekend that I recalled a part of the personal history of my family – events and sorrows that took place in that same short span of two seasons, spring and summer in 1973. My mind is now reconstructing an overlay of political and personal events that happened then; I'd filed these disconnected thoughts and reflections in separate places of my mind. Until now.
| | |
| --- | --- |
| | Who knows what it says of me that I still experience a swirling-gut, visceral reaction to the August 8, 1974 newspaper headline "NIXON RESIGNS" printed on a folded and yellowing copy of The New York Times. It was the first NYT I ever purchased, now parchment in a high school scrapbook. |
My youngest daughter is a year or so older, at 16, than I was during the hearings plastered on television over days and weeks in 1973. Televised from mid-May to early August of that year, I think I can recall vividly the hearings that were front and center in my home on a daily basis. I never asked my friends if their parents kept the television on night and day as did my mom, watching and listening for any glimpse of news or bombshells of political drama. It didn't occur to me how long the memories of those days would stay with me. Nor have I ever completely analyzed in an intellectual way how seeing a governmental, and criminal, investigation of a President would color my view of adult life from that point on, or how that drama thoroughly informed my teenage mentality in the way a skewed world turns.
This wash of memory was spurred over a week ago as I watched the participation of the now-venerable John Dean in the pseudo live-blog of The Authoritarians Meet Altemeyer&John Dean Today on a recent Saturday. So taken was I with the memory of a young John Dean (for he was young – as Nixon's White House Counsel, he was in his early thirties – only 34 at the time of the Congressional hearings) testifying, day after day. His lovely wife Maureen – an instant television star with her smoothed blonde hair immaculately parted in the center and coiffed to a neat chignon at the back, designer suits, perfect make-up, incredible composure day after day. The images America saw, the questions the public had.
| | |
| --- | --- |
| | We see most images of Watergate in black and white photographs now, but they were in color in those days – an interesting historical media turnaround. |
At that time, I believed my mother's obsession stemmed from a kind of political payback – the kind of payback one gets when it is discovered that they were right all along. She'd never liked Nixon at all, since his days on HUAC:
"I had Hiss convicted before he got to the grand jury....I no longer have the energy, [but we need] a son of a bitch who will work his butt off and do it dishonorably. I know how to play the game and we're going to play it."
Richard M. Nixon tapes, 1971
I didn't stop to wonder so much then why my mother was obsessed with watching the unraveling of government – the only Republicans she could stand, even in those days, were Goldwater and Everett Dirksen and only "because I like the son of a bitch." But Watergate was our nightly entertainment. My oldest sister was dying rapidly from unfolding, finally untreatable lymphoma, and I see that Watergate took our minds from the real crisis on our emotional battlefield.
| | |
| --- | --- |
| | |
The cast of characters are names I can remember with little difficulty today: Sam Ervin, Howard Baker, Archibald Cox, Leon Jaworsky, John Dean, John Mitchell, Bill Ruckelshaus, G. Gordon Liddy, Bob Haldeman, Erlichmen, Woodward, Bernstein, Ben Bradlee.
I can't recall the name of my sister's doctor.
We had the TV on continuously, and I got in the habit of coming home from school and asking Mother what had happened in the hearings that day. For several days after surgery in May of 1973, my sister was laid up in our guest room in a back bedroom. Her eyes were too sensitive to watch the light from the television. Mom filled me in about the day's testimony and I'd take a dinner tray back to Jackie and catch her up on political tidbits. She was greatly amused at her 14 year old sister; probably mystified as to why I was taken with what most my age considered boring. It was my intent to entertain her and I succeeded a bit.
Around the first week in June, she returned home to Eugene for the last time. I won't recount the balance left of time; I've done so here before in Reconciliation. The upshot end of this part of my tale is that later in June and on into fall, Watergate took over our house. Larger world events delivered us for awhile from a smaller world of grief. How circular life can be.
"If cancer is so inspiring, why doesn't anyone try to get it on purpose?"

ltecato - Cancer Survival: My Contrarian View
I received a call this last Friday morning, and for you who've had similar calls from family members or friends, you know what is said and unsaid:
"my stomach hurts."
"She's jaundiced."
"went to the doctor yesterday finally",
"they called me back with blood test results"
"I don't know what these numbers mean...WBC, 22.5; Alk Ptase, 872; ALT (GPT) 67; AST(GOT) 162, Bilirubin, 6"
"I need to go to the ER this morning for an x-ray."
"a sonogram."
"a CT scan."
A long weekend, a consultation scheduled for today. An endoscopy on Wednesday.
Spots on the liver. Spots on the lungs. Spots on the esophagus. Two pack-a-day Winston smoker; nearly sixty years of continuous smoking.
I see irony in invoking the word "cancer" and talking of it and, yes, laughing about it, which I do in a "freakishly" casual way, as my daughter phrases it.
I'm also suspicious enough, in that native, uncensored, Norse-Celtic-Welsh subdural area of my prehistoric brain to wonder fleetingly if talking of cancer, speaking of cancer, conjures cancer to appear. I've read the recent diaries, most of them, and they all have bits and pieces that are also my bits and pieces; the Elizabeth Edwards diaries, the Tony Snow diaries, the diaries from Kossacks who have cancer currently, or have had in the past – many, many of us carry along similar totems inside.
There was Carnacki's diary – Cancer Roll Call – and I commented:
*Cancer, et al. (38+ / 0-)

Mother - lung cancer - age 66; survivor (though she's passed now from heart failure), surgery.
Grandmother - stomach/colorectal cancer; diagnosed too late.
Aunt 1 - colorectal cancer - age 63; diagnosed too late.
Aunt 2 - stomach/possible colorectal/liver cancer - age 58(?) diagnosed too late.
Aunt 3 - metastisized cancer, unknown origin, age 69, diagnosed too late.
Uncle - unknown, possible liver cancer - age 68, diagnosed at autopsy.
Brother - prostate - age 54 (?) - survivor, successful treatment.
Sister - lymphoma, melanoma - age 36, surgery, too late.
A story on my sister here: Reconciliation
by exmearden on Wed Mar 28, 2007
I had to conjure it again, didn't I? That's the silly child in me, whispering into the pillow before sleep. I have to admit, now I'm looking forward to another criminal investigation of a Republican administration. I'll need the distraction.
Those rough edges I saw in the mirror were simply creases of a restless night that settles on a middle-aged woman, after all. How circular and concentric life can be.
For my sister, Sharon, whom I've talked about before, for different and equally pensive reasons, in Not the diary I should write. Please read her story if you are so inclined.
"It's easy to be brave when there's nothing to lose. It's harder to be brave when you know how much has already been lost."
kid oakland - one evening in san francisco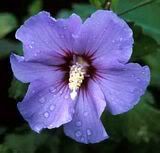 Rose of Sharon