Congress requested any and all records from the DOJ concerning US Attorney firings.
Included in the documents produced by the DOJ and posted on the House Judiciary Committee website are hundreds of emails dating from April 29, 2004 through March 8, 2007.
The content of these emails has been revealing, but is not the point of this post. Intriguingly, we have also heard about an 18-day gap, likened by Senator Patrick Leahy to the infamous 18-minute gap on the Nixon tapes pointing to cover-up. We also now know that perhaps 5 million emails are missing from White House records (Link), suggesting a similar problem could be facing AttorneyGate investigators.
Lost email can be accidental and random, and it can also be "lost deliberately". See below the fold for graphic evidence of "The GAP", suggesting deliberate non-production of emails regarding the US Attorney firing.
Examining the email trail suggests that the 18 day gap is just the tip of the iceberg of non-production. To get a picture of the pattern of email traffic revealed by the DOJ, I did the following:
Regardless of content, unique emails in the March 13-March 28 (Set 1) and April 13 (Set 2) document dumps were tabulated. The number of unique emails for a given date was totaled, and if multiple recipients were identified, these were also included in the total. Monthly total emails (Figure 1), as well as number of dates per month on which email was sent (Figure 2) were then graphed: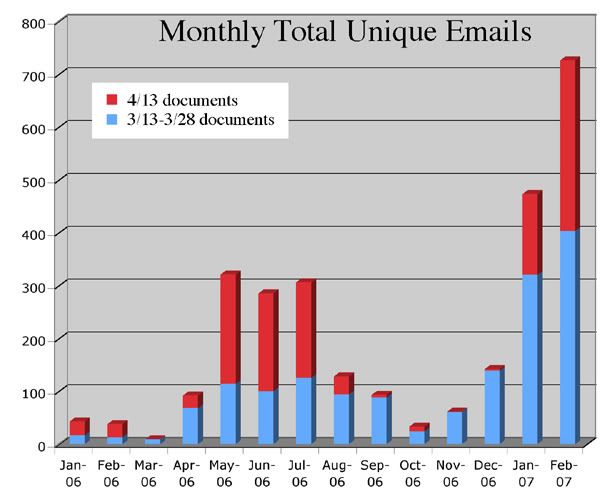 Over 2006, there is progressively increasing email traffic within the DOJ pertaining to US Attorney firing/replacement. Strikingly, in contrast to trends in the data, there is a paucity of email produced for October and November 2006. To wit:
In the 3 months prior to October, there was an average of 176 emails per month sent on an average 18 days per month. In the 3 months following November, there were an average of 447 emails sent on an average of 20 days per month.
In October and November, there were an average of 47 emails sent on an average 9 days per month.
The other telling feature of these graphs is the pattern of production. For the second document prodcution (Red bars of Figure 1), there was a large production of documents over May-July 2006, much of which was aimed at illustrating problems with Lam, Iglesias and Charlton. There was minimal production of documents from October-November.
Analysis:
These data document a surprising reduction in email traffic during October and November, 2006.
We see significant email traffic in June-September indicating significant interest and DOJ resources devoted to this issue. It suddenly drops in October and November, immediately before they are going to undertake the unprecedented move of firing 7 US Attorneys. They knew it was unprecedented and that there would be political ramifications, so it is difficult to envision October and November as months in which internal DOJ attention to the upcoming firing would decrease.
Importantly, the List was not finalized in mid-September. On September 13, 2006, Kyle Sampson emailed Harriet Meyers with a list recommending 9 attorneys be replaced. David Iglesias was not on that list. On November 15, Kyle Sampson drafted a final list, suggesting there was interest and work to produce the list between September and November. Further, on November 27, AG Gonzales attended a one-hour meeting to discuss the upcoming firings on December 7. It is hard to believe that there was not extensive planning in preparation for this meeting. Along these lines, On November 21, an email from DOJ employee Tasia Scolinos to Catherine Martin in the White House outlines a potential talking point- "The one common link here is that three of them are along the southern border so you could make the connection that DOJ is unhappy with the immigration prosecution numbers in those districts." Thus, it is apparent that there was discussion and work among multiple DOJ employees with respect to US Attorney firings during October and November, and it is very surprising that the email traffic does not reflect this.
.
.
.
On the other hand, the apparent reduction of email traffic in October-November 2006 is consistent with incomplete document production. Taken together with the timeline evidence that active discussions were ongoing during October and November before the firing, these data strongly suggest that despite congressional requests, The DOJ documents are still incomplete.
Possible explanations for the data gap include:
Emails in Oct/Nov 2006 have been "selectively lost"
Emails in Oct/Nov 2006 exist but are deliberately non-produced

.
.
.
Disclaimer:
This was painstaking. There were multiple duplicates in batches of email from different recipients. Although I tried to ensure that only unique emails were considered there may be unintended overcounting. When greater than 10 recipients were identified, I looked at content. If it was mass email, such as general guidelines sent to all USAs, or contact info for a fired attorney sent to > 10 people, I did not include it. There were only a handful of these examples (out of 2750 total emails). Otherwise, content was not analyzed. As such it represents data that was provided to the Judiciary Committee by the DOJ based on their identification of responsiveness to the document requests. In this sense, if all documents are provided, it should be an unbiased measure of the amount of DOJ resources/interest dedicated to the decision to fire/replace US Attorneys.
I am happy to provide Excel spreadsheets for further statistical analysis or other documentation purposes.