News Item:
Baghdad has erupted in a torrent of bombs and violence.
BAGHDAD (Reuters) - Car bombs
killed nearly 200 people in
Baghdad on Wednesday in the
deadliest attacks in the city
since U.S. and Iraqi forces
launched a security crackdown
aimed at halting the country's
slide into civil war.



In the Sadriya neighborhood, a car bomb killed 140 and injured 150:
A thick, dark plume of smoke rose at the scene of the bombing.


Fire fighters rushed to put
out flames on burning bodies,
while rescue workers tried to
retrieve bodies from the
blackened hulks of cars.
(Crossposted at NION)
Shopkeeper Ahmed Hameed described the scene of a car bombing in his Shi'ite Sadriya neighborhood:

"The street was transformed into a swimming pool of blood," Ahmed Hameed, a shopkeeper near the scene, told Reuters.


"I saw dozens of dead bodies. Some people were burned alive inside minibuses. Nobody could reach them after the explosion," said a(nother) witness...


The human suffering is tangible for those killed and those who survived:

"Women were screaming and shouting
for their loved ones who died,"
said the witness who did not wish
to be identified, adding many of
the dead were women and children.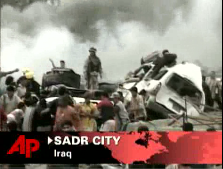 Meanwhile, in Sadr City,
a car bomber killed 35.








The AP reports that today was one of the deadliest days in Iraq since April 2003:
April 18, 2007: Officials report 233 people killed or found dead across Iraq. At least 183 of those are killed when four large bombs explode in mainly Shiite locations of Baghdad.
:: ::
(All images are screen shots captured from video.)