US demand for corn to make ethanol has forced Mexico to extend price supports so that the price of tortillas, a staple of the Mexican diet, doesn't again go through the roof. Put simply, US energy policy is threatening Mexico's poorest people with hunger.
Yesterday, the Mexican government extended price supports on tortillas. According to a Reuters report onCNN
Mexico's government renewed a deal with retailers and producers Wednesday to cap prices of the food staple tortilla to control inflation and placate angry consumers.
Prices for corn, the main ingredient in tortillas, surged in December and January to their highest in a decade because of increased demand for the grain from U.S. ethanol fuel producers.

Many retailers agreed to keep tortilla prices at 8.50 pesos ($0.77) per kilogram, with key producers committing to hold the price of corn flour at 5 pesos per kilogram, Economy Minister Eduardo Sojo told reporters.

Wednesday's deal extended an accord from January that helped stymie an inflation spike but was set to expire on April 30.

Mexico is widely considered the birthplace of corn, but it imports millions of tons from the United States every year. Most Mexicans eat tortillas on a daily basis.
Isn't this wonderful? A staple of the Mexican diet, the food available to Mexico's poorest people, is on price supports because of US demand for corn to make ethanol. The end of the pressure from US demand is nowhere in sight. Are we ready to discuss US energy policy and its impact on this hemisphere?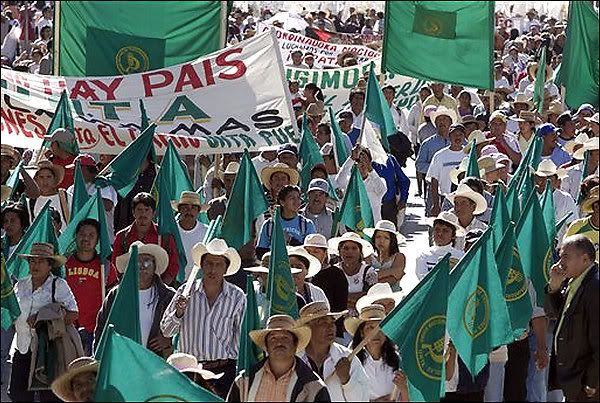 On February 1, 2007, the Washington Post reported:
About 75,000 trade unionists, farmers and leftists marched through downtown Mexico City on Wednesday to protest price increases for basic foods like tortillas the staple of Mexico's poor and to demand a change in economic policy.

The march represented a challenge to President Felipe Calderon's market-oriented policies and one banner read "Calderon stole the elections, and now he's stealing the tortillas!" Others waved handfuls of the flat corn disks and chanted "Tortillas si, Pan no!" a play on the initials of Calderon's National Action Party, the PAN, which also means "bread" in Spanish.
Some context. Mexico has tens of thousands of people living in extreme poverty, which is defined as less than $2 per day in income. For these people, the price of tortillas is a matter of eating or hunger.
The events in late January and early February were essentially beneath the radar in the US. Was this because of historical lack of concern about events south of the Big River? Was it because US media relegate stories about the consequences of US energy profligacy to the back pages? The Washington Post reported in January
Mexico is in the grip of the worst tortilla crisis in its modern history. Dramatically rising international corn prices, spurred by demand for the grain-based fuel ethanol, have led to expensive tortillas. That, in turn, has led to lower sales for vendors (snip).

The uproar is exposing this country's outsize dependence on tortillas in its diet -- especially among the poor -- and testing the acumen of the new president, Felipe Calderón. It is also raising questions about the powerful businesses that dominate the Mexican corn market and are suspected by some lawmakers and regulators of unfair speculation and monopoly practices.

Tortilla prices have tripled or quadrupled in some parts of Mexico since last summer. On Jan. 18, Calderón announced an agreement with business leaders capping tortilla prices at 78 cents per kilogram, or 2.2 pounds, less than half the highest reported prices. The president's move was a throwback to a previous era when Mexico controlled prices -- the government subsidized tortillas until 1999, at which point cheap corn imports were rising under the NAFTA trade agreement. It was also a surprise given his carefully crafted image as an avowed supporter of free trade.
Of course, you'll have to forgive the WaPo for claiming that the "outsize dependence" was Mexican and that it was for tortillas, rather than American and for energy. That's what you get too frequently in the US for reportage about Latin America.
So, you're asking if you read this far, what's this got to do with anything? It's this: the consequences of US energy policy are gigantic, not only in terms of global warming and the wars the US continually fights, but this policy also has immediate, direct consequences on the poor of this hemisphere. If we care about these consequences, and we really should, we need to be addressing this issue in the upcoming elections.