We start off with something old; something new ...

Even though, from at least an international perspective, the Chimp has blown his wad ... I'm sure he could round up a coalition to invade the Sudan. All he'd have to do is keep it from his political base.
More below the fold
With all the wax'n-poetic regarding the GOP's now ascended once-god-on-earth-ron-ray-gun when the Repubniks had their circle jerk at the site of the presumptuous assumption in Seamy [sic] Valley; I thought it was time to grab an oldie but goodie from Steve Bell of The Guardian.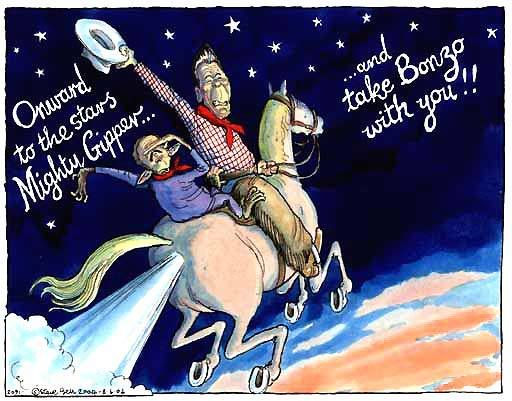 Of course we all recognize our very own commander and chimp soaring off with the gipper. Well you can spot him here in one of Steve's creations this week. Yes, The Chimps lap dog tony is about to go out that little political pet door for the last time but if you look close you'll see that The Chimp still gets center statge.






Condie has been trying to keep a low-below-the-subpoena profile but Mr. Fish finds she still has a place in the roundup.




PBS has been doing all it can to get back in the good graces of the lunatic right. They apparently are not going to give a real airing to the 'A Brief History of Disbelief' after a Mormon Mini-series and the Neo-Con spectacular 'America At the Crossrads'. I went to bed and let the TV go on so I wouldn't have to fertilize the house plants ever again.






And after trying to give George Tenet a thoughtful hearing, watching serious interviews Rose/Lehrer this is the best I could come up with.






Thanks for stopping by everybody.
Take care.