As I have diaried previously, I and 18 DailyKos volunteers have evaluated emails in the DOJ document dump released by the HJC.
Karl Rove is a recipient on 3 out of 2101 unique emails that have been disclosed to the HJC. Of the 3 known emails to Rove, the content of 2 has been released publicly and both deal with New Mexico, and the third, also dealing with New Mexico, is a part of the emails in Sampson's files of emails that are being withheld from congress.
One of these documents is interesting in its illumination of nepotism, cronyism, and potential corruption pertaining to White House selection of US Attorney replacements.
In it we learn that the White House Counsel in charge of approving replacements for replacing David Iglesias as the US Attorney on New Mexico is Leslie Fahrenkopf. She is the daughter of the President of the American Gaming Association and former RNC Chairman Frank Fahrenkopf, Jr.
Background:
On January 8, 2007, Steve Bell, staffer for Domenici, sent an email to the the White House with recommendations about US Atty replacements in New Mexico. This email was addressed to Candida Wolff (White House Assistant to the President for Legislative Affairs), J Scott Jennings (Rove Deputy and key player in this scandal), and kr@georgewbush.com. This is in fact one of 3 emails out of 2101 in which Karl Rove is a recipient. Of the 3 emails to Rove, the content of 2 has been released publicly and both deal with New Mexico.
The email was forwarded ultimately to Kyle Sampson and Monica Goodling, who, as I and others have diaried, were the main effectors of the "Firing Plan" in the DOJ, likely working under White House orders.
This final forwarding in the email trail is CC's to Leslie Fahrenkopf, Associate Counsel to the President.
This email reveals that "Leslie" Fahrenkopf has final say as to whether the replacement candidates for Iglesias can be submitted for nomination.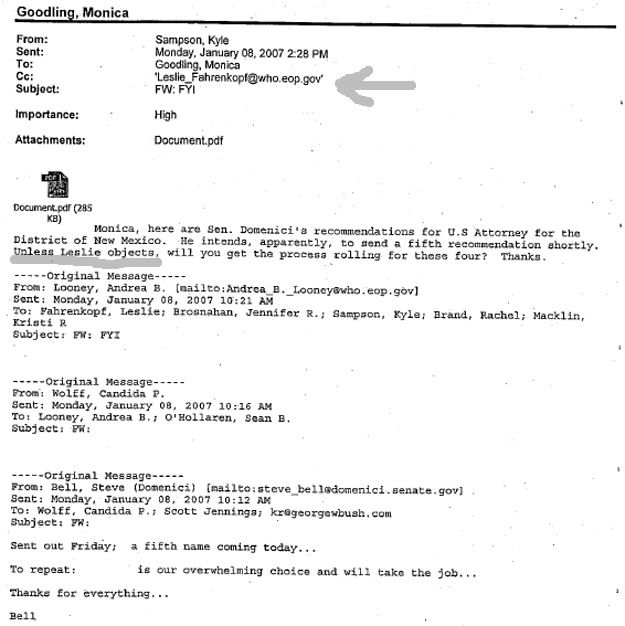 Analysis:
Leslie Fahrenkopf is Associate Counsel to the President, and it is feasible that her job responsibilities include screening candidates for replacement US Attorneys. Nothing wrong with this picture so far.
But Leslie Fahrenkopf is also the daughter of Frank Fahrenkopf, former RNC Chair, and currently president of the American Gaming Association, the national trade association for the commercial casino industry that serves as a major lobby for gaming.
It is interesting that a woman with such close familial ties to the gaming lobby is in charge of selecting candidates for US Attorney in New Mexico, a position that is undoubtedly important to gambling in that state, laden with Indian Casinos. Leslie Fahrenkopf may not necessarily counsel with her father in decision-making regaring US Attorney hiring in New Mexico, but the possibility of impropriety is at least apparent.
The fact that Rove is a recipient of these emails adds to their political weight. Considering that there are only 3 emails in the database addressed to Karl Rove suggests he may have played a particularly important Role in the firing of David Iglesias.
The other public email addressed to Karl Rove is also about Iglesias:
Rove #2
Page 165
And the reference to the third, of which the full content is unknown, is:
Sampson's Withheld Emails
See: Update re: telephone call from Sen. Domenici's COS re: Iglesias press conference
Acknowledgements: 
Thanks to the Daily Kos volunteers who have completed the database compiling and indexing DOJ emails and permits analysis of email traffic. They have put in countless hours and should be commended. They include: 
Audrey, MsWings, Ethan's Mom, WTF, Madhaus, davidincleveland, Howard, Fanaa, Brian, Michelle, Michael, Miss Butter, Pandora, Eli, OkieByAccident, Keith, Marco, Gray, Tracie, Thom K in LA, leveymg, and Valerie.