First, an introduction to the series:
Feminisms is a series of weekly feminist diaries. My fellow feminists and I decided to start our own for several purposes: we wanted a place to chat with each other, we felt it was important to both share our own stories and learn from others', and we hoped to introduce to the community a better understanding of what feminism is about.

Needless to say, we expect disagreements to arise. We have all had different experiences in life, so while we share the same labels, we don't necessarily share the same definitions. Hopefully, we can all be patient and civil with each other, and remember that, ultimately, we're all on the same side.
**I'd like to note up here that when I use the term "men" below I'm not referring to all men. There are certainly Feminist men and we love them and we know that they stand with us in our continued fight for equality. I think that's fairly clear in the context below, but I wanted to put that up here so I didn't have to address it in the comments multiple times.
Human Rights Watch defines "honor killing" as the following:
Honor crimes are acts of violence, usually murder, committed by male family members against female family members, who are perceived to have brought dishonor upon the family. A woman can be targeted by (individuals within) her family for a variety of reasons, including: refusing to enter into an arranged marriage, being the victim of a sexual assault, seeking a divorce — even from an abusive husband — or (allegedly) committing adultery. The mere perception that a woman has behaved in a specific way to "dishonor" her family, is sufficient to trigger an attack.
Du'a Khalil Aswad was publicly beaten to death on the streets of Bashiqa, a town in Northern Iraq. She was 17 years old, said to be of the Yazidi faith and she was kicked and stoned to death on a street while the police and others looked on. Why was she killed? Well, according to CNN:
Authorities believe she was killed for being seen with a Sunni Muslim man. She had not married him or converted, but her attackers believed she had, a top official in Nineveh province said. The Yazidis, who observe an ancient Middle Eastern religion, look down on mixing with people of another faith.
Click the above link to read more. The article includes a link to the video. Yes, you can watch the video of her death because there wasn't just one cell phone taking video of it, but at least two. And as she lies there covered in blood those holding the cell phones still record. This is apparently what "bringing Democracy to Iraq" looks like.
According to the Assyrian International News Agency (more video clips there) the local police aided in the murder:
From the clips it appears that the girl was first stripped naked to symbolize that she had dishonored her family and her Yezidi religion. She is lying on the road naked while her smashed face is covered with blood and still breathing.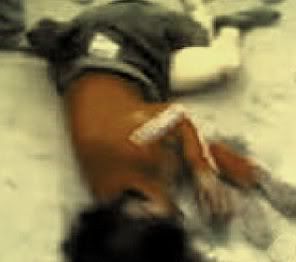 The CNN story notes that 4 men have been arrested, that 3 of the local policemen are being investigated, and that there is a search for four more men believed to be involved in Du'a Khalil's death. Due to the high publicity of her death her murderers may indeed be prosecuted, but what about the other 5000 women who the United Nations Population Fund estimates are victims of honor-killings each year? The vast majority of those victims never see justice. I'm not even sure one could make the argument that Du'a Khalil will "see justice". I wonder how long those men will go to jail for- a few months?
As I read various blogs entries and articles about the murder of Du'a Khalil I came across one that struck me. It was by Joss Whedon. I encourage you to read it all when you have a minute, but this part struck me the most:
What is wrong with women?

I mean wrong. Physically. Spiritually. Something unnatural, something destructive, something that needs to be corrected.

How did more than half the people in the world come out incorrectly? I have spent a good part of my life trying to do that math, and I'm no closer to a viable equation. And I have yet to find a culture that doesn't buy into it. Women's inferiority – in fact, their malevolence -- is as ingrained in American popular culture as it is anywhere they're sporting burkhas. I find it in movies, I hear it in the jokes of colleagues, I see it plastered on billboards, and not just the ones for horror movies. Women are weak. Women are manipulative. Women are somehow morally unfinished. (Objectification: another tangential rant avoided.) And the logical extension of this line of thinking is that women are, at the very least, expendable.

I try to think how we got here. The theory I developed in college (shared by many I'm sure) is one I have yet to beat: Womb Envy. ...
Indeed this theory is shared by many, myself included.
This is why there is the desire to control our reproductive systems. This is why men want to control whether or not we work and it is why they work so hard to ensure that most women can't make a wage that will actually support our families. This is why we can't be trusted, according to the Supreme Court and the Religious Right. This is why a woman who has sex before marriage is a whore and why a man who has sex before marriage is a "stud" (do people still use that term? I just call them sluts and I'd like to further note here that I see nothing wrong with being a slut. I don't judge people's sexual behavior as long as it's among consenting adults). This is why men work to subjugate women at every level. This is why "honor" killings occur- because these women dared to question an arranged marriage or because they got raped- because of course, for these murderers, rape is the fault of the victim.
Joss Whedon ends his blog entry the same way I often end my own, with a call to action. There are an estimated 5000 women who die each year in ways similar to Du'a Khalil. One is too many. We each need to become more active in stopping violence against women. We each need to do something.
I'd like to note here that exmearden's diary, Heart of honor: the death of Du'a Khalil Aswad, is excellent and provides a number of links with more details about honor killings including the website for the International Campaign Against Honor Killings which provides some action links along the right hand side of the page.
Amnesty International also provides more links, stories and suggestions for how you can help stop violence against women around the world.
Madre and the Organization of Women's Freedom in Iraq are providing Shelters and they have created an Underground Railroad for Iraqi Women to help get women who are threatened with honor killings to safety. You can contribute and help them in their efforts.
Update: Thanks also to chesapeake and blueteam for the link (in comments) to the Revolutionary Association of the Women of Afghanistan.