I had a fantastic day! Thank you to The Gryffin for accompanying me, for taking me into cool buildings I would have walked by (to be diaried later), and for remembering Important Questions and When they Should Be Asked.
I met Cute/Nice Lurker Guy (first) ReEnergizer (second) and Jim In Chicago (Third) - and what a nice bunch of people they are. I got a great Gore 2008 hat, stickers (including bumper), buttons, a bookmark.
I bought Assault on Reason and a "children's edition" of An Inconvenient Truth.
Hmmmm, what am I leaving out? Let me see...
Updated: Please see Fox News Chicago ask, Should Al Gore run for president? Maybe you'll want to vote in the poll.
Updated Thursday morning: It is in the press this morning. I found it in the Sun Times, and the same article is online in The Daily Southtown.
So, The Gryffin and I each took express trains from our respective 'burbs, and met within minutes at Union Station. We took a bus from Union Station to almost-Marshall-Fields (now called "Macys," ptuii.) We walked north past Marshall Fields.
You may remember I walked by Marshal.... oh damn, Macys, on a previous diary, and tried to get a photo of "the clock" that didn't turn out so well. Here's a better view:
When we got up to the corner, putting us kitty corner from Borders (where the Al Gore Book signing was to take place), it was about 7:30. (The Marshall Fie... Macys clock doesn't lie.) There were a couple of people in line, all ready: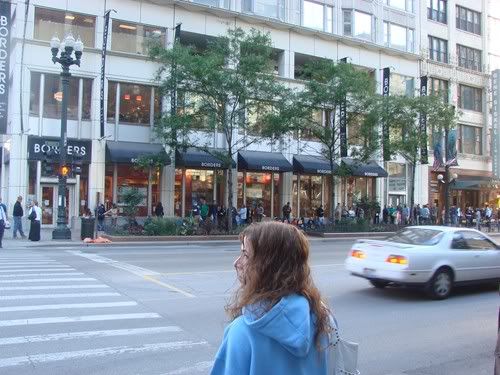 The two women in front of us were wearing sashes - I asked about them, later. They were like "Miss Sunshine State" and "Miss Something Else I didn't catch" sashes.
While The Gryffin made up a sign with the materials I'd brought along, we talked with a man behind us, who is a DailyKos Lurker.
Hi nice (and cute) Lurker Guy!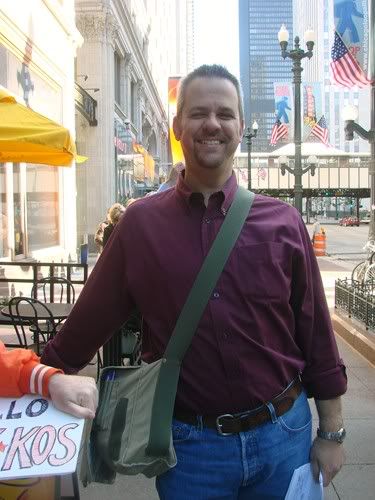 The Gryffin finished the sign.
I looked at The Chicago Theatre across the street. Great sign!
Awesome detail!!!
The line was not getting any shorter.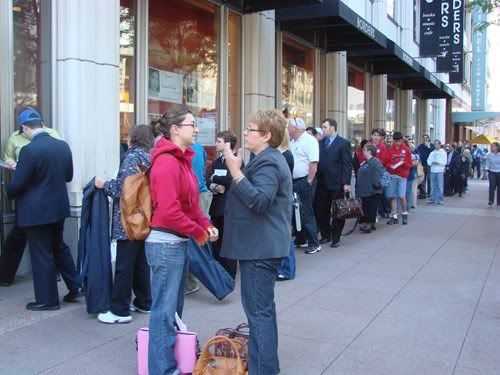 These three people were working the crowd (photographed, later - and I think I understood that the guy on the right is familiar with DailyKos - if yes, speak up, if you see this!):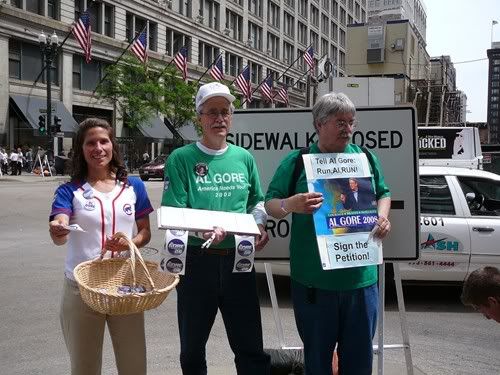 We also met Jim in Chicago, and had a nice chat.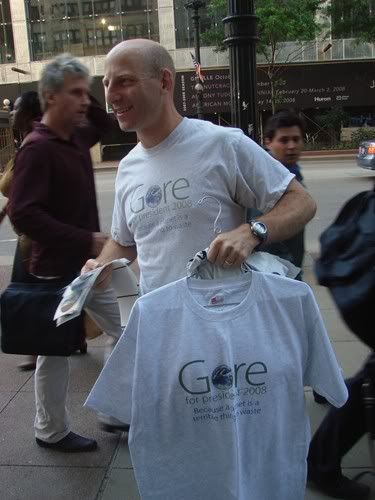 Re-Energizer came up and asked if The Gryffin was sheddhead (he's not, I am!), and we said we'd meet later (and did, in line.)
So, The Gryffin and I went off to get pictures of buildings and then came back at about 11:45, and got in line on the third floor. I'm guessing we were 200th in line. It's a guess!!! ReEnergizer was close behind us, with his friend.
He hasn't said it isn't ok to point him out.... SO HEEEEEEERE'S RE ENERGIZER! (To the right, in the shot.)
There were a lot of people in line. Jim in Chicago was near, too!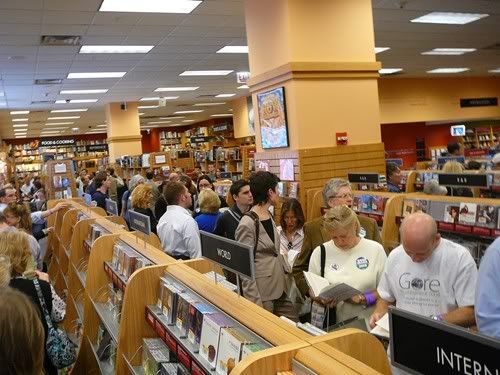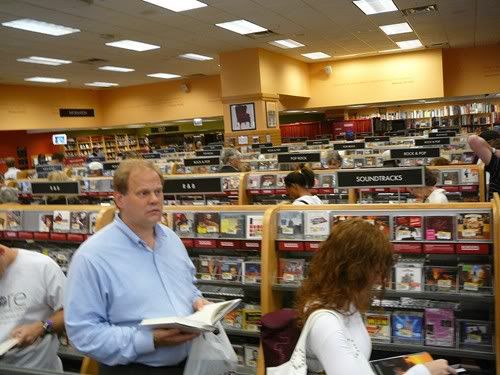 And Re Energizer and his friend
There was a LOT of confusion over whether photos without flash were allowed. A LOT. But, there really was no place to get a good angle.
The media were all over...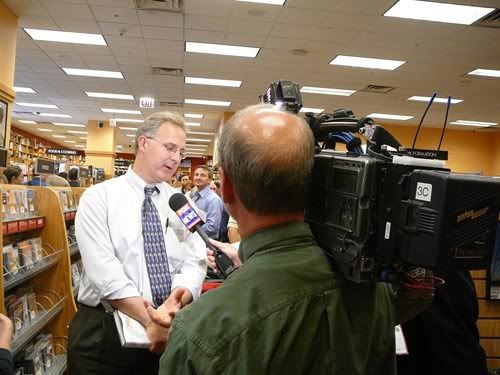 Please note the mic - and the guy said, "Well, I have a problem with Fox..." when he started talking. YAY HONEST GUY IN LINE!
Before he started to sign, Al talked. I tried to record it as a movie, but I couldn't see him, so I've tried to convert it to mp3. If it worked, I'm glad. If it didn't, I'm sorry.
After he finished, there was a mass "RUN AL RUN" throughout the crowed."
So, those are the photos. Let's talk about "Bless your heart" and more.
While in line, I took out a sharpie and: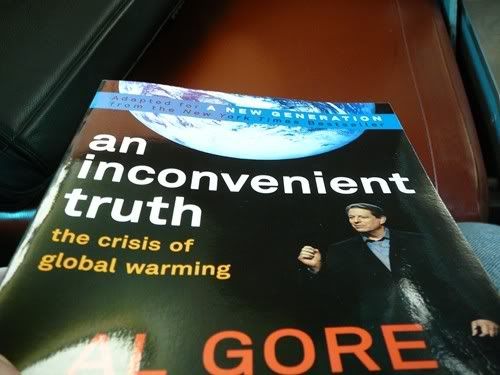 And I wrote: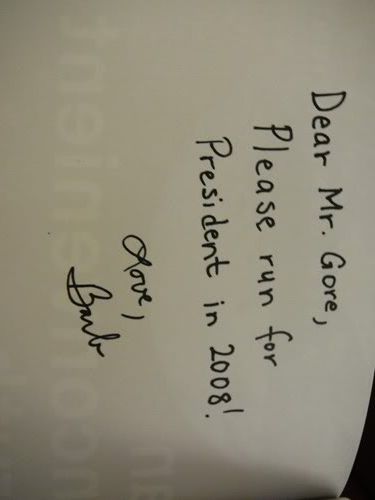 Al opened the book, and pulled it to sign, then I saw his head turn slightly. His lips don't move when he reads... (more proof he's presidential material!) He said, "Awwww..." and looked up at me, and said, "Bless your heart."
I melted into a little puddle of goo...
I got my books, and started to step away, when I heard The Gryffin say, "Please come to YearlyKos."
I said, "OH! I was supposed to ask you that, too! It's here, in Chicago, please come!"
He said something like, "That's a great site." He asked when it will be. The Gryffin heard 'What is it?' instead of 'When is it?' and while he was considering how to answer, I said, "The first week in August."
He thinks he's busy. :( But did say he'd check to see!
Then he put out his hand toward The Gryffin, and shook his hand. It was sooooooooo cool. And there was NO way I was missing out, I stuck out my hand, and he shook my hand as well.
As I stepped away, a woman started to ask me questions - she was from the Sun Times. And while we were talking, another woman, with a video camera, asked The Gryffin questions.
Then we went to the coffee shop to wait for my Dad, to continue the next part of the day. While we were there, we saw this from the window.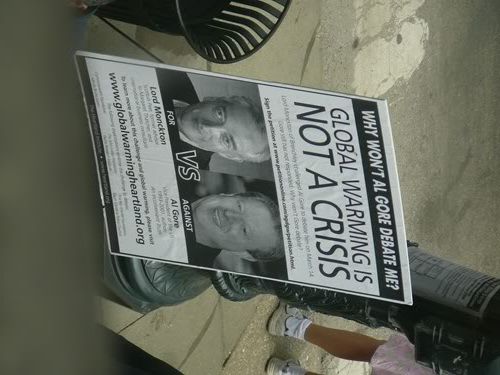 Look, just like Steven Colbert, Guy In Suit knows a Black Guy.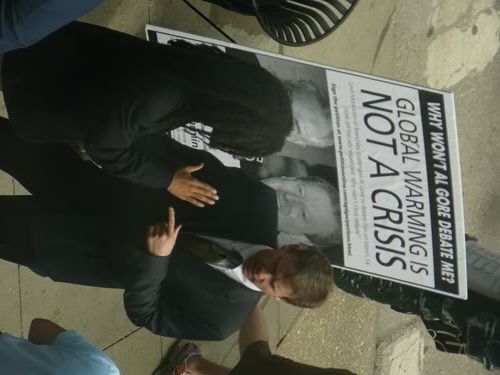 They got their photo op, and took off.
Thank you to everyone we got to meet - can't wait until next time - and sorry, to anyone we missed.
WHAT A GREAT DAY!
Oh yeah. Look what I saw on the way home...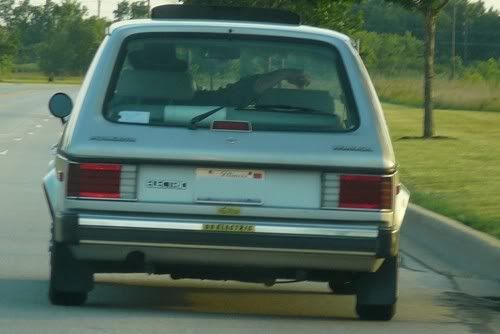 I've never seen an electric car (to my knowledge) before. Kind of fitting, on Al Gore Day!