Installing solar panels? Consuming less energy? Planting trees? Reducing carbon footprints? Saving the planet from overheating? Going Green?
Following the Live Earth Concerts this past weekend, who in their right mind would argue against all these worthwhile goals except neanderthals like Senator Jim Inhofe (R-OK) and his cohorts with an aversion to scientific knowledge and facts.
Now, from the 'Keep-it-Simple-Stupid' (KISS) File comes this intriguing recommendation from the European Commission in Brussels, Belgium
The bureaucrats of the European Commission have taken a radical step toward reducing their carbon footprint and halting the progress of global warming: Neckties have been declared "optional."

The logic is that tie-free men will tolerate greater heat, and by setting the air conditioners just one Celsius degree higher, they can cut their 56,000 metric tons of annual carbon dioxide emissions by 10 percent.
Who'd have thunk it?
Now, I know the European Commission in Brussels is a bureaucrat's dream and has always been big on ideas like 'Industrial Policy,' 'Convergence,' 'Cohesion,' and 'Harmonization.' But neckties?
This brilliant idea is the brainchild of the "always snappily dressed" EU Internal Market Commissioner Charlie McCreevy - who thought of this energy-saving idea on a trip to Japan.
Charlie McCreevy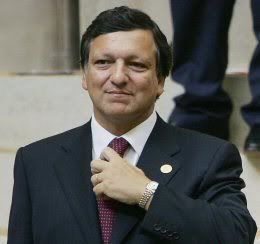 (Photo: Vincenzo Pinto/AFP)
Upon his return to Brussels, Mr. McCreevey shared his important findings with his colleagues
EU eyes cool response to planet's heat
Mr McCreevy, who has just returned from an official visit to East Asia, wrote to his fellow commissioners late last month saying: "I noted in Japan that Prime Minister [Shinzo] Abe has given the lead in telling his ministers and civil servants not to wear ties in summertime. This allows office temperatures to be set higher and so cut down on energy use for cooling of offices."

The fight against climate change could soon be carried into the wardrobes of the European Commission's 11,700 male bureaucrats, as the Brussels body ponders whether to crack down on neckties during the summer months.
Is this radical proposal likely to succeed or meet fierce resistance from the traditional halls of the European Commission? The jury is still out
Should his proposal be put into practice, it would mark a radical break with the Commission's current sartorial standards. Though the body's code of conduct does not stipulate a particular dress code, the vast majority of male officials wear suits and ties to work every day.

Unlike employees in the private sector, some of whom experimented with "casual Fridays" during the dotcom boom in the late 1990s, the Commission has never tried putting in place a dress-down policy.
A couple of weeks ago, I wrote this diary about a secretive, deliberative campaign of misinformation undertaken at the highest levels of government by the Bush/Cheney Cabal to deny the very fact of Global Warming.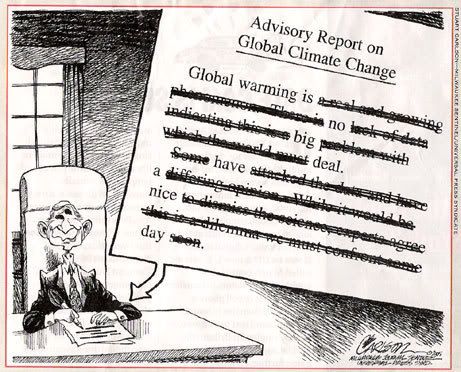 I was wrong.
Republicans hate all things European and the real reason these buttoned-down, country club Republican types are unwilling to accept the scientific fact of Global Warming is simple: they just aren't willing to give up their Brooks Brothers ties.
Moreover, by adopting this policy, the Republicans would be giving aid and comfort to the enemy - one they intend to invade in the not too distant future
An aversion to neckties is also common in Iran, where religious and political leaders denounced the garment as a symbol of the country's subjugation to the western powers following the 1979 revolution.
So, what's a loyal Neocon Republican to do? Oppose all things European and anything that emulates the Iranians.
Not too complicated to understand, eh?
(crossposted at Truth & Progress)