Greetings, literature-loving Kossacks! Last week we zoomed back to ancient Greece to pay our respects to one of history's greatest playwrights, Euripides. After bathing in The Bacchae, we could use something a little more... affirming?
So this week, let's take a trip to Senegal, to see how a local poet became not only a founding father of an important cultural movement, but also president of his country. I know, it's a stretch to imagine - in our land of My Pet Goat - that literary talent and executive power could go hand-in-hand, but not every country dismisses its intellectuals so easily.
I have chosen to live near the rebuilt walls of my memory,
And from the top of the high ramparts
I remember Joal-of-the-Shades
The face of my land of my blood.

- from "Porte Dorée", p. 3
Let's start with a little trip:
The setting is Paris in the 1930s. Three young artists are spending time in the cafés learning about the Harlem Renaissance in America, and the gears in their brains are spinning furiously: is there such a thing as "black" literature, not specific to the American experience? Is blackness a quality that can be intrinsic to a worldview, an identity that transcends national borders? How does blackness define itself in an Imperial (European) world?
Working together, the three represent a pretty broad span of the black experience: Aimé Césaire hails from Martinique, Léon Damas from Guiana, and tonight's focus, Léopold Senghor, has left his native Senegal to finish his education and work as a professor of literature in France. In a student journal they co-founded, Césaire coins a new word to describe the ideas that have been fermenting in their discussions: négritude.
Négritude:

The sometimes vehement politics of négritude merit their own diary, but since the focus of this discussion is the poetry of Senghor, we'll gloss over them by saying this: négritude has its supporters and detractors, and it doesn't even mean the same thing for all its supporters. For Senghor, négritude is a transnational and transcultural (but not purely racial) concept that recognizes and asserts the value of blackness and its rich emotional nature; not far behind is the possibility that the rift between Africa and Europe can be reconciled (later in his career, blackness even becomes the vessel of that reconciliation)

Attempting to explain négritude to the White West, Jean-Paul Sartre wrote an introductory article ("Black Orpheus") to a collection of poems that Senghor put together. Here, Sartre explains the implication of blackness trying to express itself through a white language:

Since French lacks terms and concepts to define negritude, since negritude is silence, these poets will use "allusive words, never direct, reducing themselves to the same silence" in order to evoke it. Short-circuits of language: behind the flaming wall of words, we glimpse a great black mute idol... Even before he thinks of writing poetry, in him the light of white words is refracted, polarized, and altered. (Sartre, p. 304)
But we're getting ahead of ourselves: how did a young man from a Senegalese village come to be creating a cultural movement in Paris?
Léopold Sédar Senghor was born in the coastal village of Joal (the mainland half of Joal-Fadiouth), Senegal in 1906. At the time, Senegal was still a French colony, and the ethnically Serer Senghor devoured French literature, landing himself a scholarship to study in France at the prestigious Sorbonne.
In his long and involved life, Senghor would:
become a professor and teach at the Universities of Tours and Paris;
fight in World War II as a French army officer;
barely survive being executed in a German POW camp;
serve as a member of the French National Assembly, representing the colonies of Senegal and Mauritania
become the first African-born (and first black) to be elected to the highly exclusive Académie française, in 1983
But most impressive perhaps was his election as the first president of Senegal when his country gained independence in 1960, after a short attempt at federation with Mali. Senghor ruled as chief executive for 20 years; though there are legitimate criticisms about his style of government (enforced one-party system, arrest of protesters during demonstrations in the mid-70s), Senegal never became authoritarian, never suffered a successful coup, and today has one of the best human rights records in Africa.

His regime wasn't all roses: in the course of two decades he survived both an attempted coup by the prime minister and an attempted assassination attempt. In the end, he preferred to be remembered as a poet.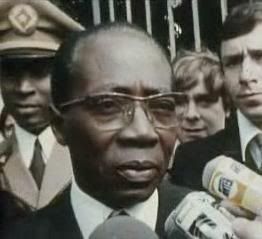 Senghor, in a 1976 interview
(click to open link)
(quick note: to give this diary some uniformity, I've taken all the short excerpts from The Collected Poetry, which is required Senghor reading if you don't speak French. The one exception is the excerpt from "Snow above Paris", which I translated myself.)
I did not recognize you in your prison of sad-colored uniforms
I did not recognize you under the calabash helmet without plumes
...
I just touched your warm brown hand and said my name, "Africa!"
And I found once again the lost laughter, I greeted the ancient voices
And heard the roar of Congo waterfalls.

-from "To the Black American Troops", pp. 66-7
As a rare black face in the white sea of France, the budding author naturally found blackness a common theme in his poetry. It should also be no surprise that he pulled from blackness a sense of community, since his colleagues Césaire and Damas came from the other side of the planet, but found themselves faced with the same concerns. In "To Black American Troops", the vision of familiar skin color suggests a common experience that transcends the specific circumstance: black Americans roped into serving in the war against Germany.
But blackness isn't just community, it's experience. For Senghor, blackness transmits an emotional reaction that - unlike in the literature of the time - carries a positive value. His most famous poem, "Femme Noire", explores the sensuality and beauty of blackness, its intrinsic link with nature, and the evocative quality of the very word:
Naked woman, black woman
Ripe fruit with firm flesh, dark raptures of black wine,
Mouth that gives music to my mouth
Savanna of clear horizons, savanna quivering to the fervent caress
Of the East Wind, sculptured tom-tom, stretched drumskin
Moaning under the hands of the conqueror
Your deep contralto voice is the spiritual song of the Beloved.

- from "Black Woman", pp. 8-9
+++ Listen to Senghor read the first stanza of this poem (wav file) in the original French.
But language creates its own problems, and Senghor's decision to write in French brings a load of linguistic baggage into the equation.
White writers frequently don't see this, because they have the benefit of being able to write about color in a deceptively neutral register that does not exist for black writers. For example, an innocuous line from Emily Dickinson ("Dare you see a Soul at the White Heat?") or Robert Frost ("I found a dimpled spider, fat and white") would immediately be under scrutiny should it come from a black poet: the very words 'white' and 'black' are unavoidably marked, which is something Sartre was trying to express in his essay quoted above.
For black writers, there's an added dimension: the word 'white' is often associated with goodness, purity, light; 'black' carries connotations of evil, corruption, darkness. Whether these correlations are accidental or historical, they are so deeply encoded in the language that the very act of using these words cannot ever be neutral.
Recognizing this, Senghor turns the language back on itself:
Lord, you visited Paris on this day of your birth
Because it was becoming mean and evil.
You cleansed it with incorruptible cold,
With white death.

- from "Snow over Paris"
Here white = cold, death. If the goal were simply to flip the values, this kind of game would be interesting, but a bit facile. Instead, Senghor explores whiteness in all its aspects, good and bad, stripping away and challenging the reader's expectations.
In the meantime, Senghor piles associations on 'black': not only beautiful women, but the dreaminess of nighttime, warmth, and peace. Note above in "Black Woman" where he even refers to "black wine", a construction not meant to be taken literally, but as an evocation of a mood, or an attitude. In his later poetry, he began to associate blackness with salvation, offering hope to the cold, white West through its healing power. The suffering of blacks around the world have made them uniquely capable of cleansing the sins of their oppressors (shades of Dostoevsky here, incidentally). The philosophy strains credibility in its romantic idealization of the black experience, but it makes for gorgeous poetry:
New York! I say New York, let black blood flow into your blood.
Let it wash the rust from your steel joints, like an oil of life
Let it give your bridges the curve of hips and supple vines.
Now the ancient age returns, unity is restored,
The reconciliation of Lion and Bull and Tree
Idea links to action, the ear to the heart, sign to meaning.

- from "To New York" (for jazz orchestra and trumpet solo), p. 88)
Notice the subtitle to that poem, which is less a true subtitle than a "setting". Senghor recognized the powerful and ancient link between poetry and music, which had long been severed in European culture. A number of his later poems contain similar settings, ranging from a quiet solo flute to a raging jazz orchestra.
Above all, Senghor's most powerful emotion is nostalgia - and this is the source both of his poetic strengths and his philosophical weaknesses (his detractors accused him, perhaps justly, of substituting the Africa of his childhood for the real Africa around him). But nostalgia is not a weakness in art, and dreams of his village create a window into the innate beauty of Africa, and the extent to which it has suffered at the hands of outside forces. Reconciliation is possible, but it comes in the warm breezes at night rather than in the relentless rationalizations of cold daylight.
When Senghor becomes a brilliant poet is when he stops talking about emotionalism and nostalgia, and simply allows himself to bathe in them:
I shout for the joy that floods my heart quicker than the Niger
In the rainy season, and I shout to the mangrove creatures - Nânio!
And I shout to the young lovers chatting on beach mats - Nânio!

And I shall rest for a long time under a blue-black peace
And shall I sleep in the peace of Joal
Until the Angel of Dawn brings me back to your light, O Civilization!
And to your brutal, cold reality.

- from "Songs for Signare", p. 123
Nânio means "listen" in Serer.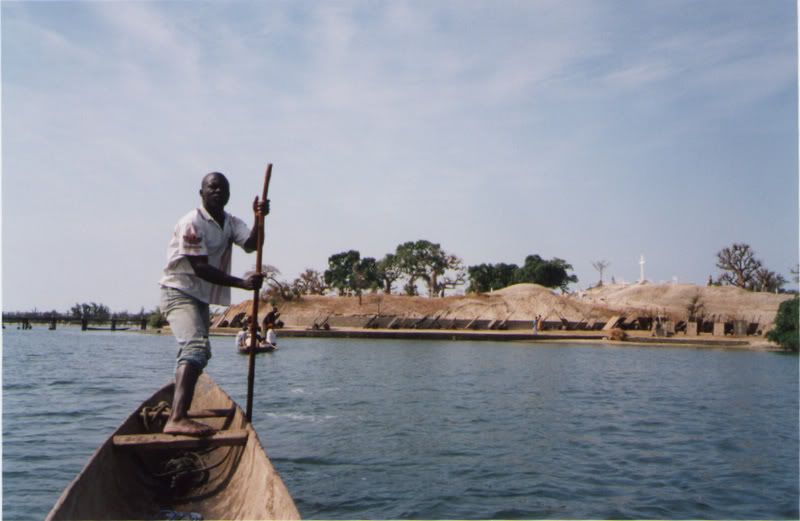 (Fadiouth, the island half of Joal-Fadiouth,
where Senghor was born)
photo: Pierre Lescanne, wikimedia commons)
Links:
Other Diaries on Literature:
As mentioned above, the quoted poems are all from the outstanding The Collected Poetry, translated by Melvin Dixon; University Press of Virgnia: Charlottesville, 1991. If you have any interest in exploring Senghor further, that's the book to get. Sartre's "Black Orpheus", with the translator's name bafflingly absent from the text, is found in "What is Literature?" and Other Essays, Harvard University Press: Cambridge, 1988. For image info, all images are linked back to their sources.
Thanks for reading!