On August 16, my attention was drawn to the article The carbon cost of building and operating light rail, by Emory Bundy, a board member of the Seattle anti-rail group, Coalition for Effective Transportation Alternatives.
What especially raised my ire was:
But the greatest harm to the environment and the public comes when you calculate the lost opportunities. ...

The leading forfeited opportunity is bicycling, the best possible transportation mode: cost-effective, energy-efficient, non-polluting, and healthy — save for the danger from surrounding cars.
I thought I would, as a public service, wade through this one. Some of this is with the help of discussants from the Eurotrib, in the diary Help! w/Anti-Light Rail arguments ... ... of course, I selfishly appropriate all credit for any errors.
One Thing I Want To Make Clear, Before Starting
Yes, I intend to write a short, clear, hard hitting, op-ed style reply to the steaming pile of Bullshit that Mr. Bundy dropped into the Seattle light rail funding debate.
But I gotta wade through the bullshit first. I have my anti-rail BS waders on ... I suggest you outfit yourselves appropriately as well, before following along. After I have waded through and have had a chance to hose the waders off, and have altogether returned to a state fit for civilized company, I will compose the civilized reply. Given the long weekend, I hope I will be able to get it done before Tuesday, but if not, certainly by next weekend.
Update: Trains and the Environment: One Cycle Commuter's Perspective.
The Big Bang
The article starts with a big bang: the northern extension of the tunnel under Seattle:
To extend light rail service north from downtown, the next phase, Sound Transit will have to dig through and remove more than 600,000 cubic yards of rock and muck — equivalent to a pile of debris 350 miles long, three feet wide, and three feet high. Sound Transit plans to expend lots of energy digging and excavating that stuff: 17.4 trillion British Thermal Units, according to its environmental-impact statement, equivalent to the energy in 140 million gallons of gasoline. That much gas, or diesel, would fill 8,000-gallon tanker trucks lined up from Seattle to Canada. If all the energy consumed by tunnel-excavating and hauling is generated by gasoline or diesel, it will emit nearly 1.3 million tons of greenhouse gases, CO2, into the environment.
And then the estimated CO2 savings from light rail by Sound Transit are used to arrive at 90 years to payback the CO2 from this tunnel.
The first thing that popped into my mind when reading this argument was, what about the indirect CO2 savings? That is, Transit Oriented Development (TOD) leads to a reduction in total travel miles, by establishing activity centers as opposed to the sprawl of Highway Oriented Development (HOD). And that reduces total miles driven by those who use cars, in addition to getting people out of cars and into transit.
The second thing was, what about network effects? The CO2 savings from operation of this particular line will be compounded by the operation of additional routes north of the tunnel ... both extensions of the new line, and routes connecting to the new line.
And, of course, these are interactive effects. If, conservatively, indirect TOD CO2 savings are half the total saving, and further extensions end up accounting for only half of the eventual usage of the tunnel, 90 years drops by 3/4 to 22.5 years.
And then after some helpful nudges by others, including on the Eurotrib and the commentators to Mr. Bundy's original article, I finally saw the most glaring flaw in the argument: it is comparing the CO2 capital and operating cost of the rail to the operating cost of cars. It is, in other words, assuming that road construction and maintenance has a zero CO2 cost.
Now, consider that light rail is far more space-efficient than road transport ... and only a relatively small share of the total proposed light rail network is underground.
To actually make his argument, Mr. Bundy needs to estimate the CO2 impact of the construction of the proposed light rail network, and the CO2 impact of the construction of sufficient roadworks to cope with the estimated ridership. Thanks to his effort to make the light rail look as bad as possible, we can already estimate that the operating savings payback the CO2 cost of the tunnel in around 25 years as a worst case. So even if the total roadworks came in at 50% the CO2 cost of the light rail infrastructure, we'd have a payback of under 15 years.
Obviously, if the CO2 cost of the light network is less than the CO2 cost of the equivalent road capacity, there is nothing to pay back.
An Egregiously Inflated Estimate Should Be Accompanied by Smoke and Mirrors
In order to make his distorted comparison seem more reasonable, Mr. Bundy throws in a non-sequitur:
Further, public transit's contribution to fuel efficiency is exaggerated. According to the U.S. Department of Energy's 2006 Data Book, per-passenger energy consumed by rail transit is only 19 percent more fuel efficient than today's automobiles (2,784 vs. 3,445 BTUs per passenger mile). If the improvements before Congress are enacted, shortly cars will be more energy-efficient.
Of course, many of the commuter vehicles in Seattle are not cars, but SUV's, which show up in the light trucks category in the Data Book ... 7,652 BTU's per vehicle mile, which in typical commuter use of 1.25 passengers per vehicle or less would be in excess of 6,000 BTU's per passenger mile.
And at the same time, the idea that commuter energy use, largely one person per car or SUV, in congested stop and go traffic, is going to equal the overall average ... that is more than a bit silly.
But what makes this argument a non-sequitur is the premise that ... in the US context, with capital spending on public transport being shortchanged for decades, and with Federal funding formulas completely ignoring energy efficiency ... there are no energy efficiency gains available in public transport.
Referring to the DOE Data Book reveals the absurdity of this premise. While average car energy efficiencies per mile have been steadily improving (matched by steady increases in total miles per vehicle per year), the greatest energy efficiency for rail transit listed in the Data Book was 2,144 BTU's per passenger mile ... in 1978.
How does this technological progress run in reverse? It is, of course, not the "hard" side of technology, but the "soft" side ... the social organization side. Almost three decade policy, since Reagan, of starving public transport of funds has succeeded in driving away passengers, reducing patronage, increasing energy cost per passenger mile.
And of course, if we combine the load factors we were able to achieve after the first Oil Shock, with the energy efficiency of new technology (largely developed in Europe and Japan), we can clearly do better than we were doing in 1978.
Having Turned Them Around, Hit The While They're Dizzy
Another environmental drawback is that Sound Transit actively promotes and subsidizes sprawl by operation of Sounder commuter rail. It provides spacious, handy free parking at all Sounder stations and intends to build a lot more so people can live hither and yon, drive their single-occupancy vehicles to the train, and take long, lavishly subsidized trips to downtown Seattle to work. ...
... as opposed to driving their single-occupancy vehicles to the Interstate and taking long, lavishly subsidized trips to downtown Seattle to work that way.
Of course, if people are driving to the station to commute to work, and that community adopts Transit Oriented Development, the people in that community will drive less than the community that relies on the Interstate Highway for their lavishly subsidized travel to work. However, as already established, Mr. Bundy does not take indirect development impacts into account, and prefers to ignore the environmental costs of road construction and maintenance.
And Then The Grand Finale
Well, OK, so I have not gone through every twist and turn of Mr. Bundy's argument ... but now we are at the Grand Finale:
But the greatest harm to the environment and the public comes when you calculate the lost opportunities. Much could be done to move people and reduce congestion in energy-efficient, cost-effective, health-enhancing ways, but Sound Transit is sucking up a huge share of the fiscal oxygen. Vanpools and better use of existing transit have been mentioned. Carpools are a third option. Incentives and programs to increase carpooling just a little would take more cars off the road, and save more energy, than anything Sound Transit aspires to do, and do it much faster, more reliably, with less risk. Completing the HOV system and instituting congestion pricing should be high priorities.

The leading forfeited opportunity is bicycling, the best possible transportation mode: cost-effective, energy-efficient, non-polluting, and healthy — save for the danger from surrounding cars.
The limitations of vanpools and carpools as long term solutions seem obvious, at least to me. Given an increasing range of "flexible" working arrangements, which almost always means that the worker's schedule flexes to suit the needs of the business, it is becoming harder and harder to carpool ... let alone vanpool. Take my situation ... I am currently working as a temp, and I will not know until around 7:30 Tuesday morning whether I am going to be working on Tuesday. And since that department ships on Tuesdays, and the pallets have to be ready to ship before we leave, if I am called in, I will not know for sure whether I will be done at 3:30.
My options are to drive or to cycle, which leaves cycling if I am going to have enough left at the end of the month to pay my student loan.
Now, if gasoline goes to $5/gallon or more, interest in carpooling and vanpooling will, of course, shoot up, and with it the numbers involved and the energy savings ... but many of those who will need it the most will be unable to use it, because of unstable hours.
What they will ... well, OK, what we will need is transport that does rely on petroleum, and that can be used when we need it.
And of course, the higher the share of capital cost and lower the share of operating cost, the less financial pressure to restrict the hours of operation, which results in better availability through the day for rail compared to buses. Even if my work hours were stable enough to use it, the dial-a-ride bus in my county starts operating at 7:00am, and for a normal shift I have to be on the clock by 7:00am.
Now, don't get me wrong ... carpools and vanpools will be very useful when the crunch comes. But they are not the reliable means of transport that allows someone to go without a car.
So, Mr. Bundy, You Ever Commute By Bike
Of course, if none of the rest of the article makes it clear what Mr. Bundy is doing, the bike section does. Mr. Bundy is not trying to sway the well-informed member of the electorate ... because when the argument gets to bikes, it becomes almost too absurd for words. Mr. Bundy is trying to find someone who wants to rationalize a knee jerk opposition to light rail, whether it is some association of public transport with the wrong sort of people, or just a preference to free load off of society.
Look, I cycle commute to work. Work is 14 miles away, and that is an hour and a half plus commute to work, over the rolling countryside of Northeast Ohio. We will simply not see large numbers of people doing that by choice.
And I do not believe for a minute that Mr. Bundy believes a system of dedicated cycleways alone will allow large numbers of people to abandon their cars for bikes ... without substantial investment in public transport. Whether you live in a big city or a small town, it is on occasion necessary to go further than five to ten miles. On the other hand, if there is a train station within that five miles ... five riding miles, that is, not five miles as the crow flies ... and that connects to the heart of a major city, well, now we're talking.
I know the difference because before I was cycle commuting in Northeast Ohio, I was cycle commuting in Newcastle, Australia. And while I could not conceivably get to Sydney by bike, I could cycle down to the rail line and catch a train to Sydney, and be in the heart of a big city.
Now, there is the situation that Mr. Bundy concludes, in the finale of his piece:
Sound Transit compounds the bicycle imbalance by poor planning to facilitate cyclists. Recently it announced that light-rail cars will accommodate 200 passengers (by cramming them on) but only two bicycles. Two!
Of course, Cityrail carriages accommodated more than 200 passengers each ... they are double-deckers ... and had very limited space for bicycles. On the one hand, my bike was a folding bike, so I could put it in the regular luggage space.
But that is not the main game here. Because when you have the advantage of a dedicated route with dedicated stations, that opens the door to this approach to handling cycle-and-ride transit: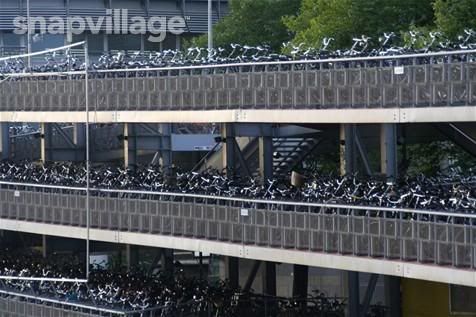 ... that is, park the bike and catch the train. I think this is an especially effective response to Mr. Bundy, because when he raises the issue of bikes, he focuses on one country:
A quarter-century ago, Amsterdam and Copenhagen were accumulating heavy automotive traffic, more congestion, more accidents, squeezing out bicycles and pedestrians, just like American cities. Since then, they've worked and invested to facilitate and promote bicycling and walking, reduce energy consumption and greenhouse gases, improve air quality, enhance the health of participants, and radically reduce the frequency of accidents. Much of the focus has been the provision of safe, exclusive corridors, often taking lanes or even streets that had been dedicated to (or encroached on by) automobiles. Also key is paying close attention to safe crossings, so that children, even young children, can safely bicycle to school, as most now do.

In those cities, the market share of transit is six to eight times what it is here — 16 percent in Amsterdam and 20 percent in Copenhagen, contrasted with less than 3 percent in Sound Transit's domain. Bicycling outstrips transit, with market shares well beyond 20 percent and growing. Here, it's roughly 1 percent.
... and that multi-level bike garage in Amsterdam is one of the results ... since in Amsterdam, which Mr. Bundy sets forward as the example to follow for getting people onto bikes, with those examples of 16% and 20% transit shares ... what is the foundation for their transit system?
Yup, you guess it ... rail.
If Mr. Bundy seriously wanted to make several jumps in level of cycle use in Seattle in order to reach the levels of the Netherlands, one of the first things he would do would be to quit the board of his anti-rail group, and join a pro-rail group.
And given his "strong environmental concerns", that is just what Mr. Bundy ought to do, since after all:
The leading forfeited opportunity is bicycling, the best possible transportation mode: cost-effective, energy-efficient, non-polluting, and healthy — save for the danger from surrounding cars.
... by supporting trains, he would not only be supporting bikes directly, by making it far easier to go without a car ... but he would be helping to get more of those nasty death cages off the road.
Conclusions
Well, so I have waded through the bullshit ... and actually, because this diary is already so extremely long, left out a couple of clumps along the way ... and now that this is off my chest, I've been able to have a sleep and start thinking about my op-ed reply to Mr. Bundy.
Of course, it would not have done to publish this and go off to sleep, so I've waited until this morning to put this up.
Mind you, I lived long enough in Australia that the difference between when I wrote this and when I publish it poses no serious compositional difficulties. All I have to say is, ...
G'Day, lets talk about Greenwashing Anti-Rail arguments, and how to fight them.