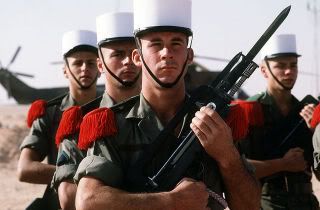 No! Let them keep their outfits. What I mean is that the difference between the French Foreign Legion and Blackwater is that France operated the legion within its army. 90% of the officers in the Legion were French and had official active duty ranks in the French Army, according to Wikipedia.
What I propose is that US Army officers control Blackwater, given that it will be very very difficult to get rid of Blackwater.
I want to see a US Army general running it. Colonels, Majors or Captains for every 100 Blackwater personnel. Down to Lieutenants or Sergeants at the squad level. All under the UCMJ like the French Foreign Legion is under its French equivalent.
This may be the only way to prevent catastrophe. Whether we like it or not, something must be done. The only thing that makes sense is the assimilation of Blackwater into the regular US Army org chart.
Think about it.
Obviously, I want the occupation of Iraq to end ASAP for all sorts of reasons.
This diary is very short, I just wanted to float this meme about a possible solution to an out of control situation.
It is total bullshit for the State Department to supervise Blackwater. UCMJ and professional leadership is what can tame this rogue posse.
This does not mean that I would like to turn Blackwater gunslingers into US Army personnel. But official control must be imposed ASAP.
It does not mean either that Blackwater should exist at all. Simply, that for expediency the US Army should take over it so that there is accountability and coordination with regular units.
In case you want a positive view of the French Foreign Legion from an American who joined it read this; http://www.foreignlegionlife.com/
Then you get to march down the Champs Elysees.
Hey!, they are French AND during their meals, also according to Wikipedia;
Beer and wine are available on tap to use at your discretion.
Furthermore Sarkozyis cozying up to Bush, so the Legion is going to Iran with the Marines to defend the Straight of Hormuz and Iranian coastal areas.
If you Recommend, Blackwater may be brought under control.