In the first diary of this series : Conversations with the Enemy: The Girl in the Green Shirt, I wrote about traveling back to Viet Nam in 1989 and meeting two former VC soldiers I had helped to capture twenty years earlier. We met quite by chance in their home village. I also wrote about meeting Co Thu, a young lady who lived in the area where I had been a member of a combined USMC - Vietnamese militia unit (CAP) in 1968. In the early '90s Thu and I corresponded by mail and in one of her letters she remarked that the war had been "a nightmare for our village."
In Part 2 I attempted to describe some of the events that took place during the five month period, including Tet, while I had been in the area near her home. This was written so that readers will have some understanding of life as it was in Thu's, and in others', "nightmare".
Thu had also written that her Uncle Bon had fought against us. In 1993 I would travel again to Viet Nam and have dinner with her family at the home of her Uncle Bon in Da Nang. This diary is about that trip and the visit with Thu and Bon.
As Tim Page would write in the early 90's...
Going back to Viet Nam has to be the biggest exorcism available for those who served long enough to have had the 'Nam bug planted. It is an easy place to fall in love with. Even under conditions of duress, it's fertility, fecundity, peaks and panoramas, glimpsed at from the open door of a chopper, the back of a jeep down a possibly mine-implanted road, or when plodding through paddies or forests, left their mark. ... more vets ...take up the mental challenge and come back to see the font of all their fantasies, their chrysalis to manhood, the birthplace of all their dreams and nightmares.
And so it was with me. I had first returned with a small group of other combined unit veterans in 1989. Four years later I returned alone for the first time. I came in search for more of the truth and a better understanding of the war. I came to see the countryside at peace, to spend time among the rural people I had lived among and had come to respect and to love during the war decades earlier. And I came for the rush, that keening of all of the senses that makes one feel truly alive, that one feels in combat and that comes just with being in 'Nam again, especially in those days before the trade embargo was lifted and before the normalization of relations between the US and Viet Nam.
There were a number of items on my agenda. The major ones were to attempt a motorbike ride from Saigon to Da Nang, to return to my former AO from 1969 - 1970 in the area east of Hue and meet up with my former Vietnamese Popular Forces (District Militia) counterpart, Trung Si (Sgt.) Phu there and also to keep an appointment with Thu, her Uncle and their family, for dinner in Da Nang.
The planned motorbike adventure ended at Nha Trang after a long day, 16 hours on a 90 cc Honda following Highway 1, coping with the blistering heat, road dust, exhaust fumes, sunburn and saddle sores. I traveled the remaining distance to Da Nang in a crowded bus with large assorted baggages. Our bus arrived in Da Nang 19 hours after an early morning departure from Nha Trang and enduring delays due to two major breakdowns including a drive shaft twisted into two pieces.
While in Da Nang I visited with friends and was invited to an English class at Le Quy Don High School. The students had no textbooks, only their notebooks filled with notes their teacher had written on the blackboard. Each of the students stood to introduce them selves and they entertained me with Vietnamese and American folk songs. Below is a photo of the classroom and some of the students taken in April of 1993.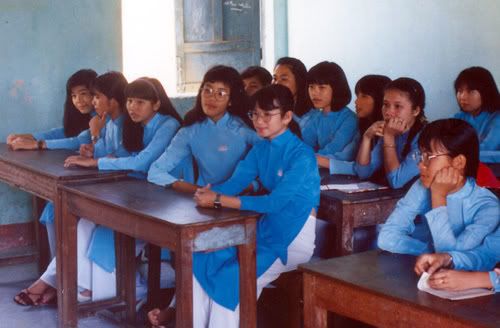 The former Imperial City of Hue is about 105 km north of Da Nang. I rented another small Honda motorbike and driver for the trip across Hai Van Pass and beyond, passing by the Truoi River at Phu Loc and the former US military base at Phu Bai and onward to Hue. I would spend some time with my former Viet PF counterpart, Phu, who had spent 10 years in re-education after 1975. We traveled through parts of our former AO together. It was at this time that I would learn that my former "adopted family" in one of our hamlets, supported the VC (as did nearly everyone else there). I will write about this in a separate diary. The return to Da Nang was by way of an early morning, exotic, open-window train ride.
Anh Bon was at the address on Hai Phong Street which Thu had sent to me in a letter. He knew who I was, expected me and invited me in to meet his family. I felt somewhat ill at ease but his wife brought us tea and we talked about our families. Bon invited me to come back for dinner that evening. He promised to go get Thu and bring her back to Da Nang to share the meal with us.
I arrived late to dinner at Anh Bon's house due to the late departure of other guests who had come to visit me at my hotel. It was the first opportunity I had to really talk with Thu. Her slim, once graceful image of youth was now that of a gaunt middle aged woman, her features weathered and angular, formed by the harshness of a peasant's life and of being a mother to five children. Conversation was light and somewhat formal. We ate dinner American style, with the Da Nang version of the Dan Rather and Connie Chung (this was 1993) playing on Anh Bon's color TV in the background.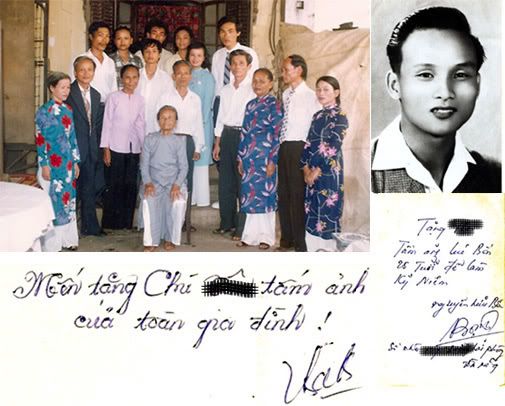 The photo above is of Anh Bon - on the left wearing a suit - and his family. His wife is next to him in the colorful ao dai. Thu is near the center in the back row. I believe that is her mom, who is Bon's older sister, in the front row wearing the purple tunic. This must have been an older photo as Thu looked much older than she does in this photo. At the bottom is what she wrote on the back of the photo - "Warmly presented to Chu - my name - a photo of our entire family". She refers to me as "Chú" which means uncle (a younger brother of her father). The other photo is of Anh Bon. He wrote on the back that he presented me with this photo, taken when he was about 25 years old, as a memento.
After our meal it was time for the family photo album. Bon and his wife beamed proudly as they showed me photos of their daughter's recent wedding and they pointed out all of their relatives as if I should have known them.
Anh Bon moved off to a nearby desk for a few moments and returned with a weathered envelope from which he pulled a black and white photo. He asked if I recognized the bearded man closest to the camera. I was taken aback for a moment as the figure of Fidel Castro stared from the photo at me.
Bon was laughing heartily as I was unable to conceal my surprise. Castro was easy enough to recognize. In the background, two men stood in pith helmets beside a jeep-like vehicle and one of them was Bon. On the rear of the photo "Quang Tri 1973" was written in blue ink.
Bon never ceased his laughing while I held his photo. Then he really let me have it. "Did you ever kill anyone while you were at Thanh Quit?" he asked, with very un-Vietnamese like directness. I nearly went into shock and his continuing laughter now seemed to be mocking me. Images from Thanh Quit 1968 flashed through my mind. What kind of game was he playing? I was speechless for a moment, finally managed to reply that I wanted only to forget those times and replace the ugly memories with more pleasant ones of Viet Nam. His laughter continued.
Then Thu flew into him. I don't know what she said but he withdrew from the room with his photo. I thanked her and tried to regain some semblance of composure, but I was visibly shaken.
It was getting late and I asked Anh Bon to take me back to my hotel. We rode his motorbike in silence. The sultry night air released the tension from the pit of my stomach and from my limbs. I felt exhausted and looked forward to a chance to rest. I regretted having missed an opportunity to talk about ngày xưa, "the old days" with my former enemy. This would have to be put on hold. I felt no animosity towards him but realized that in 1993 much more healing was needed on both sides.
In conclusion, Fred Downs said it well in No Longer Enemies, Not Yet Friends

Any soldier who has been in combat knows that there comes a time after the battle, when the smoke has blown away and the dust has settled, when you must lean down and give your foe a hand. For in that moment of generosity, the war is truly over.