This is the fourth in a series of diaries about returning to Viet Nam after the war and meeting with our former enemy.
In Part 1 I wrote about returning in 1989 and meeting two former VC soldiers I had helped to capture and of meeting Cô Thu, a young lady who lived in the area where I had been a member of a combined USMC - Vietnamese militia unit (CAP) in 1968. In the early '90s Thu and I corresponded by mail and in one of her letters she remarked that the war had been "a nightmare for our village."
In Part 2 I attempted to describe some of the events that took place during the five month period, including Tet, while I had been in the area near Thu's home. This was written so that readers will have some understanding of life as it was in Thu's, and in her neighbors', "nightmare".
In 1993 I would travel again to Viet Nam and have dinner with her family at the home of her Uncle Bon in Da Nang. Part 3 describes a portion of that trip and the visit with Thu and Bon.
In this diary we'll visit a different area, one where I served as the platoon leader in a combined unit (Combined Action Platoon) in 1969 - 1970 and attempt to inform readers of what life was like for those of us, both American and Vietnamese, who lived there together. We'll also describe two subsequent post-war visits to that area and hopefully give readers some understanding of the human side of war and what it was like for those who lived with it for much of their lives. The map below shows what the area looked like in 1966.
A larger map of the Hue - Phu Bai area, including the area on the map below, can be found here.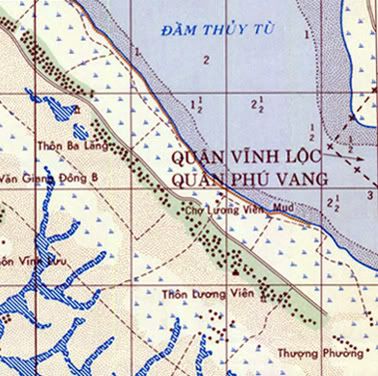 Our unit's AO was in the areas shown on the map as Thon Luong Vien and Thon Ba Lang. The word "Thôn" means "hamlet" or "small village". The large body of water at the top-right is a lagoon which extends many kilometers along the coast line of central Viet Nam. The land shown at the far upper right is a portion of a barrier island that lies across the lagoon from the mainland. Beyond the narrow barrier island is the Gulf of Tonkin. The area shown here lies approximately 15 km due east of Huế. The grid lines on the map are one kilometer apart.
Note how, in 1966 when this map was made, the villages are located along the "road" between the rice growing low land adjacent to the lagoon and the area shown as small brown dots which is a largely barren, sandy area with some scatted areas of thick brush. There were many tombs, which appeared to have been hundreds of years old, scatted throughout this otherwise barren wasteland. In the Ba Lang and Luong Vien areas the villages had been located on a slope between the low land and the sand dunes above, spread out for many kilometers along a green island typically shaded by coconut and areca palms, jackfruit and banana trees, bamboo and other vegetation useful to the rural inhabitants.
When I arrived there in September of 1969 the villages had all been destroyed. The former tree-line vegetation lie splinted and broken, the houses reduced to rubble. It was nearly impossible to walk through it and, as my Viet counterpart told me upon arrival, full of hidden VC bunkers and booby traps. Two days before I arrived a Marine had stepped on a booby-trapped dud artillery round on the perimeter of the area and was killed. There were large, water filled bomb craters scatted about the former tree-line.
The relocated village of Ba Lang was a small cluster of makeshift huts in an open, unshaded area about halfway between the slope and the lagoon. The surrounding land was not being used for growing rice, simply fallow and unproductive. The "road" shown on the map was barely recognizable as a trail. To some these were signs of "progress in the war" and of "liberation from the 'commies'".
Our unit normally had a dozen Marines and a Navy Corpsman and we were teamed with a group of district level Vietnamese militia, about 20 men, with a sergeant, my counterpart - his name was Phu, as the platoon leader. We had no compound or base. We simply lived from our packs, moving to a new location every evening to set up our night harbor (main ambush) site and every morning to another location for our day pos where we could catch a few winks, eat some C-rations, visit with villagers or relax in relative safety. We would run patrols and ambushes out from our harbor sites, day and night. Many, or most, were uneventful. Those that were eventful, except for two incidents, resulted in death or serious injury to us or to the VC.
We did get to know many of the villagers on a personal basis. The young boys would often hang around our day-pos joking, sometimes engaging in horseplay with us. Some would wash our clothes in exchange for money or C-Ration chow. Once, after we began a daily accounting of our grenades, we discovered that they had stolen some grenades from us. With the help of our counterparts we were able to retrieve them. No one knew how many others they had taken prior to that. All of the KIAs and WIAs inflicted on our unit were from booby traps, usually armed with our own grenades or with dud artillery and mortar rounds, which were plentiful throughout our AO.
Many of us had an adopted family who kept a few things for us, a change of clothing or letter writing gear. My "family" in Ba Lang kept a few items of mine. Occasionally I would catch a brief nap in the cool shade of their humble hut. Thím Thơm (Aunt Thơm) as I had come to call her, was the mother of three boys, the oldest about 12 or 13 years old. Her sons would heat water for me to shave on the cool rainy monsoon season mornings. I shared some C-Rations with her and had a set of cookware sent for her from the US, which pleased her very much. Her husband and children are in the adjacent photo in front of their home in 1969.
In the hamlet of Ba Lang there was a blacksmith, bác thợ rèn everyone called him. He had two daughters, both quite lovely. We used to visit his thatched home and shop to watch him work and keep an eye on the girls who assisted him. The older daughter, the prettier of the two, had only one arm. One day I asked him what had happened that she lost her arm. He briefly lost his composure, reddened and pointed upward to the sky. Máy bay!, he said (airplane), and then regained his composure and returned to his work.
There was a lady in Luong Vien, probably in her early 30's, who was very friendly and pleasant to speak with. We would sometimes chat at the market place, which was located in a grove of pine trees at the edge of the lagoon, or pass on one of the trails in the Luong Vien area. We would often exchange greetings and small talk.
In February of 1970 one of our patrols killed two VC soldiers in a bunker. I was preparing a "spot report" we had to call into our CACO Hq and in the meantime curious villagers had been streaming out to see what had happened. I noticed our lady acquaintance bent down on her knees, tears flowing, her arms extended - raising and lowering them, wailing over one of the bodies. Perhaps he was her husband or maybe a brother. I can never forget the way she looked at me. I never saw her again but there are times when we meet in my dreams.
In 1989 upon my first return to the area, I once again walked the trail from the Quang Xuyen Market, just north and off of the "road" on map above, to Ba Lang. The villages were back in their former location along trail. The trail was well worn and wide enough for two bicycles to pass. The trees were already tall enough to shade the houses. Rice was high in the paddies in the fields between the trail and the lagoon. Tranquility had returned. I was amazed at how well the passage of time and the absence of war had healed the land. Curious young children came down to the trail from their homes on the slope. The older folks remained in the background but I could hear them telling the kids. "Người Mỹ, Người Mỹ". (American) they said, and a group of small children, numbers increasing as we walked, followed me on to Ba Lang. My heart was thumping.
In 1993 I would return once again. I found Phu's home near Hoa Da Dong, about 2 or 3 km distant from the southwest corner of the map. He was working in the fields when I arrived and a young neighbor boy was sent to fetch him. Despite 10 years of re-education and a life of relative poverty Phu had changed little in 23 years, deeper facial lines, still no gray. He was as jovial and optimistic as ever. His hearty laughter came easy and often. We rode motorbikes to the home of his son at Huong Thuy on Hwy 1 near the former US military bases at Phu Bai. His daughter-in-law prepared a huge feast, friends and relatives dropped by and we partied well into the night.
The following morning we met at my hotel in Hue and started off down the picturesque riverside Le Loi Street passing by Hai Ba Trung School for girls and Quoc Hoc School for boys. The Quoc Hoc school in Hue was at the heart of the student patriotic movement of central Viet Nam during the French Colonial period. General Vo Nguyen Giap studied there as a teenager. Our route took us to the downriver end of Hue along the south side of the Perfume River. We stopped for a break at a small open air cafe near Xuan O. Phu ordered bottles of the local carbonated spring water and he quickly pried the cap off of his with his teeth.
We stopped for a few hours to partake of another feast at the home of one of Phu's brothers adjacent to the lagoon at Quang Xuyen, just north of Ba Lang and then finally set off for Ba Lang.
Together we walked some of the same trails we had traced decades earlier. The land and the people were at peace but for me the rush was still there, along with a very complex mix of deep emotions which I don't have the words to describe.
Phu walked beside me and laughed each time I snapped a photo of some villager working in the fields, a water buffalo or children herding a flock of ducks. Memories came flooding back, some pleasant, others not so much. It was like coming home after a long absence.
Phu led me to a humble thatched house with a dirt floor and gestured for me to go inside. In the semi-darkness a frail elderly lady was leaning back on a plank bed fanning herself with a palm frond. Before my eyes had adjusted to the lack of light she rose up and looked at me. "Con ơi, con ơi" (my child, my child) she cried out. It was my "aunt" Thim Thơm. She told me she was very poor and near death. I was at a loss for words. I gave her some money - US Dollars - I don't think she knew what they were. She was crying and I could not understand much of what she was saying. Finally Phu motioned for me to come along with him.
We met more villagers. Phu told me about so and so, about the village blacksmith who had died several years prior, the sick father of one of the two former VC we had captured in 1969 but I barely heard him. We returned again to his brother's waterside home at Quang Xuyen, dined again, had more tea and drank more rượu (rice whiskey). Following some wild motorbike rides through the villages we prepared for another feast at a friend's house near Huong Thuy and National Highway 1. I could not begin to keep up with their eating and drinking.
Phu was beginning to feel the effects of all the rượu and beer he had consumed as he explained to his friends and laughed about how he and I had visited Ba Lang earlier in the day. He told them how comical it was to see anyone taking photos of water buffaloes and ducks, old ladies and little kids. He told them about Phan thi Thom, "Aunt Thom", and my relationship with her family in 1969 and 1970, and our meeting that afternoon. Then he told them that she and her family all supported "the revolution".
I was surprised but hardly shocked. Somehow it just didn't seem to matter any more.
With his 10 years in re-education Phu easily qualified for immigration to the US under the Orderly Departure Program. I initiated the paperwork in the US and months later he and his family arrived and settled in Roanoke, the city nearest my home with a significant population of Viet refugees. We nearly passed one another en route as I would soon be heading back to Viet Nam to live. I'll write about that in the final installment, Part 5.