"Let them march all they want as long as they continue to pay their taxes."
– Alexander Haig as Secretary of State, 1982
We won't wait anymore. Since Congress, particularly the congressional leadership, refuses to do so, my wife and I are personally defunding the war and occupation of Iraq. We refuse for the foreseeable future to surrender the portion of our taxes that pays for U.S. imperialism and the militarization which backs it up. We're inventing nothing, merely joining with thousands of other war-tax protesters whose history on the North American continent dates back to 1637 when the Algonquins refused to pay a Dutch tax levied to remodel a fort built in the midst of these Indians to control them on their own land.
Our action may seem pitiful in that it amounts to cutting off money to Iraq for about as long as it takes you to read half this sentence. Moreover, if it wishes, the government can extract even that pittance from us by force. But only if officials are willing to expend more money to collect from us than they will obtain in the process.
We take this action reluctantly, fully aware of the potential consequences. But Congress leaves us no choice.
With the Cheney-Bush cabal openly defying the Geneva Conventions, the Nuremberg Principles, the U.N. Charter and the U.S. Constitution, and with the majority of Congress unwilling to stand up against this defiance, as long as we continue to pay our war taxes, we can no longer fool ourselves into believing that we are innocent of complicity in war crimes and other crimes against the Republic. Our taxes are the lifeblood of empire.
As Henry David Thoreau wrote more than a century and a half ago:
"Must the citizen ever for a moment, or in the least degree, resign his conscience to the legislator? Why has every man a conscience, then? I think that we should be men first, and subjects afterward. It is not desirable to cultivate a respect for the law, so much as for the right. The only obligation which I have a right to assume is to do at any time what I think right."
It's been a year since the Democrats won a majority in the House and Senate. Ten months since they took office. I had some initial hope when that occurred.
Not because I'm naïve. Being a radical democrat makes one chronically aware of the limitations of any political coalition, most especially the umbrella known as the Democratic Party. So, believe me, I wasn't expecting a genuine and overnight transformation in American foreign policy just because an extra handful of people who put "D" after their names had moved into freshly painted offices on Capitol Hill. My hope was tempered by many past disappointments, many betrayals, and the knowledge – ever-present since the first time I protested government policy 44 years ago – of how rare is the occasion when a critical mass of run-of-the-mill politicians will do more than merely talk against injustice and criminality.
Still, there were a few signs immediately after last November which indicated that now might be one of those rare occasions of action-over-words in relation to the atrocity-laden, Constitution-dismantling, dissident-smearing, tyranny-engendering, crony-enriching, oligarchy-enhancing Big Lie known as the "war on terror." Especially the occupation of Iraq, the most visible symptom of that lie. Hope stirred. To be dashed and dashed again. Not enough Democrats chose to confront the Cheney-Bush regime. The Democratic leadership talked tough, but with rare exceptions acted weak.
Come this week, a congressional conference committee will pass a gigantic defense spending bill that includes no requirement for withdrawal of troops from Iraq and no prohibitions on attacking Iran. Sometime later this month, the "continuing resolution" will be renewed, allowing the war to continue being funded at the same levels as last fiscal year. There are no pledges or plans to add withdrawal language to the continuing resolution. The chance that withdrawal language – and language on Iran – will be added to the supplemental war-spending bill in January is minuscule. The chance that the bill will not eventually be approved by a majority of Congress is nil. Thus, by this time next year, assuming no supplemental supplements are approved, the U.S. will have spent $660 billion for five-and-a-half years of war and occupation in Iraq compared with the (inflation-adjusted) $673 billion spent in the most expensive eight years of the Vietnam War (1964-72). In current dollars, the average month in Vietnam cost $5.5 billion, while Iraq costs us $12 billion a month.
The government is going to have to do without my family's portion of this. As well as a portion of the rest of its "defense" budget. Because that budget underpins a war and occupation in which 750,000 to 1.5 million Iraqi civilians have died, in which 4150 "coalition" soldiers have died and nearly 40,000 have been wounded, in which billions of dollars have disappeared. A budget that sustains more than 725 known military bases overseas, and some secret number of secret bases. A budget of which some "black" portion provides sustenance for all kinds of classified work – all kinds, including rendition and torture and secret prisons, and clandestine activities that, were they directed against America, would be labeled "terrorism."
Neither my wife nor I oppose the 16th Amendment. We are neither anarchists nor libertarians. We abhor the Grover Norquists who would first starve government social services and then drown them. Nor are we pacifists. We believe in self-defense, both personal and collective. War as a last resort in the most extreme circumstances is not morally unacceptable to us. Sometimes, in our view, the only choice is kill or be killed. But empire building? concocted war? war for the benefit of profiteers? war for oil and strategic position? war to play out a perverted vision of America as the New Rome? That we can no longer condone with our taxes.
Yet how to calculate the correct percentage? The Office of Management and Budget, for instance, claims the federal spending pie looks like the pie chart on the left.
But when you chop out the Social Security trust fund money, and you distinguish between current military spending and past military spending, the pie looks more like the pie chart below.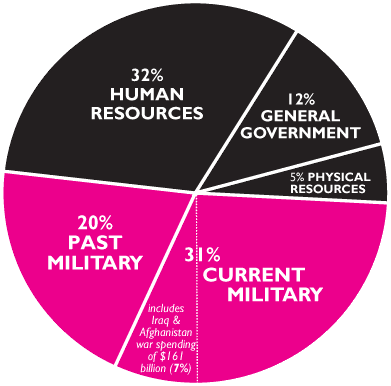 We chose the latter version. We ignored the 20% dedicated to the consequences of past military spending, which includes interest on the debt and veterans' benefits, money which cannot in the first case be cut and should not in the second case be. That leaves 31% of the budget. Even with the billions that slip (or are forced) through the cracks, it's not hard to estimate how much of the total goes for Iraq. But how much goes for empire all together, and how much goes for legitimate national security needs? Depends on your definitions.
We arbitrarily chose half. That is, 50% of 31%. We will, as we always have, file our 1040s. But we will refuse to pay 15% of what Washington says we owe it. We do this not because we have any illusion that two citizens holding back a few dollars will stop the war, the building of empire, the commission of atrocities. We do it because we cannot hold up our heads and continue to be accomplices in the schemes of those for whom "democracy" and "freedom" are buzzwords and "liberation" is a cruel and perverted joke.
Thoreau wrote the first draft of his treatise "On the Duty of Civil Disobedience" while another of America's unjust wars was being prosecuted, against Mexico. The war was fought purely for theft, eagerly backed by slave owners, promoted under the pernicious and murderous rubric of Manifest Destiny, and like today's war, initiated on the basis of government lies and spurred along by a media conduits of propaganda. Just one of the many perversities of that war can be seen in the actions of General Winfield Scott, a man proclaimed a hero, even in our own time, who refused to allow the women and children to leave Vera Cruz during his March 1847 artillery siege of that city, where half the total 1100 fatalities were civilians.
Read by millions with admiration, an ethical foundation for protest by men as far removed from one another in time and place as Gandhi and Martin Luther King Jr., Thoreau's work today seems to many people little more than a relic, an idealistic utopianism unsuited in temperament and tone for the modern world. This could not be more wrong.
As the activist historian Howard Zinn writes in his introduction to The Higher Law: Thoreau on Civil Disobedience and Reform (a collection of Thoreau's polemical writing published in 2004):
At the center of Thoreau's great essay (though he doesn't make the reference) is that stunning idea expressed in the Declaration of Independence: governments are artificial creations, set up to serve the interests of the people. That idea was soon overwhelmed by the reality of the Constitution and the establishment of an actual government. Now a small group of powerful men could use the government to advance their own interests, to make war, to compromise with slavery. But why should people of conscience defer to such a government and its laws? Why should they not exercise their own moral judgment? When a government supports evil, it is the duty of its citizens to withhold their support from the government, to resist its demands.
Unlike the first seven years of the Vietnam War, when conscription grabbed up living bodies to stoke the machinery of unjustified war, today – for those of us not caught up in the backdoor draft of extended tours of duty – it is only our finances that are conscripted. My wife and I refuse to continue to allow that. We believe that resistance is the essence of democracy.
We also will keep marching against the war and occupation. But in the future, we won't march except when it is a precursor to non-violent action that disrupts business as usual, even if only for a few minutes. Along with thousands (but, sadly, not millions) of others, we've been marching for five years, complying with permits, staying on the sidewalk or on the designated streets, being polite good citizens. No more. We won't let specific actions of civil disobedience be undermined by announcing them in advance. Call this peaceful militancy or call it fruitless and fringy, we see no alternative with which our consciences can reside without turmoil.
Sources and Resources:
An Act of Conscience, a documentary film.
History of war tax resistance
Tax Resistance - An American Tradition
Where Your Income Tax Money Really Goes
On the Duty of Civil Disobedience, Thoreau himself.
National War Tax Resistance Coordinating Committee
National Priorities Project.