There was a news story this week that most of us probably missed, unless you were actively looking for it. Over the last several years, Washington Senator Patty Murray has fought for the Ban Asbestos Bill in America which would bring an end to asbestos use in products in America.
Some of you might be a little surprised, but the use of asbestos in products has not been banned by the US government, despite the fact that hundreds of thousands of Americans have become sick and died from the variety of diseases caused from exposure to asbestos. And the number of people who will die from diseases like mesothelioma isn't decreasing, it's increasing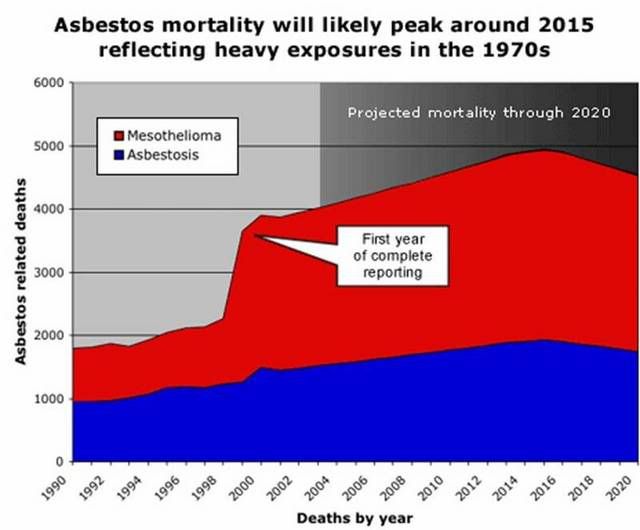 Mesothelioma is an awful and always fatal disease. Sadly, many of those who contract this disease are veterans, those who fought proudly for our country aboard Naval ships. Other victims of mesothelioma are often blue collar workers who used asbestos containing products like drywall joint compound, or worked with asbestos containing brake shoes. These victims are truly blameless. They worked hard their entire lives to earn a living for their families only to have their lives cut short in a grotesque, painful, and humiliating way not fit for anybody in our society.
Litigation has brought an end to most asbestos products. But some remain. Senator Murray has truly taken a principled stand to officially end the use of asbestos in America. She's been trying for a long time, the first time the Ban Asbestos in America Bill went before the Senate, it was defeated.
However, last September, a vote was held in the Senate on the Ban Asbestos in America bill. Unfortunately, we got sold short. The bill voted on was not the bill debated and signed off on by scientists and the EPA. Senator Murray and Senator Boxer, who co-sponsored the legislation, caved to industry lobbyists, namely the Stone, Sand and Gravel Association, who has fought for years to have the asbestos that contaminates the ore of the companies they represent classified as "not asbestos".
Some background is necessary here. Asbestos is a naturally occurring mineral. The varieties of asbestos are calcium silicates, but they come in different varieties. Among the types of recognized asbestos fibers are white asbestos (chrysotile asbestos), brown asbestos (amosite, or grunerite), blue asbestos (crocidolite) and non-commercial asbestos (tremolite, anthrophylite, and about half a dozen others). Each variety of asbestos causes the diseases asbestosis, lung cancer, and mesothelioma.
The rub comes in the definition of a "fiber." A 'fiber" with respect to asbestos is classified as an elongated body with a ratio of 3 to 1 length to width (it's three times as long as it is wide). This definition is a carryover from the early 1970s when asbestos was first widely regulated by the federal government.
The problem here is that asbestos also shows up in naturally occurring asbestos. Asbestos in the rocks and in the land that might not necessarily fit neatly into the definition of a "fiber". Such examples are the naturally occurring asbestos in notorious asbestos towns like Libby, Montana, or El Dorado Hills, California. For years and years, industry groups like the Sand, Stone and Gravel association and the RJ Lee Group have tried to convince lawmakers, judges, and juries that their particular kind of killer asbestos wasn't really a "fiber", but rather a "cleavage fragment" and thus not subject to asbestos regulation. These awful organizations ignored the clear fact that your body doesn't give a damn whether or not the fibers lodged in their lungs are "fibers" or "cleavage fragments".
Enter the only author in America who has constantly written about asbestos related issues, Andrew Schneider of the Seattle Post-Intelligencer. Mr. Schneider has written extensively about asbestos issues in article after article on the subject. Mr. Schneider hasn't ducked tough issues, like asbestos contained in talc mined from upstate New York. This kind of talc found its way into children's crayons. Mr. Schneider's crowning work is his excellent exposé / novel about the shame of the W.R. Disgraceful Corporation and Libby Montana, An Air That Kills.
So what? Why am I talking about a remote author from Seattle and a bill most of us haven't heard of?
Because the bill that was debated on the Senate floor in June, the bill that received the support of the EPA, is not the bill that came up for a vote in September. Once again, our Democratic congress caved to industry lobbyists, and more Americans will die this awful death because of it.
Who noticed this? Andrew Schneider noticed it. From Mr. Schneider's article of November 5th
Ban on asbestos diluted, say its backers
Lobbyists, industry won changes, they charge

Just a month after the Senate with great fanfare passed the first legislation to ban disease-causing asbestos, public health officials, government regulators and advocates for asbestos victims are increasingly speaking out in opposition to the bill they once supported.
The bill originally imposed a total ban on asbestos, and that's the version that the public health experts testified in support of.
But between the hearing in June and the Senate vote last month, ban supporters say the legislation was watered down to appease powerful lobbyists and industry. Many asbestos-containing products now aren't covered by the ban at all.
Bottom line, we got hoodwinked. Nobody noticed, but that substance we all thought was banned anyway is still free to be mined and used in products – regulation free. What's more is that the companies like RT Vanderbilt who mine this poison will continue to fight like hell in courts across the country denying that their poison actually hurt anybody, even though they've known for goddamned DECADES that it, in fact, does.
The disappointing part is here
Staffers for Murray and Sen. Barbara Boxer of California, who co-sponsored the legislation, insist that the Environmental Protection Agency "fully supports the bill as passed" and the agency's personnel were closely involved throughout the process.
Not so, say agency scientists and the EPA's legislative office. While the EPA said it had "no public position on the legislation," documents obtained by the Seattle P-I show the agency has "significant concern" that the ban doesn't go far enough.
The scientists who originally backed the bill, the GOOD bill, are running for the hills from this joke that actually passed.
So what happened?
In a draft of a letter prepared for the House Committee on Energy and Commerce, which will hold the hearings on the Senate-passed bill, the EPA quickly went to the issue that is concerning much of the public health community: "To protect public health and the environment from asbestos hazards, the ban should target any products in which asbestos is intentionally added or knowingly present as a contaminant," read the evaluation, which was to be signed by EPA Administrator Stephen Johnson.
But last month, the White House Office of Management and Budget rejected the entire document and told the EPA it could not submit it. Government scientists charged that the OMB action was another example of the White House putting politics over science.
No surprise – the Bushies tried to kill it. Bottom line, the EPA pushed back against the Bushies, but oddly enough, the bill that came before the Senate for a vote DELETED the original language that the Sand, Stone and Gravel association wanted deleted.
Odd. So Senator Boxer and Senator Murray fought back, right? Not so much
What the bill won't do
Here are some of the effects of the last-minute changes in the Senate bill:
An epidemiologist with the Connecticut health department told the Consumer Product Safety Commission earlier this year that asbestos was found in modeling clay that children were using in art classes. The art clay, the health official wrote, contained asbestos-contaminated talc from the R.T. Vanderbilt talc mines in upstate New York. Though federal health investigators documented the presence of asbestos in that mine decades earlier and scores of workers have been sickened or killed from exposure to asbestos in the talc, the Senate ban would not prevent the tainted powder from being sold.

Along the Iron Range in northern Michigan and Minnesota, waste from the taconite iron mines is contaminated with asbestos. Miners with asbestosis and the fast-killing mesothelioma are never far from tanks of oxygen. Elaborate marketing plans obtained by the P-I show how the taconite industry plans to sell the mining waste across the Midwest for construction of roads, airports, bridges and other public products and to claim that the product is free of asbestos. The current legislation will do nothing to prevent that.

Millions of homes and businesses have insulation in their walls and attics made from asbestos-contaminated vermiculite ore. Hundreds of miners and their family members have died and thousands more are ill from this Libby, Mont., vermiculite ore. Nothing in the law would keep the mine from being reopened and the tainted ore again sold in scores of products. Nor will the Senate effort restrict or even demand monitoring of other mines that are today producing vermiculite.

Murray says the education provision of the bill will tell people of these risks, but some of the witnesses who testified for the ban say that isn't enough.
"The government knows that asbestos products not covered by the legislation can cause harm and would allow, and probably encourage, companies to continue selling contaminated products because they are exempt from the ban," said Dr. Aubrey Miller, senior medical officer and toxicologist for the EPA.
Dr. Michael Harbut, who has diagnosed and treated thousands of asbestos victims, also testified for the bill and is now worried about the language.
"We need to be truthful with the public. This should be called the limited asbestos ban act," said Harbut, who is co-director of the National Center for Vermiculite and Asbestos-Related Cancers at the Karmanos Cancer Institute.
Linda Reinstein, a mesothelioma widow and executive director of the Asbestos Disease Awareness Organization, said: "After all the years of effort by the physicians, scientists, victims and Senators Murray and Boxer, we cannot wind up with a ban that doesn't include all asbestos. ... We all knew that compromises had to be made to get this legislation passed but I didn't anticipate that industry would successfully intervene at the last minute."
What's most upsetting is how Barbra Boxer's staff treated former Assistant Surgeon General and former acting director of NIOSH, Dr. Richard Lemen.
Richard Lemen, a retired U.S. assistant surgeon general and former acting director of the National Institute for Occupational Safety and Health, has long fought for the ban and what Murray was trying to do.
Lemen and several of Murray's other witnesses joined in a two-hour conference call with the Senate staff one evening last week. Three of the participants said Poirier screamed at Lemen for much of that time, trying to get him to change his mind.

"It was not pleasant," Lemen said. "They were trying to get me to change my opinion, which I'm not going to do. This is a bad bill."

Poirier said she wasn't screaming at him.
"Maybe that's how they interpreted it. I have a cold so my voice doesn't sound exactly normal," the senior aide explained.
"We were trying to help him ... because they misunderstood what happened and we were trying to clear the air and support them."

Lemen saw it differently.

"These staff people are the same ones who asked us to testify and now they're the same people who are trying to shut us up. I'm not going to be quiet," he said.

"The public will be given a false sense of hope and that, to me, is an outrage, As a result there are going to be thousands of people at risk of developing asbestos-related diseases. No one knows how many will die."
Richard Lemen is a good man who has fought literally his whole career trying to eliminate asbestos hazards. He knows more about the subject than Barbra Boxer or any of her aides will ever dream of, and the flat out audacity that one of her cronies would attempt to get Dr. Lemen to change his mind on this subject is just beyond the pale.
Senator Murray deserves a lot of credit for fighting for this bill. But why did she cave? Why did she give in now that we're politically in a position to actually DO SOMETHING for the first time in 35 years about asbestos in products sold in America? Why did Barbra Boxer allow one of her aides to berate a medical hero? What the hell is going on here?
Drop Andrew Schneider a line andrewschneider@seattlepi.com – tell him "thank you" for continuing to report on this issue. Lives will be saved because of the work he has done.