N.O. fracas over plans to raze housing

NEW ORLEANS - Protesters angry about the pending demolition of more than 4,000 public housing units stormed a City Council meeting Thursday in a confrontation that ended with a prominent civil rights lawyer being hauled off in handcuffs...

"We live in a system where if you cheer or chant in the City Council you get arrested, but you can demolish 4,500 people's apartments and everybody's supposed to go along with that? That's not going to happen," Quigley said.
"There's going to be a lot more disturbing the peace before this is all over, I'm afraid."
Follow me below the fold for the real story on the ground including video of Maxine Waters in New Orleans on the second anniversary of Katrina.
When I went down there to do some video blogging on the second anniversary of Katrina I attended a public grassroots meeting of the New Orleans Survivor Council Bring Our People Back Festival in Gentilly. Public housing and access to it were the issues of the day. US Congresswoman Maxine Waters (D-CA) showed up to hear concerns and deliver some detailed and explosive remarks to the crowd.
New Orleans has always been a poor city, but it never had the same kind of homelessness that we frequently see in other urban areas because rents were so cheap, but today in New Orleans affordable, safe and sanitary housing is not available in the same way. It's almost non-existent. Although many people and families have moved on with their lives in a new town, many more still want back, but they can't afford to come back. It's as simple as that. The public housing story is one element of the predicament that most New Orleanians out in the neighborhoods face today. Still.
These are some of the issues facing the forgotten citizens of New Orleans today:
Former residents of public housing, now living in the Katrina Diaspora, demand a right of return to those units they left when Katrina hit.
Thousands of units in public housing in the city remain shuttered. Some of these vast projects were not damaged by the flood.
The city is selling the vacant properties to private developers, one is building a Wal-Mart and another plans a golf course, with only the promise of future units to be built.
Citizens demand that units be rehabbed and opened up to anyone trying to return that can qualify for a rent subsidy in today's rental market.
Advocates believe that adding a few thousand units of this new public housing inventory will drive down rent prices in the area for all New Orleanians.
Advocates of right of return and public housing are taking action in New Orleans today.
Do you support the right of return for the people of New Orleans?

If the answer is yes, you can take action and contact your Senators, both of them, to voice support for the right to return and ask your senators to support Senate Bill
S. 1668: Gulf Coast Housing Recovery Act of 2007.
Maxine Waters gave some remarks at the meeting and her full vlog can be seen here: Maxine Waters: "I will publicly denounce him".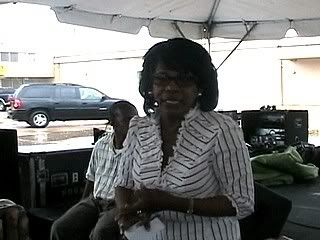 Video: Maxine Waters in New Orleans (4:50)
I came over to be with you today on the second anniversary of Katrina number one to let you know that no matter how bad this stuff is that you've got some people with you that are going to stay in this fight until we get you back home.

I believe ... that there is no advocacy in this city for poor people and that the elected officials have let you down. I believe that.
I believe that HUD saw Katrina as an opportunity to dismantle and tear down all of the public housing. When they evacuated people from here and sent folks over to Houston and Atlanta and Dallas and places they had no intentions of bringing you back. And they said to some people, "well we're going to redevelop these units and we'll get you back in five or six years," but nobody trusts HANO, nobody trusts HUD... so people are stuck and stranded ...

And we have a secretary of HUD, Mr [Alfonso] Jackson who has lied to us. Jackson said that they would have 2500 units ready by the end of August and another 500 by October... We put that in legislation, HR 1227 ... we passed it off the floor and it's been languishing over on the Senate side since March.

That's where [S1668] the 3000 units were documented, the right for return, if there is ever development then one on one replacement, relocation rights documented and an extension of folks who were on those temporary disaster vouchers up until January. All of that is in that legislation sitting over on the Senate side. Meanwhile, I thought that we could negotiate with Mr. Jackson even if the legislation was moving slowly. I got the commitments from him, but we have been lied to...
And when people are lied to, frustrated and obstructed then they get mad. And they get arrested.
The residents and activists in public housing on the ground in NOLA have been working tirelessly to restore some kind of affordable housing to the city for more than 2 years now. They were successful in getting some of these units opened back up and some of these residents back home, but on Dec. 15 the demolitions will begin transforming thousands of units into Wal-Marts and golf courses with no plans to redevelop under the new HOPE VI model.
Part 2 of Rep. Waters can be seen here.
Bill Quigley, featured in the story is a civil rights lawyer in New Orleans, he and the Advancement Project are suing HUD and HANO, housing authority of New Orleans, to restore some units and some fairness in the process.
(New Orleans, Louisiana June 27, 2006)— Today, a lawsuit was filed by Advancement Project, Bill Quigley, Tracie Washington and the law firm of Jenner & Block, LLP against U.S. Housing and Urban Development (HUD) Secretary Alphonso Jackson and the Housing Authority of New Orleans (HANO) on behalf of public housing residents in United States District Court in New Orleans. The lawsuit seeks to bring families back to New Orleans as soon as possible.
"HUD plans to keep low-income Black families out of New Orleans," said Judith Browne, co-director, Advancement Project, a national civil rights and racial justice organization. "These families have a right to return and a right to be consulted about the future of public housing. HUD and HANO's plan discriminates against Black residents by excluding them with no clear plan of when, how and if they will be able to return."

Most of New Orleans displaced residents cannot return because of a shortage of housing due to a loss of approximately half of all rental housing and an increase in demand; since the storm, rental rates have increased 25-30% in New Orleans. Despite this massive shortage of housing, particularly affordable housing, HANO has taken virtually no steps to repair housing units that could bring back many of the 5,146 displaced, predominantly African-American families that resided in public housing pre-Katrina. Instead of moving quickly to re-open habitable units and make repairs where necessary, HANO has boarded up units. Only 880 families have been permitted to return to public housing. Most recently, HUD made clear that most families would not be able to return anytime soon when it announced its plan to demolish 5,000 public housing units.
So you can decide whether they're fighting for some justice or barring HUD from bringing the "public housing estates into the modern era." Bill Quigley is a professor of Law at Loyola University. He is a featured guest of Amy Goodman on the Democracy Now podcast. In June of 2006 they talked specifically about the public housing issue, the right of return and the city's ongoing efforts to bar the return of the poor to their homes in New Orleans. Bill Quigley also writes for truthout.org and wrote extensively from the ground in New Orleans during Katrina; his wife is an oncology nurse and they both chose to stay and work during the storm. Professor Quigley's most recent piece on New Orleans can be seen at the smirkingchimp.com: The Ten Most Important Lessons Learned.
Recently a NOLA Judge sided with HUD lawyers who argued that
Judge won't hold up public housing razing

"Plaintiffs have no legal right to return to the particular public housing units they occupied on Aug. 29, 2005, because they have no property interest in those particular units," wrote attorney Lesley Farby on behalf of HUD in a recent court motion.
Quigley is also quoted in the article as the lawyers for the residents
Quigley said HANO's plans for "improved" public housing are deceptive, and that they will "permanently displace thousands of long-term New Orleanians from their community and erase nearly 70 years of New Orleans culture and history."
Do you support the Right of Return for all New Orleanians?