A poll pre-released to Colorado Confidential shows Rep. Mark Udall (D-Colorado) has solid support among Democratic voters, while conservative ex-lawmaker Bob Schaffer's backing among the Republican base is somewhat shakier in their bid to replace the retiring Sen. Wayne Allard.
Behold the lovely cross tabs and then join us for a lively 30-minute Q&A with Colorado pollster Mark Mehringer of Research for Change, Inc., today at 3 p.m. MST (5 p.m. EST / 4 p.m. CST / 2 p.m. PST).
For numbers nerds, here's a sneak preview: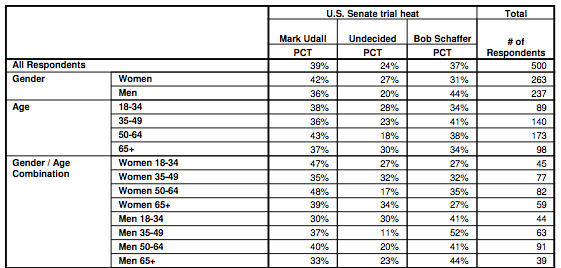 The MOE is +/- 4.4%.