The filing deadline is January 2, and we still don't have a candidate for TX-21. This congressional district is currently represented by Republican Lamar Smith, and he's awful. He's an apologist for Alberto Gonzales and Tom DeLay.
If you know any friends, relatives or community leaders in this Central Texas district, then please encourage them to challenge Rep. Smith.
Yes, this district is Republican, but anything's possible if we have another landslide election in 2008. John Courage ran a strong but underfunded campaign in 2006, and he's laid the groundwork for someone to pick up the torch in 2008.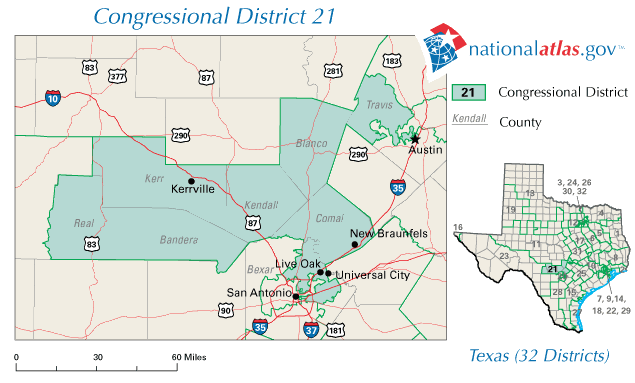 Even though he represents the most liberal university in Texas, UT-Austin, Rep. Smith has made life miserable for students. Check out this video that show's a hero's welcome to John Courage on the UT-Austin campus. This is the energy we need to pull of the upset.

There's 50,000 students at UT-Austin, so there's hope for this normally Republican district. But we don't have a chance without a candidate, so please help us recruit a brave Texan who's willing to challenge Rep. Smith.
This Cen-Tex distict covers much of the beautiful Texas hill country, so win/lose/or draw, at least our candidate will have a great time driving around to various events!
Thanks!