After reading of how Senator Clinton responded to the Salmon Press editorial board's query about whose portraits she would hang in the White House, some of us Contributing Editors got to wondering which portraits we would hang.
The panoply of guys on Mount Rushmore got a few thumbs-up.
As did FDR. LBJ, too, despite his, well, you know, little excursion into Vietnam.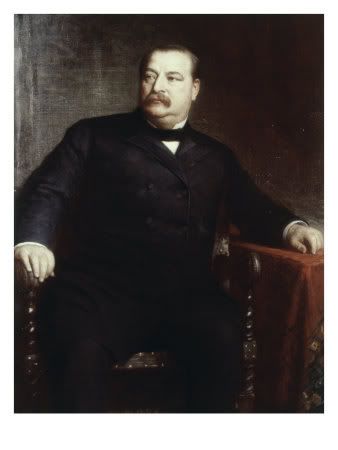 Not too surprisingly, this Democrat on the right didn't get any votes.
If I got to live in the White House (ha-ha), I'd pick Lincoln and FDR, and maybe Jefferson. But Teddy Roosevelt wouldn't make the cut. Although he did a bang-up job busting corrupt trusts and pushing the preservationist brand of environmentalism, he was also a major imperialist and interventionst (see the Roosevelt Corollary), a hater of us savage Indians and an aggressive accumulator of more executive power for the Presidency than anybody since Lincoln - who had an awfully good excuse - thus getting the imperial presidency off to its dashing 20th Century start. My demurrer, I know, puts me at odds with most historians, who rank TR rather highly in the presidential pantheon.
If you were president, which predecessors' portraits would you hang?